Careful how you read that — it really will be a sad day when the 15th officially comes to a close and Candleabration is no more, but wow — this show has been through quite a few changes, hasn't it?
Now, you could argue that's not surprising when a show runs for almost two entire years in the most prominent spot in the park, but with the candle illumination ceremony now notching up its seventh tweaked instalment (can you list them all?), that's unheard-of for the park.
This time, however, there's a very good reason indeed. Simply put, the stage is gone: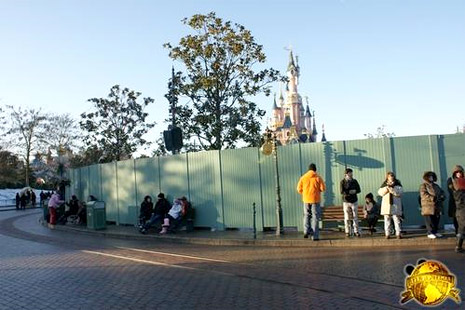 Yes, to prepare for the new Mickey's Magical Party show, 'It's Party Time… with Mickey and Friends', the entire hub of Central Plaza has been barricaded by green construction fences and, behind those, the old stage already completely removed. You can read more here.
So what about Candleabration? This should be its' big finale, its' sparkling Disneyland swan song! Don't worry, the show directors have certainly pulled quite a special trick out the bag for these next few months… the balcony of Le Château de la Belle au Bois Dormant!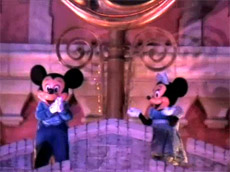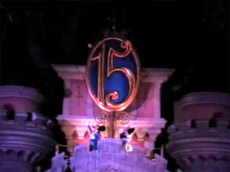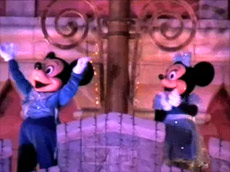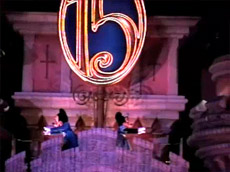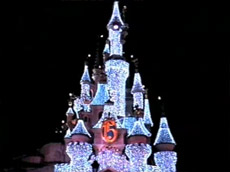 Images from gochaton's YouTube video, below.
In a true "first", both Mickey and Minnie now present the show direct from the front balcony of the Castle every night. In addition, the show has been tinkered with — quite literally — to add an extra "wow" to its finale: As the candles finish lighting, Mickey calls out to Tinker Bell, who then transforms the Château into its frosty Ice Palace overlay, something only ever seen during the park's Christmas Season before now.
Then, as the 15th Anniversary theme "Just Like We Dreamed It" plays out, a whole mob of various Disney Characters burst out from the Castle's gate and run down to meet and dance with the gathered crowds.
The entertainment directors' plans to try to get Mickey and Minnie onto the balcony was first revealed here on DLRP Today in our exclusive interview with Christophe Leclercq about The Enchanted Fireworks last Summer. Though the couple couldn't make it for Summer, obviously the people "behind the magic" have tried and tried again to make it happen: You might notice a small safety rail now appears along the balcony, each night.
Something which may surprise is the sense of scale the two characters give to the park's icon when they're stood right on it. With the golden 15th statues appearing like miniature toys atop its spires, seeing these real, human-sized characters up there makes clear just how big and grand Le Château de la Belle au Bois Dormant truly is.
Enjoy the full show, in video (begins around 1 minute 50 seconds in):
Two years and over 650 performances on, seeing Mickey and Minnie atop the Castle itself makes for a must-see farewell to this 15th Anniversary classic indeed.
— Video with thanks to gochaton on YouTube.