Skies were blue, flowers in bloom, attractions running well and crowds relatively light… it was a perfect day to celebrate the host country of our European Disney resort.
Bastille Day 2008 once again saw Disneyland Resort Paris pull out its regular music for a spectacular "feux d'artifice" over Le Château de Belle au Bois Dormant, but, as the show director Christophe Leclercq had promised, things were a little different this year. The resort's new fireworks partner brought in new designs, new styles and new bursts to light up the sky.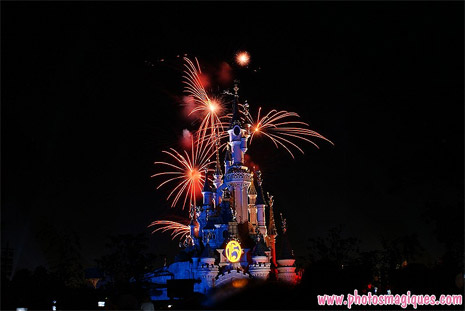 There were certainly hints of the regular Enchanted Fireworks in there, but also rare sights at Disneyland Resort Paris such as "shape" fireworks — giant red hearts bursting into the sky.
Before the fireworks began, fans would smile at the fact that even Disney sometimes make a little mistake. As the crowds milled around after Fantillusion, an announcement proclaimed "You will soon have the pleasure of discovering Candleabration followed by The Enchanted Fireworks". Several minutes later, the announcement was swiftly repeated with the correct "followed by a special 14th July fireworks" line.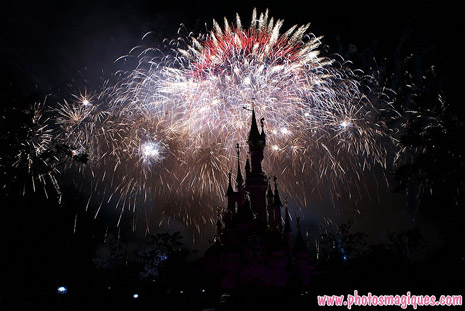 Candleabration itself would also present a little surprise. Whilst the show was still effectively cut-down considerably in line with its other performances this Summer, serving only as a lead-in to the fireworks, this night saw a second new version with an added finale of 'Just Like We Dreamed It' (itself abridged) as just Mickey and Minnie danced on-stage.
Candleabration (Bastille Day 2008 Edition)
Luckily, the earlier announcement mix-up did not extend to the fireworks themselves, which went ahead swiftly and without a single fault. Compared to the incredibly muddled recent attempts for New Year's Eve (using unknown and out-of-place rock songs from the Narnia "inspired by" soundtrack, for example), Bastille Day once again proved to be the resort's best night for a truly spectacular fireworks display…
Bastille Day Fireworks 2008
You can find more photos of the show at Photos Magiques here.
[Pictures: Photos Magiques; Video: DLRP Today.com/DLRP Magic! Video]