The launch of seasonal events at Disneyland Resort Paris usually just means a raft of (to our mostly non-French audience) unknown celebrities and a bank of photographers obscuring the publics' view at the special shows and parades throughout the day.
True, this year's Christmas launch yesterday inflicted both of those upon regular park guests, but they were also given a very unexpected Winter treat when it came time for the evening's Enchanted Candleabration finale.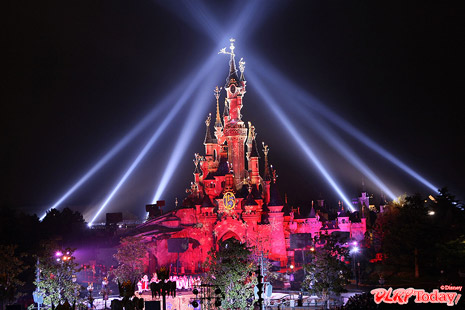 If you were confused by the special park Programme for 15th November and the switching-round of Fantillusion so that the illuminations ceremony came last, here is our reason why — as the bells chimed and the Castle sparkled in its now-completed array of crystal lights, majestic music in the vein of Disney's Sleeping Beauty began and fireworks flew up into the air!
The special launch show on Central Plaza Stage featured performances by live singers, a group of children helping out with preceedings and an encore from Princess Aurora and Prince Philip as their fireworks exploded overhead.
Le Château de la Belle au Bois Dormant itself was lit in a classic scheme of pink towers and blue spires, rather than the usual all-purple colours used during Christmas Season.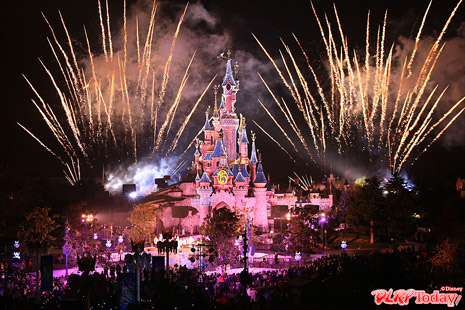 Below, Daviddu59 was lucky enough to catch the special one-off fireworks — albeit from behind the impenetrable wall of photographers — and shares the video with us:
Even in the short length of these fireworks, the Castle is almost completely engulfed in smoke due to the cold temperatures — perhaps that's our reason for the general lack of Winter fireworks on other busy weekends and holidays.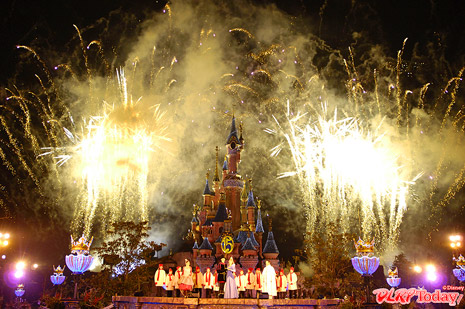 And, though it's expected the resort will put on its best show to give the press the best possible impression of the seasonal entertainments, is it honest? Do they know that Enchanted Candleabration doesn't usually have this firework-finale, or doesn't it matter, in the name of good publicity for our beloved resort?
— Read our exclusive interview with the creator of this year's Christmas Season here.
[Pictures © Disney, Video by Daviddu59]