But hold on, "choo choo" fans, this isn't the long-awaited release of the Disney Characters' Express theme song 'Tous En Train'. If you're a fan of Candleabration, however, you're in luck…
Yes, we're pleased to announce the unexpected release of a brand new souvenir CD, 'The Best of Disneyland Resort Paris – Songs and music celebrating 15 years of magic', released in the UK by Walt Disney Records and EMI Gold at the end of September.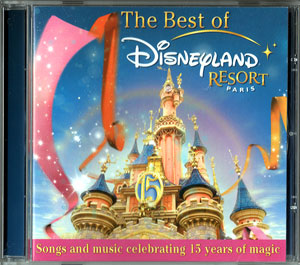 It's a full 24 tracks and 75 minutes of magical music from the resort, like a condensed version of the actual 2-disc 15th Anniversary Double Album available in the parks themselves. The music is old and new, from C'est Magique to Just Like We Dreamed It, with several tracks from Disneyland Park attraction soundtracks such as Phantom Manor and "it's a small world".
The tracklisting in full:

1. Steamboat Willie
2. Cinderella
3. La Petite Sir ne/The Little Mermaid
4. Mickey Globe Trotter
5. Mary Lou
6. Europe
7. Phantom Manor Medley
8. Yellow Rose Of Texas
9. Yo Ho (A Pirate's Life For Me)
10. Pays Du Merveilleux
11. It's A Small World
12. Medley
13. Baroque Hoedown
14. Euro Disneyland Feel The Magic
15. Dancin' (A Catchy Rhythm)
16. All Around The World
17. Just Like We Dreamed It
18. La-Di-Da Carnaval
19. Halloween-Halloween
20. Proud Lights
21. Fantasia In The Sky
22. Les Feux De La Fée Clochette
23. Wishes
24. Fantillusion
Once again, if you already own even just a few Disneyland Resort Paris CDs, you'll have heard it all before. Except for one track, which has never been released before… 'Proud Lights', the brilliant drum and trumpet-filled theme from Candleabration's opening dance number. If you read our Wish List entry last year asking for the 15th Anniversary and other tracks to be released, you'll know its' sudden inclusion here is very welcome indeed.
Though the CD is released by EMI and has the mark of Walt Disney Records, which is usually missing from the resort's own CD releases, this is clearly a product of the regular music maestros at Disneyland Resort Paris. The booklet features a similar design to recent releases, the album was mastered by Michael Obst at Le Studio, Marne-la-Vallée, and finally… the tracklisting on the case is, like the best of the resort's releases, wrong. (Listing Just Like We Dreamed It as track 24, rather than 17).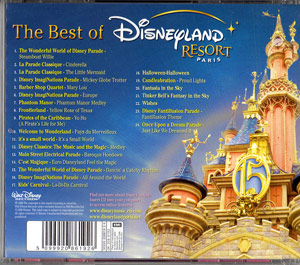 Priced at just £6.99 (RRP £7.99), however, this is one of the best value CDs you can find, and a perfect stocking filler in the run-up to Christmas — available both in the high street and on online stores such as Amazon.co.uk, HMV.com and Play.com. If you missed your chance to own this music in the parks, you'll no longer have to wait until your next visit …or attempt to communicate with the infamous mail order service.
Now, finally, the magical music of Disneyland Resort Paris has made it beyond the berms.
— The CD is also available on our new Christmas Shop. We've made use of a little feature from Amazon to hand-pick hundreds of great Disney gifts from across their website. If you're stuck for ideas for a Disney fan friend (or even yourself) take a look — some of the wonderful Imagineering books in particular are usually completely lost on their main store.