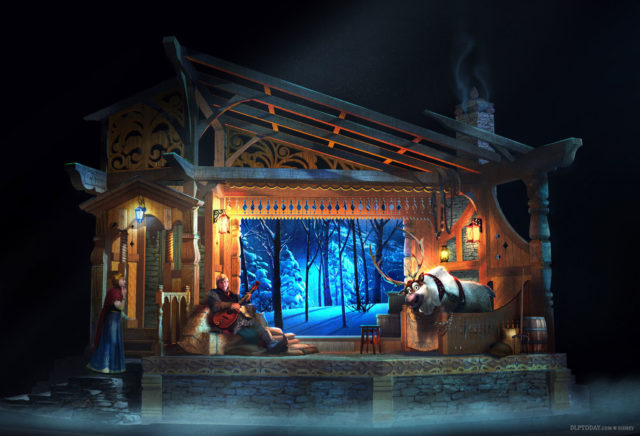 Disneyland Paris has announced the opening date of Animation Celebration, the reworking of its 17-year old Art of Disney Animation attraction into a new Frozen musical experience.
Opening 17th November 2019, the building at the heart of Walt Disney Studios Park will now feature two key musical scenes featuring Frozen characters, replacing the former "Disney Classics Theatre" and "Drawn to Animation" (Mushu) theatre presentations.
Two pieces of high resolution concept art released today show Kristoff and Anna serenading Sven in his barn, while in the second scene Anna and Elsa share a "Let It Go" moment in the Ice Palace together.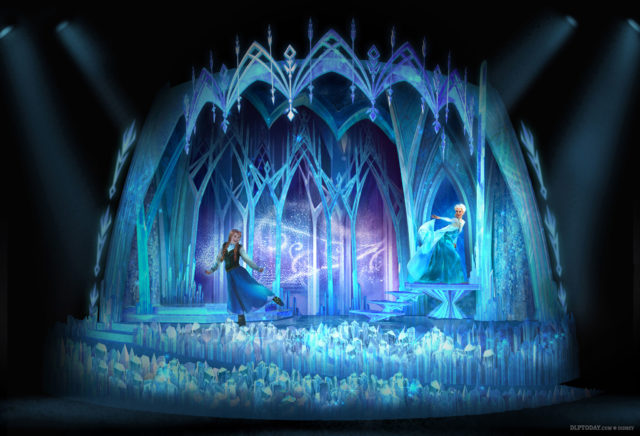 Art of Disney Animation was one of the opening day attractions at the park on 16th March 2002, but closed on 7th January 2019 without a replacement being announced until the InsidEars event on 12th April. The building itself is being repainted from the harsh sky blue colour scheme it received for the late 2000s Toon Studio expansion, back closer to its original warm yellow tones. It still sits somewhat awkwardly half hidden, by the unrelated Hollywood Boulevard film sets.
No further details of changes to the attraction's pre- or post-show rooms have been revealed, but a meet 'n' greet is expected to be in place in the final room.
The autumn opening date had been questioned recently, but with the date now confirmed there's surprisingly little time to wait to join the Frozen characters in Walt Disney Studios Park "for the first time in" well, forever — but not the last.
Frozen 2 hits cinemas this November.