REVIEW — Disneyland Paris raised its live entertainment credentials ever higher this weekend with the premiere of The Lion King: Rhythms of the Pride Lands, a stunning and refreshing take on Disney's greatest modern story with world class stage production values.
Inside the reborn Frontierland Theater — a rebuilt, darkened and modernised stage venue created from the bones of The Chaparral Theater at the back of the land — the audience is wowed from song to song through the musical hits of Disney's The Lion King catalogue.
Staged atop giant African drums, the musical numbers are all sung live, in stunning Broadway-level vocal quality, with live backing instruments adding to a rich soundtrack arranged and recorded especially for the show under the watch of acclaimed producer Steve Sidwell.
Costumes are absolutely on point, current and remarkably memorable: Simba's yellow locks and red body paint evoke Wakanda more than cutesy animation, Nala is Arianda Grande on a particularly fierce day, Scar is straight off the Paris catwalks (and especially vicious for it) and Rafiki is, uniquely, male — almost unheard of in live Lion King productions (although this does lose the show some necessary female voice).
Special nod to the direction of Timon and Pumbaa, who with clever, dialled down costumes manage for once not to steal the entire show, elevating it massively to something with widespread adult appeal.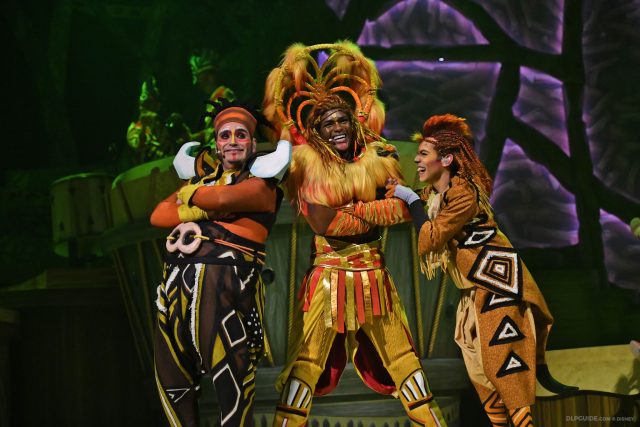 Think songs not scenes — though there are dramatic interludes and the pacing and setlist follow the well-known story through from "Circle of Life" to "Hakuna Matata" to the dramatic coronation of Simba as the new king, the show doesn't weigh itself down with the need to explicitly retell the story everyone knows by heart.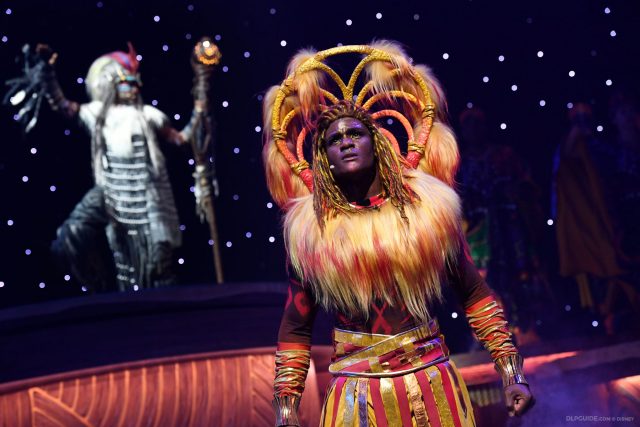 Disneyland Paris has visited The Lion King before, of course: The Legend of the Lion King was a fairly faithful and astoundingly popular stage show over at Videopolis Theatre in Discoveryland from 2004 to 2009.
With a more solidly Broadway ethos, it introduced stunning live vocalists to a Disney theme park show along with an incredible amount of special effects: notably the water curtain video projections and animal puppetry. In the 400-seat theatre it was a victim of its own success, however — but Disneyland Paris (and its fans) have clearly never forgotten.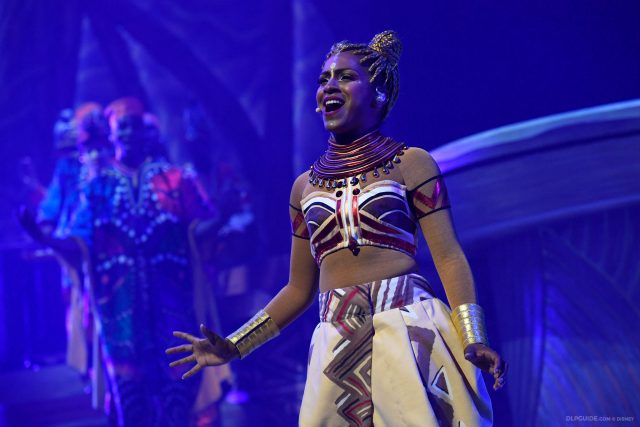 Between that classic show, the everlasting Broadway and West End production, and the more raucous, interactive Festival of the Lion King at Disney's Animal Kingdom and Hong Kong Disneyland, Rhythms of the Pride Lands miraculously manages to find a whole new approach.
This is a wholly new and wonderfully unique production; refreshingly contemporary in its staging, lighting and costume. Saying "Broadway quality" only tells part of the story — it's perhaps even closer to a global arena pop concert, with added splashes of Circle du Soleil in the welcome acrobatics and dance routines. Simba and friends are in Vegas for their showstopping Lion King residency and boy, does it roar.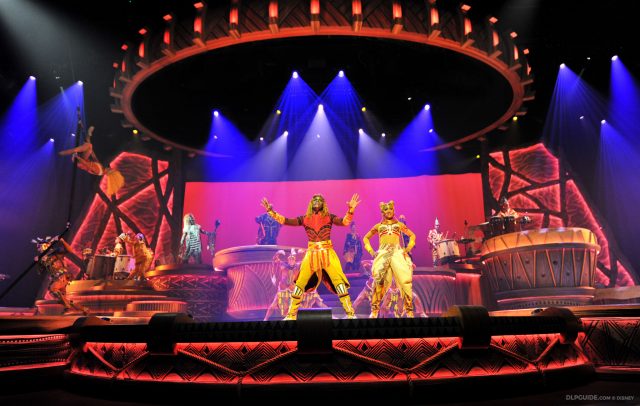 Setlist
Lasting an impressive 30 minutes, the show even manages to add a couple of well-loved songs from beyond the original movie: "He Lives In You" and "Shadowland".
Circle of Life
I Just Can't Wait To Be King
Be Prepared
Hakuna Matata
Shadowland
Can You Feel The Love Tonight
He Lives In You
Endless Night
Busa / King of Pride Rock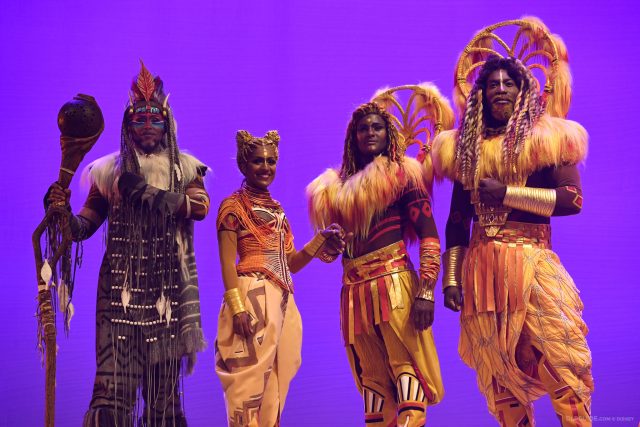 Teaser Video
If you don't want to watch one of the many full show videos already flooding YouTube, this is a perfect taster of a few scenes direct from Disneyland Paris with some quality official footage.
Performances
Consult the first parks programme this week and you'll discover the unhelpful "check showtimes at venue" — ultimately it looks like at least four performances per day during The Lion King and Jungle Festival, which lasts until 22nd September 2019. We don't know if the show will continue beyond that date.
At weekends, sign language interpreters will accompany the show to allow everyone to enjoy its songs, using "chansigne".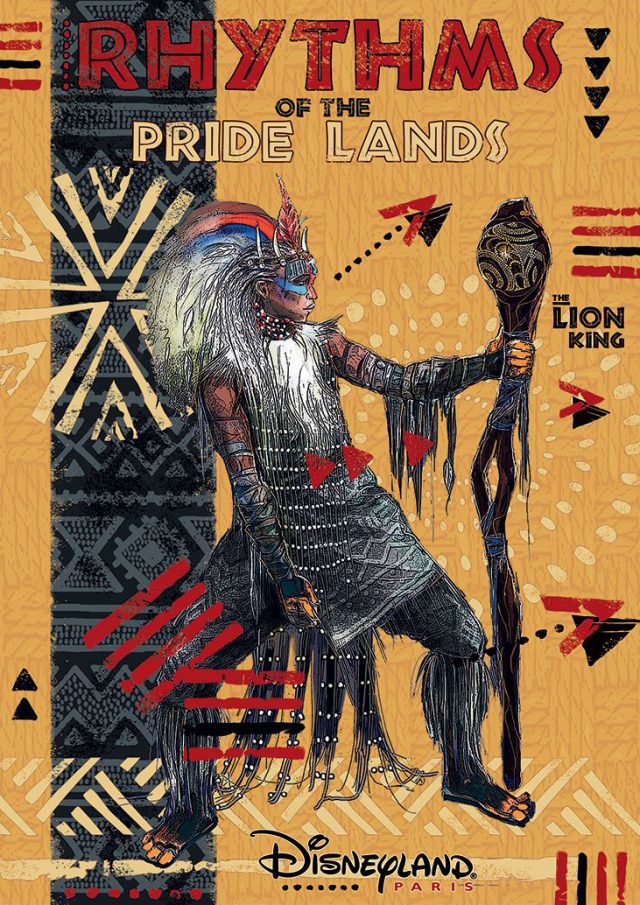 Though the show has only just launched, it's already clear that demand will be huge with queues stretching across the land. Given that the theatre only has a capacity of around 1,350, hopefully Disneyland Paris will be able to manage this effectively to avoid disappointment.
If you've been wowed already and tempted by a last minute trip to see Rhythms of the Pride Lands for yourself, check out our compilation of all the latest Disneyland Paris deals, including up to 30% off hotel packages with park tickets if you book by 27th August and adult tickets at child prices for visits until the end of September.
Gallery