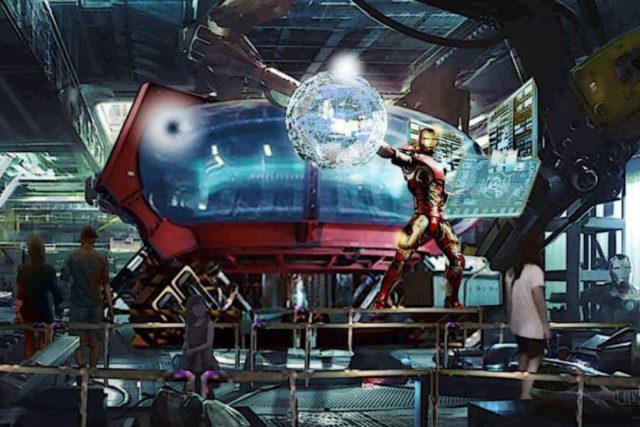 Rock 'n' Roller Coaster starring Aerosmith at Walt Disney Studios Park will close to become a "completely new Marvel-themed attraction," Disneyland Paris has announced today.
The powered-launch Backlot roller coaster, which originally opened with the park itself in 2002, will be reimagined with an Iron Man and Avengers theme, keeping the existing building and ride system in place.
Rock 'n' Roller Coaster, will be completely reimagined into a new Marvel-themed attraction where riders will team up with Iron Man and their favorite Avengers on a high-speed, hyper-kinetic adventure.

The addition of the new attraction provides a permanent presence of Marvel making this Park even more of a must-do for guests.
No official title, opening date or indeed closing date for the current Aerosmith-fronted ride was included in today's news, broken at the D23 Expo Japan.
A single piece of concept art appears to show guests in an industrial pre-show area around a life-size Iron Man.

The attraction will join Marvel: Super Heroes United, a new live show experience opening on 10th June 2018 for the park's inaugural Marvel Summer of Super Heroes. Taking the place of CinéMagique in Studio Theater, the show will feature Iron Man, Captain America, Spider-Man and Black Widow.
It seems likely today's newly-announced ride revamp could open for the second "Summer of Super Heroes" in June 2019, with Rock 'n' Roller Coaster starring Aerosmith closing sometime in the second half of 2018.
This would also tie in with the planned 2018-2019 refurbishment of Disney's Hotel New York into an "Art of Marvel" hotel.
Marvel attractions were front and centre of a 10-year investment plan for the resort announced in March 2017.
First Thoughts
Given how long we wait between Disneyland Paris attraction announcements, and how long we've yearned to hear any good news about a major Walt Disney Studios Park overhaul, it seemed particularly cruel to Parisian fans (or just terrible PR) to make this announcement in Japan, at 2am. And with not even a name nor an opening date. But here we are, and it's finally happening.
This ends years of rumours suggesting Rock 'n' Roller Coaster would be given a Marvel retheme, though most to this date had suggested Spider-Man, not Iron Man, taking the lead.
Unlike Star Wars Hyperspace Mountain, by comparison only really an "overlay" of Space Mountain, here we can expect real, thorough change to every part of the ride experience, inside and out. It won't be hard to achieve something totally new here; indeed the barebones faux-industrial style already presents almost a blank canvas, before they've even ripped out the Aerosmith memorabilia.
But will the new ride be so different in style? We're still likely to be visiting an industrial "test facility", so that grey corrugated exterior cladding could still haunt us. But let's hope they have something more immersive than a cardboard-cutout billboard to disguise the front of the building, at least. (Rest in peace, giant compact disc.)
Today's grainy concept art release doesn't give much away; indeed it's hard to decipher what we're even looking at. A reworked and opened-up pre-show room, perhaps, where currently the poor quality projection of Aerosmith plays on a loop?
A wider reimagining of the whole lacklustre Backlot area into a cohesive Marvel land surely has to follow, with Moteurs… Action! Stunt Show Spectacular and Armageddon: Les Effets Speciaux next to go. But more important than individual attractions will be to make that barren, asphalt-filled Backlot corner into an immersive, different place where people want to actually be.
As a start, the attraction will certainly sit oddly away from the park's first Marvel experience in the former CinéMagique, with several attractions including Disney Junior – Live on Stage in between.
Yet, there's no suggestion yet that this whole side of the park could fall to Marvel: the Studio Theater won't receive anything more than a few Marvel banners outside.
And The Twilight Zone Tower of Terror? If they were going to do that Guardians of the Galaxy overlay at all, wouldn't they have done it first? It's already designed and completed in California, unlike the unknown task of this reimagining.
But then, Rock 'n' Roller Coaster certainly needs rethinking first. Not a "signature" attraction like Tower of Terror, never pulling mass crowds into the park. It's a major E-Ticket that feels too much like filler.
No, let's hope there's enough in Backlot needing work already (or enough land to free up for brand new things) that Tower of Terror never need be touched for a stop-gap Marvel ride. And for the sake of the park, if Disneyland Paris has sense they will keep a clean, franchise-free, Main Street-style Hollywood "core" to the park that these other "studios" can branch off.