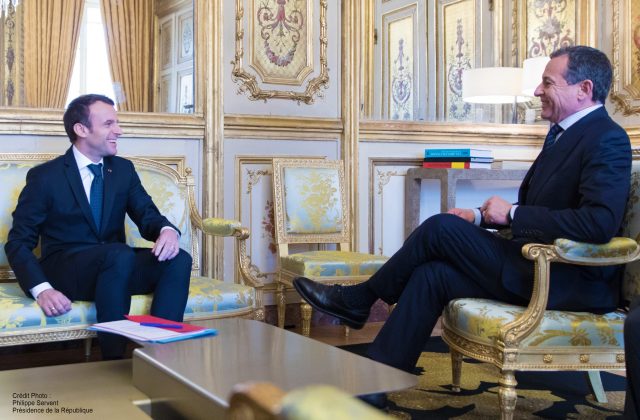 Disney's CEO met the French president yesterday to unveil the company's 2 billion euro expansion of Disneyland Paris, the biggest single investment since the opening of the Parisian resort.
At a once-in-a-generation meeting at the Palais de l'Elysée, Bob Iger sat with Emmanuel Macron to mark his confidence in the French tourism sector and France's economy — not to mention the potential for Disneyland Paris to finally turn a real profit for his own company.
Given a 2 billion euro investment, the resort will massively expand its second theme park, Walt Disney Studios Park, including new lands based on Marvel, Star Wars and Frozen stories. Read an in-depth report on the plans here.
Iger recorded a video for the media, stating "Disney chose France to build a theme park in 1992 and we continue to choose France as a place to invest our capital for long term growth and to continue to entertain the people of Europe in very compelling ways."
La Reine des Neiges, Star Wars et Marvel, bientôt trois nouveaux parcs à @DisneyLandParis. Écoutez @RobertIger, PDG de Walt Disney Company reçu à l'Élysée ce matin, nous dire pourquoi il continue d'investir en France. #ChooseFrance pic.twitter.com/w239hdsb2r

— Élysée (@Elysee) February 27, 2018
A meeting between the Disney boss and a national figurehead may seem overblown for a theme park expansion, but it appears to play perfectly into a French government campaign to "#ChooseFrance", aimed at strengthening investment in France amidst its own economic and social struggles. France is also looking to gain from the impending European upheaval of the United Kingdom leaving the EU.
In an interview with French newspaper Le Figaro (subsription), Iger expanded only slightly on the detail of the expansion.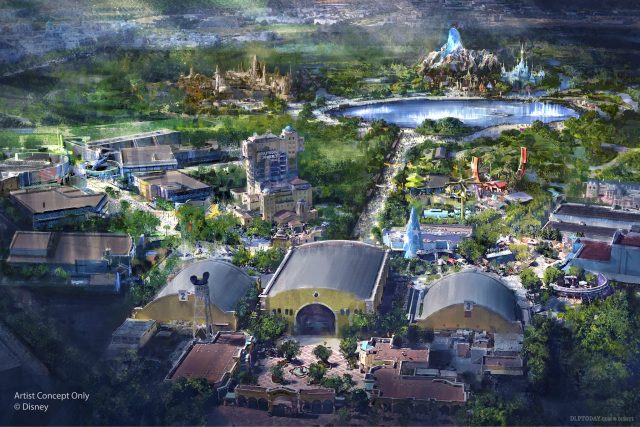 On construction and opening dates: "We lay the first stone next year and the openings will be spread between 2020 and 2025."
On giving the green light: "This is our biggest investment in the park since its opening in 1992. I have long been skeptical about this project, because I was worried about the economic, political and social environment in France. But things have changed dramatically in the past year. The political, economic and social climate makes me much more confident. This investment decision is a vote of confidence of Disney in France, the rest of Europe and the potential of our company."
On a third park (still required under the resort's convention): "It's too early to picture a third park at Marne-la-Vallée."
Excellent meeting with President Macron and an exciting new era for Disneyland Paris!

— Robert Iger (@RobertIger) February 27, 2018
Having only sealed the takeover of Disneyland Paris in June 2017, when it struck a deal to buy shares from individual investors in order to hold over 95% of the Euro Disney S.C.A. operating company and fold the resort into its own Parks and Resorts division, The Walt Disney Company certainly hasn't wasted any time.
At 2 billion euros, the investment will be one of the biggest single investment programmes ever in a Disney resort, even coming close to the building of whole new parks. It easily eclipses the $1.1 billion spent on the reworking of Disney California Adventure between 2007 and 2012, and dwarfs the 600 million euro cost of building Walt Disney Studios Park itself for its 2002 opening.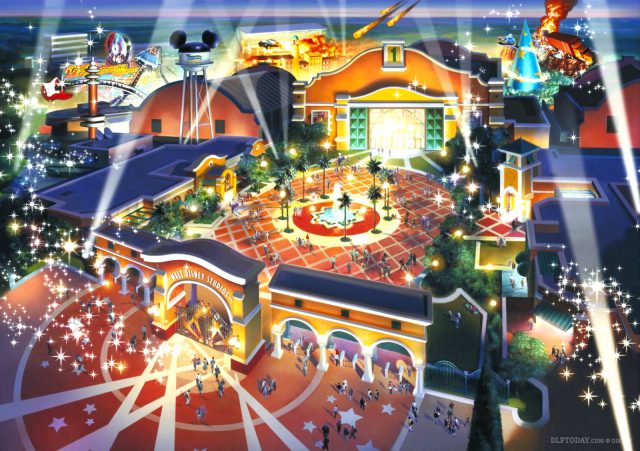 Original 2002 Walt Disney Studios Park promotional artwork
Adding not just Marvel attractions and not just a Star Wars land to the park, but an enormous landscaping project with a centrepiece lake and a surprise Frozen land behind it, The Walt Disney Company has totally surpassed what anyone might have expected for a single investment in the park.
Just one of these additions on its own wouldn't have had anywhere near the same effect, though: by going in hook, line and sinker, almost building half a whole new theme park joined onto the original lands, this will totally change the Disneyland Paris landscape and the way people visit and explore the resort, finally balancing the two parks as equals.
Yet at this scale and cost, the result needs to be completely transformative not just for the visitor experience in the park but for the resort's financial bottom line. Will Iger's initial scepticism be proven unnecessary?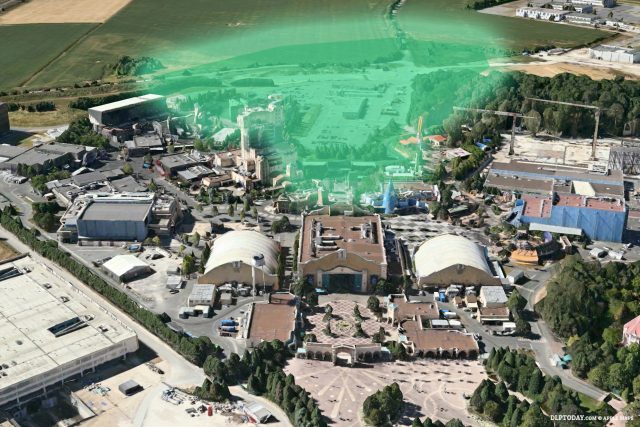 The expansion will almost double the size of the park
One final point: to organise a meeting between the company's CEO and the French president, to have this news and concept art ready to go out across every single platform imaginable (including the resort's own social media, press news, Disney Parks Blog, main Disney accounts, Annual Pass newsletters, mailouts to fansites, mailouts to former shareholders) — and not a single leak? That's magic.
The resort that didn't want to talk about or tease Ratatouille even as it was halfway built, for fear of putting off short term visitors; now announcing plans stretching up to 7 years into the future? This is a transformation, before they've even broken ground.