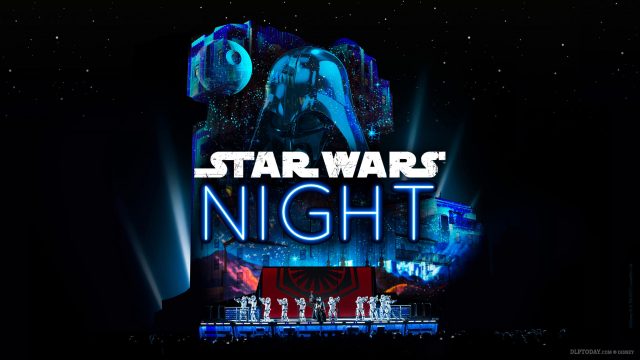 Two new Star Wars Nights are coming to Disneyland Paris on 5th and 6th May 2017, including special entertainment at Walt Disney Studios Park and an exclusive chance to ride Star Wars Hyperspace Mountain for the first time.
Priced at 49 euros, standard tickets will include access to both Disney Parks after 5pm and a host of special Star Wars entertainment specifically at Walt Disney Studios Park from 8pm to 1am.
The entertainment is likely to include elements of the current Season of the Force events, in particular (judging by the promotional images) a special exclusive performance of Star Wars: A Galactic Celebration.
Ending its successful run for this year on 26th March 2017, running the nighttime spectacular during the summer would require the whole park's hours to be massively extended to hit nightfall. Running it instead as a special exclusive during these extra ticketed events seems a good way to monetise the spectacular show.
An official blurb teases: "For two nights only, iconic sights and sounds will leave space explorers of all sizes revelling in the astronomical atmosphere, where stormtroopers patrol the streets and Star Wars Characters seek out a rendezvous with you."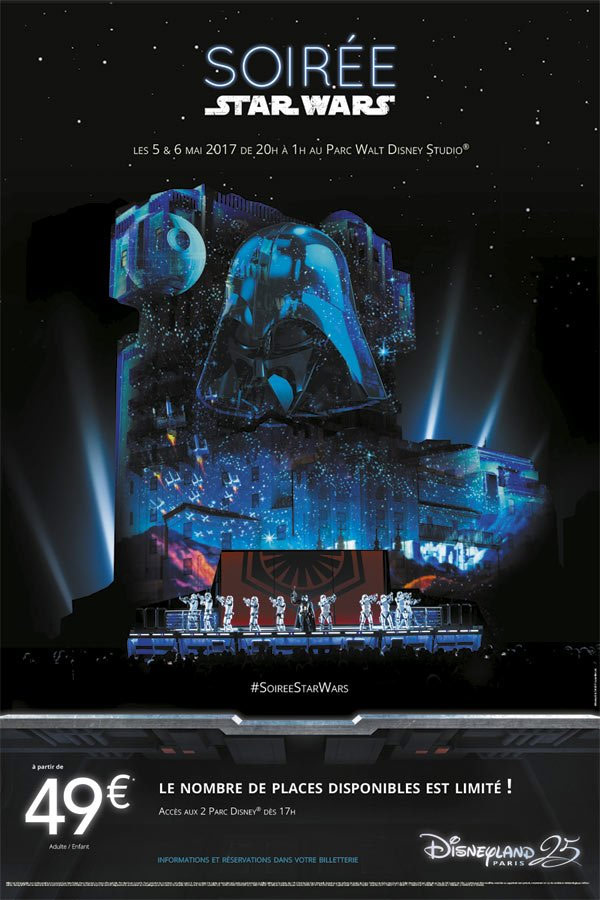 Hopefully these extras will amount to something much more unique and exclusive on top for Star Wars fans. Actual meet and greets with the characters, sorely missing from Season of the Force, already ticks one big box.
Hyperspace Pack
For 64 euros, you can also "upgrade" your Star Wars Soirée experience to include special exclusive ride time on Star Wars Hyperspace Mountain: Rebel Mission (the reimagined Space Mountain: Mission 2) in Discoveryland, Disneyland Park.
The two nights take place on the Friday and Saturday ahead of the ride's Sunday, 7th May 2017 opening date, which is finally set in stone in the event information.
Access to the revamped attraction will be available for Hyperspace Pack ticket holders from 5pm to 10pm on Friday, 5th May and from 5pm to 10.30pm on Saturday, 6th May. (Subject to all the usual height and health restrictions).
The question is, is it worth the extra 15 euros to ride an attraction that'll be open as normal a day or so later? Or should this have been included as a standard perk?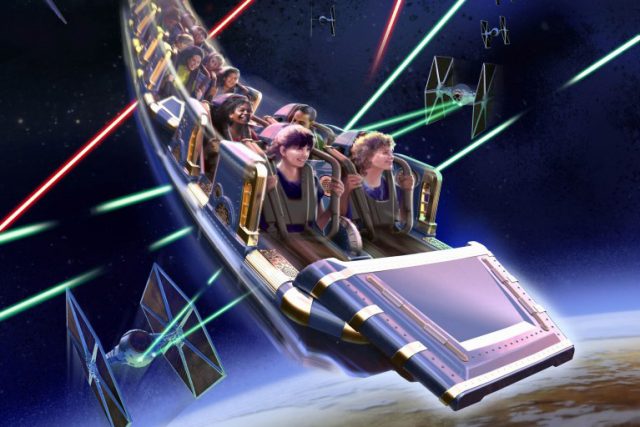 Star Wars: Return of the Soirée?
This isn't the first Star Wars Night event run by Disneyland Paris. A previous event on 16th December 2015 to time in with the release of Star Wars: The Force Awakens offered exclusive entertainment in Discoveryland only.
With tickets starting at 85 euros, the event was a relative success but did come in for some criticism for its steep entry price and limited exclusive experiences.
This new event, with a more reasonable cost and Star Wars experiences in full swing across both parks — including the new Star Tours: The Adventures Continue, Starport meet and greet with Darth Vader, and a real, must-see nighttime spectacular at the Studios — is a much more enticing proposition.
A traditional lack of forward planning seems to be apparent though. Star Wars Hyperspace Mountain was earlier listed for a 6th May 2017 opening but was presumably shunted back by a day to make way for a second Soirée on the Saturday. Likewise, the public closing time of Walt Disney Studios Park on this Saturday has now changed, after its first publication, from 9pm to 7pm, to make sure it's clear in time for the Star Wars Night's exclusive entertainment to begin.
Star Wars Night 2017 Tickets & Booking
Here's a full recap of the tickets and event details:
Star Wars Night — €49 (£38)
This ticket covers entry to Star Wars Night from 8pm to 1am (with access to both Disney Parks starting at 5pm for those with valid tickets to this special evening).
Star Wars Night – Hyperspace Pack €64 (£49)
This premium ticket covers entry to Star Wars Night from 8pm to 1am (with access to both Disney Parks starting at 5pm for those with valid tickets to this special evening), plus an exclusive preview of Star Wars Hyperspace Mountain, our newest attraction that's not open to the public until 7

th

 May 2017 at Disneyland Park.
Tickets are already available to book on the official Disneyland Paris website (UK link) — just go through to the ticket booking pages and select "Special parties", or look under "Things To Do" for the Star Wars Night page. (Link for bookings in euros)
Only one question remains: why not May the 4th? (As in, may the fourth be with you, or Star Wars Day). It's still possible the resort is planning some other Star Wars event for this day — perhaps a press event to launch Star Wars Hyperspace Mountain ahead of these paid previews?