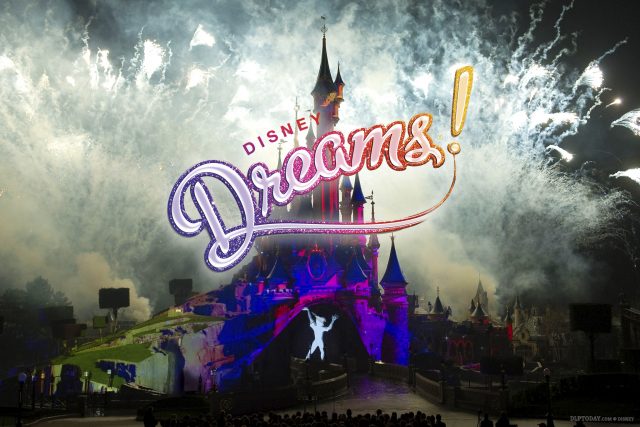 The final performance of award winning Disneyland Paris nighttime spectacular Disney Dreams! will take place this Friday, 24th March 2017, ahead of its replacement by the new Disney Illuminations show.
In a change to the advertised programme, however, the last Disney Dreams! will begin at 8.00pm on the dot — not "at park closing time" (8.30pm) as published in the current show times guide.
This doesn't affect the performances today (Wednesday 22nd March) or tomorrow, which will go ahead at 8.30pm.
Disney Illuminations will officially launch on Sunday, 26th March, but a preview performance is scheduled for Saturday as part of a weekend of press events.
The demise of Disney Dreams! one day earlier suggests this performance may also be open to general visitors, or else Disneyland Park will be without a nighttime spectacular for one night.
The coming days will therefore see the unique situation of guests being able to enjoy three different nighttime spectacular shows across the resort's two theme parks, including the epic Star Wars: A Galactic Celebration presented on The Twilight Zone Tower of Terror at Walt Disney Studios Park.
Introduced for the 20th Anniversary celebrations in 2012, Disney Dreams! brought about a full-scale revolution in the Disneyland Paris visitor experience.
Providing a 365-day, year-round "kiss goodnight", with longer park opening hours for much of the year, it has earned some of the highest guest satisfaction scores in Disney park history and become a signature attraction of the whole resort.
The show was updated in 2013, replacing Mary Poppins and The Jungle Book scenes with The Lion King and Brave. A further update for Frozen Summer Fun in 2015 saw Brave replaced temporarily by Frozen's "Let It Go".
A seasonal Disney Dreams of Christmas! edition was introduced from November 2013 but, without the all-important Peter Pan story arc, failed to capture the hearts of most visitors and fans in the same way.