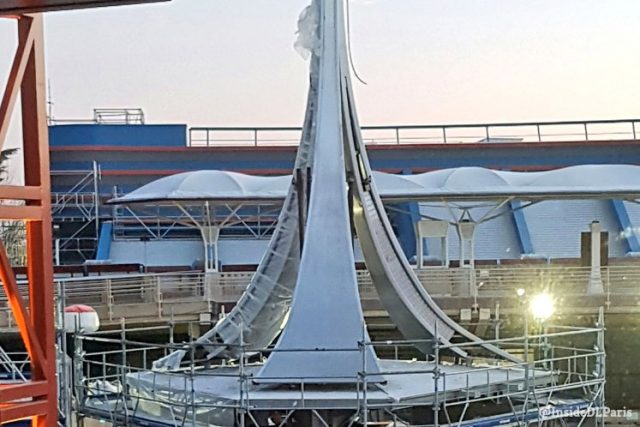 The much-awaited new entrance pavilion for Star Tours: The Adventures Continue is fast taking shape in Discoveryland at Disneyland Park, the latest addition being its striking rooftop emblem.
Reaching perhaps around 10 metres into the air, the curved silver shapes are meant to match those featured on the Star Tours logo since 1987, and updated for its blue and silver "Adventures Continue" update.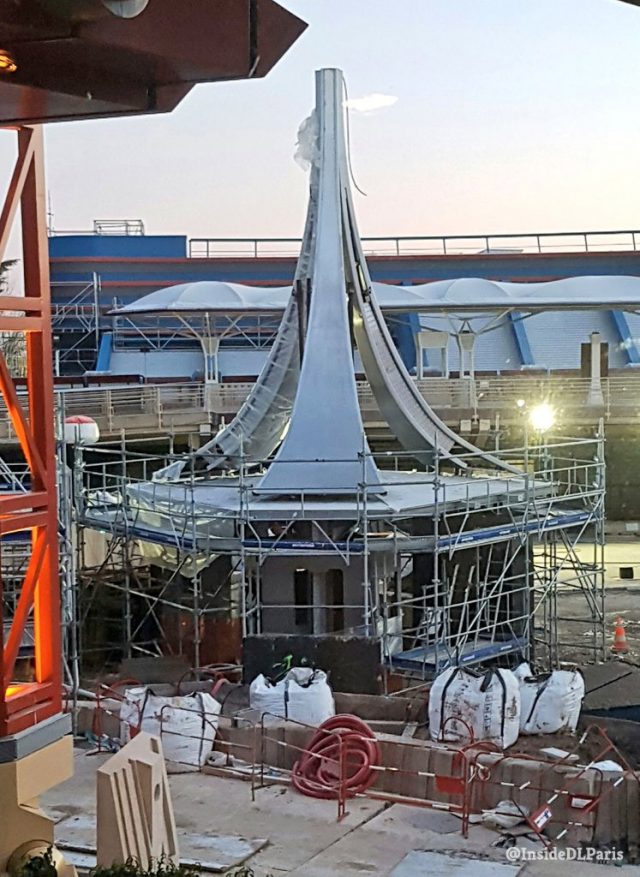 — Photo @InsideDLParis
Discoveryland's new marquee will match those colours, with earlier concept art showing the centre of each shape having a blue gradient — perhaps illuminated with some kind of pulsing effect, to simulate the jump to lightspeed?
Cleverly, even the footprint of the structure from above matches the (almost) triangular shape of the logo itself.
This entrance will be unique to the Disneyland Paris version of the attraction.
The X-Wing which previously stood mid-flight above the entrance has been reconfigured to sit on a platform above the former Star Traders boutique, which will be a new permanent Darth Vader meet 'n' greet possibly titled Meet the Dark Side of the Force.
Where elements such as Disney's Fastpass and wait time signs were later additions to the old Star Tours entrance, the new building attempts to tie this all together with a unified "check-in gate" for Fastpass collection, return and standard queue entry. The Fastpass machines have also been re-sited with a new canopy.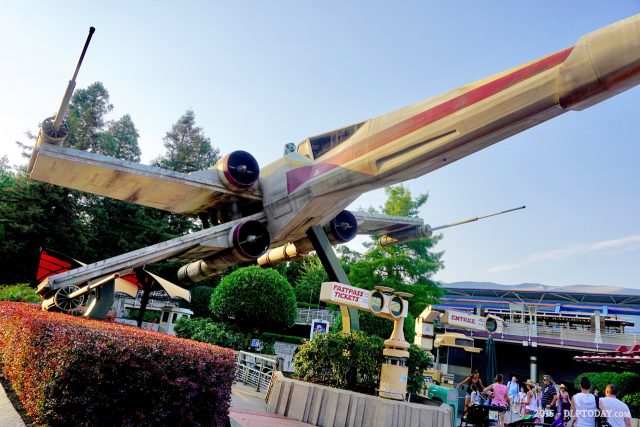 • Earlier construction & new queue line plans — Star Tours: The Adventures Continue construction continues ahead of 2017 boarding
Hopefully, the always-fun idea that this is the Star Wars equivalent of a commercial airport will be carried well throughout the new additions, with plenty of potential for humour. Could the huge new Star Traders boutique in the exit area expand the "baggage reclaim" theme that used to be hidden away in there?
Star Tours: L'Aventure Continue officially opens on 26th March 2017. This date's now being given to tie in with the all-important 25th Anniversary launch — but it wouldn't be surprising if testing still commenced at least a week in advance, fitting in with Disneyland Paris' originally published 18th March date for the end of the actual enhancement works. Watch this space.