Update: Schedules have since changed to show that Star Wars Hyperspace Mountain: Rebel Mission won't open until 7th May 2017.
—
Having been announced only for a "Spring 2017" opening and with rumours suggesting late April or even May, it appears Star Wars Hyperspace Mountain could open somewhat earlier than expected in April 2017, according to the latest Disneyland Paris schedules.
Official refurbishment dates released today now show Space Mountain: Mission 2 as under "refurbishment" from 9th January to 7th April 2017 and "operating" from Saturday, 8th April 2017 onwards.
The attraction will still therefore miss the launch of the 25th Anniversary festivities on 26th March by just two weeks, but re-open in time for the official 12th April anniversary date — and the busy Easter holidays.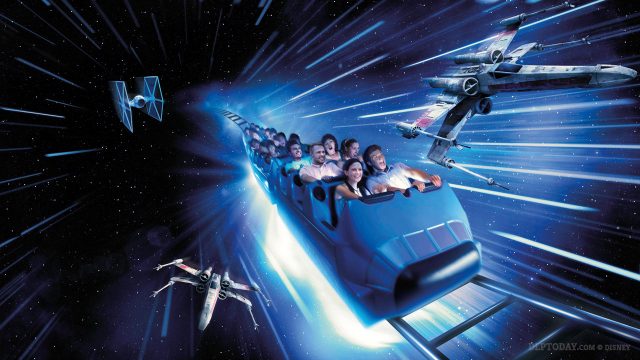 As well as installing a new Star Wars show inside the mountain itself — including lighting, projections and music to simulate a Death Star battle — the revamp will also finally see the introduction of brand new roller coaster trains to its tracks. Hopefully, these will make the ride less of an ear-bashing ordeal and therefore a more re-rideable experience — however you feel about the Galactic Empire/Jules Verne mashup of themes.
• Previously: Disneyland Paris 25th Anniversary deconstructed: Star Wars Hyperspace Mountain
The trains will retain over-shoulder restraints — those shown in the concept image above are taken from the Californian overlay of its less intense ride.
In fact, a claim that Disneyland Paris has failed to capitalise on is that this "new" attraction will at least become the "most thrilling" Star Wars ride in the world.
Since the iconic 1995 showbuilding itself saw an extensive refurbishment and repaint last year, other exterior changes are unlikely — beyond changing the large poster artwork and other signage.
Your last chance to ride Space Mountain: Mission 2 is this Sunday, 8th January 2017.
How long before we next blast off through the Columbiad into a non-Star Wars adventure that actually befits the building? Let's just say we "have a bad feeling" about that.