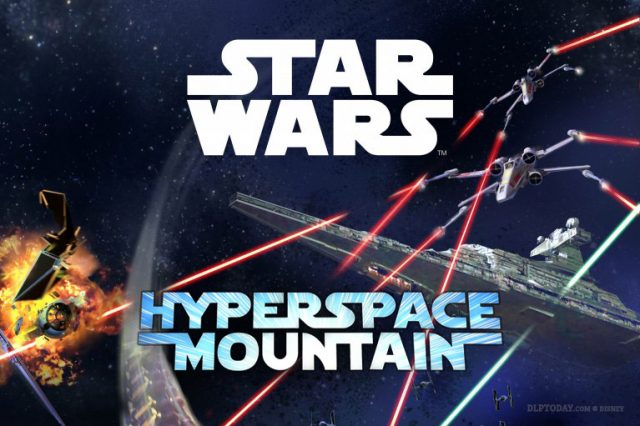 May the fourth be — almost — with you. Disneyland Paris has just set the official opening date of its Star Wars Hyperspace Mountain: Rebel Mission takeover of Space Mountain: Saturday, 6th Sunday, 7th May 2017.
• Update 03/2017: Schedules are now instead stating the attraction will be operation from a day later than earlier published, on 7th May 2017.
OK, we've been here before. Earlier this month, official schedules suggested the reconfigured attraction would open on 8th April 2017. Space Mountain no longer appeared as under "refurbishment" from this date onwards.
Disneyland Paris even directly gave this as the opening date to numerous visitors asking on Twitter. Then all of a sudden, the schedule changed and Space Mountain was marked as closed for the whole of April.
The new date fits with both the resort's Experience Enhancement Programme schedule and the current rate of construction activity at the ride itself: they'd be really pushing it for an early April opening.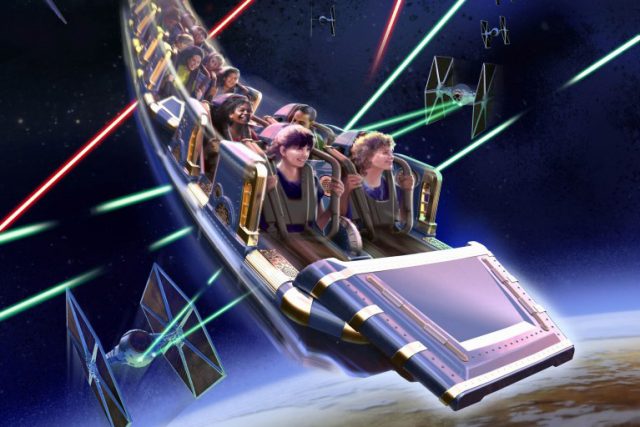 So 6th 7th May 2017 it is, but what about May the 4th?
This date has become synonymous with Star Wars for its link to the enduring "May the Force be with you" well-wishing from the films.
The proximity between the two dates suggests Disneyland Paris might be preparing to capitalise on this to show of its completed roster of Star Wars shows and attractions, ahead of the official public opening date.
• Previously — Hyperspace Mountain: Rebel Mission poster art features new, non-Star Wars trains
Timing-wise, the date is less perfect given it comes a full month after the launch of the 25th Anniversary itself. An intentional ruse to get repeat visitors during the year or bad planning? It's also disappointing how long its taken for this opening date to become clear — simply saying "Spring 2017" isn't helpful for visitors trying to book holidays who want to experience the newest advertised attractions.
At the Discoveryland attraction itself, the only notable works so far have seen a piece of the roof at the top of the cannon's launch barrel removed, before being put back in place today.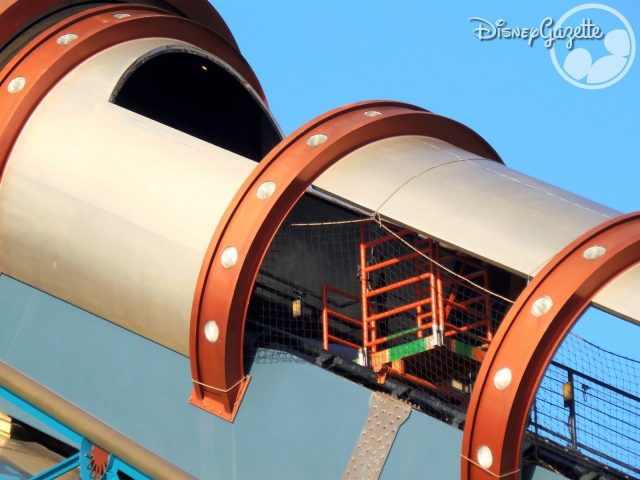 — Photo: DisneyGazette.fr
Since the original California version of the overlay begins with a "lightspeed" hyperspace video effect surrounding riders, there's suggestion this could happen in Paris, too — although it would be significantly harder to pull off, given the speed vehicles travel up the inclined launch here, and the fact daylight pours in from the sides of the cannon's trajectory.