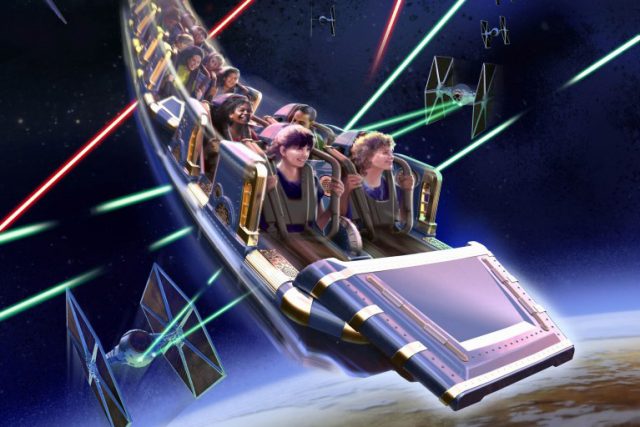 Disneyland Paris has revealed the attraction poster for its upcoming Star Wars Hyperspace Mountain: Rebel Mission reworking of Space Mountain: Mission 2; at the same time confirming this Star Wars overlay with an indefinite end date won't be the ride's calling forever.
It's been a good 18 months since we last saw a concept for the new trains coming to Space Mountain during its current closure. Back then, Hyperspace Mountain wasn't even a possibility. So, what's changed? Actually, nothing.
The updated coaster train seen in this new artwork looks just like the earlier sketch, complete with cogwheels on its sides and Steampunk bronze details. But not, thankfully, with a "3" for "Mission: 3" on its sides — or any kind of link to Star Wars.
An emblem previously adorning the front of the trains doesn't appear here, but perhaps some artistic licence has been taken to stop it sticking out like (even more of) a sore thumb?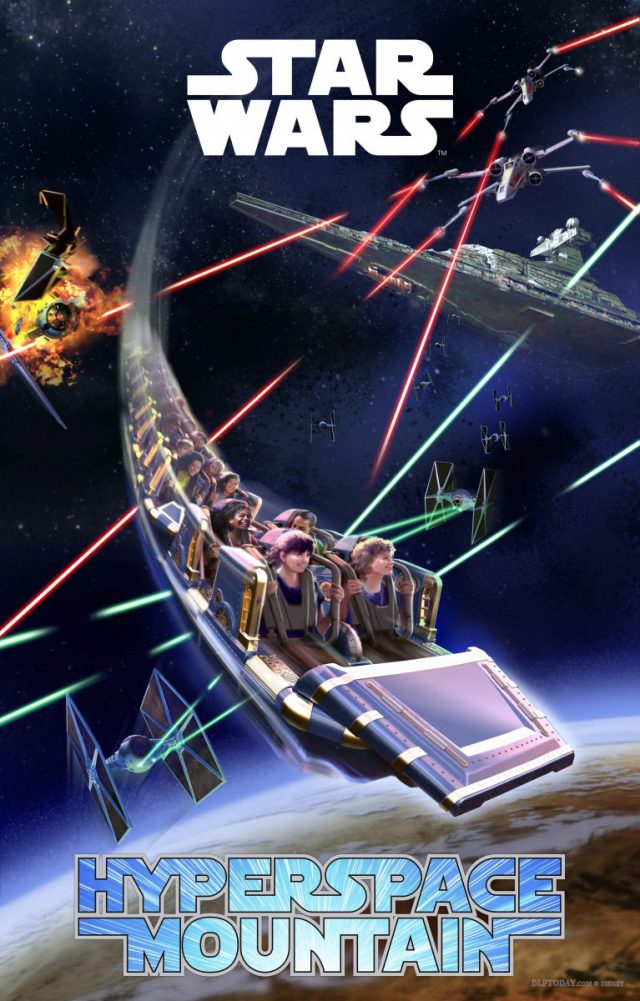 With a Star Destroyer looming overhead, X-Wings blast at TIE fighters as guests fly past below nonchalantly as if transported back in time from even the Victorian era itself. We have to presume this will be the "new" ride's actual attraction poster — appearing under Main Street Station and of course in the giant frame on the side of the mountain itself.
While technically a perfectly sound piece of art just to look at, and in some ways no worse than the rather bland Mission 2 poster, it's also the first real impression of how muddled this Discoveryland "Rebel Mission", in Steampunk rocket trains, will be.
Ignore the detail and the context and it'll likely be a thoroughly enjoyable, thrilling and improved experience. But what Disney — and especially Star Wars — fan doesn't care about detail?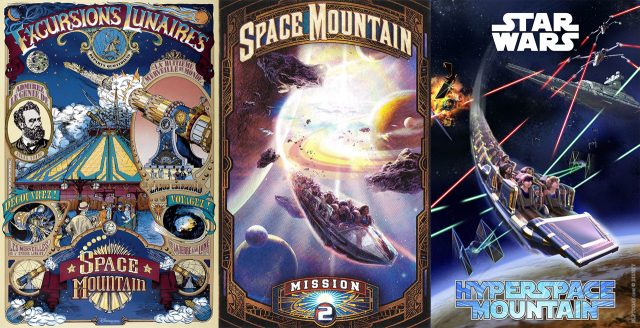 • Previously — Space Mountain: Mission 2 closes 9th January for rumoured Hyperspace Mountain overlay
One detail which had previously only been seen in internal documents is that subtitle, giving the attraction its apparent full name of Star Wars Hyperspace Mountain: Rebel Mission. Why it has suddenly resurfaced in press releases at this point is unclear, with all of the existing 25th Anniversary communications — and this poster itself — just using the shorter title.
Perhaps it's being used to distinguish this Hyperspace Mountain, with its faster speeds, launch and inversions, from the tamer version in California. But it feels like they should have decided on either "Star Wars" or "Rebel Mission" in the title, not both. (And this is how much we care about detail.)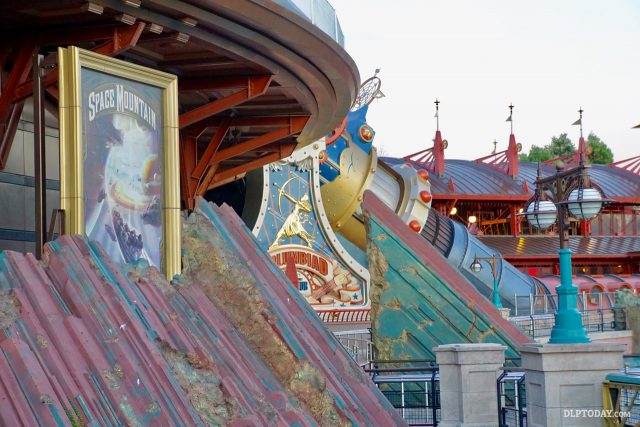 The storyline will see riders taken into the heart of the Battle of Jakku, receiving instructions from the celebrated Admiral Ackbar to cross the galaxy at lightspeed and help ward off enemy threat to the planet.
According to the French press release accompanying the poster, visitors can "imagine themselves commanding an X-Wing", "in total immersion" in the Star Wars films. At least, until they get back to the brick-built, wrought-iron-styled station?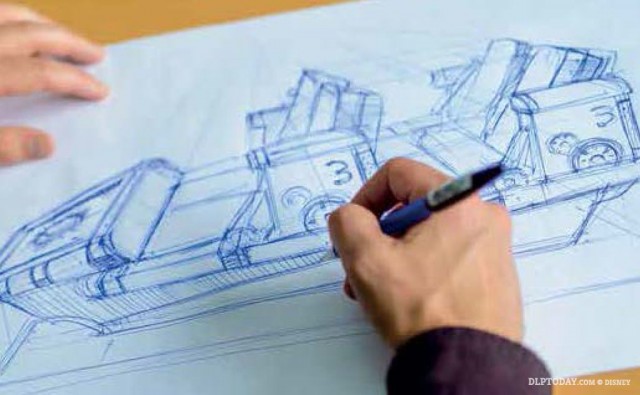 Supplied by Vekoma, the roller coaster's original manufacturer, the trains closely match their existing MK-1212 model. Head-banging over-the-shoulder restraints positioned close to the riders' ears are replaced with a soft rubberised inner restraint and wider grab rails. How many people could withstand a second ride right away with the old trains? The improvement should vastly improve the attraction's re-rideability.
Star Wars Hyperspace Mountain will open in Spring 2017.
While there's no end date for this new era of Space Mountain's life, the lack of any link between the design of the new trains and Star Wars is confirmation enough that this won't be here forever.
One day, a new Steampunk, Jules Verne era will surely take its place.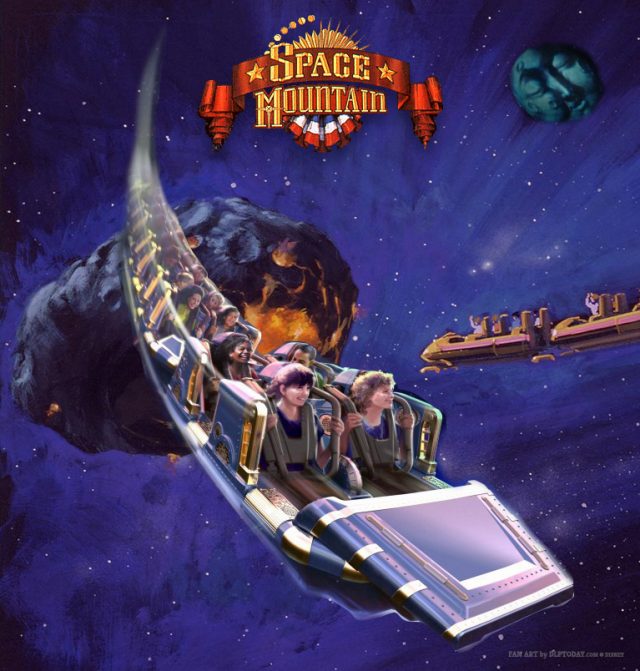 Fan Art: Now that works better, doesn't it?
It may take as long as ten years, given the timing of previous reboots, or at least until Disneyland Paris can secure the funds for a real Star Wars Land with real Star Wars attractions, rendering its Hyperspace Mountain stop-gaps pointless.
But Space Mountain will return. And when it does, these awesome new trains will be waiting. In a round-about way, this is our first step back to the moon, as we prepare to launch into a galaxy far, far away.