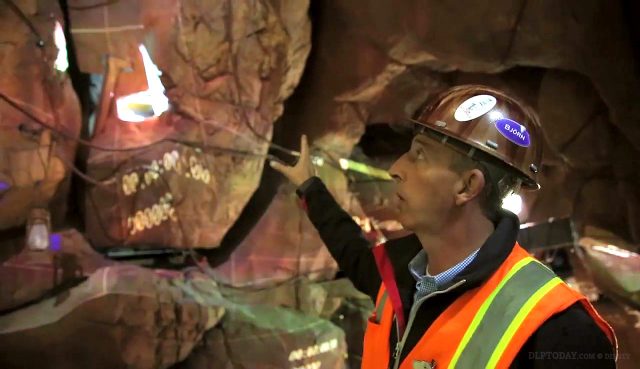 A new behind-the-scenes video from Disneyland Paris gives a first look at the new projection mapping effects creating an "explosive" new scene inside Big Thunder Mountain.
The video features Disney Imagineer Björn Heerwagen as he works on the key show scene within the revitalised Disneyland Park attraction.
As Big Thunder Mining Co. trains climb the third lift hill, a falling miner's lamp will trigger a series of fuses to light all along the cavern walls, leading upwards to a huge stash of dynamite. Smoke will billow outwards in an impressive "explosion" as your train dips downwards to escape just in time.
Some integral aspects of the scene, particularly the sparkling fuses chasing the train, are created using a projection mapping technique similar to that used for Disney Dreams! on Sleeping Beauty Castle.
Several pieces of previously unseen concept art were also featured in the video, captured above. It's a real shame that, unlike other Disney resorts, Disneyland Paris rarely seems to release this artwork to highlight the artistry which goes into its new creations.
The scene was originally created in 2014 for the earliest version of the attraction at Disneyland in California, but has been completely adapted to fit within the space available here. Disneyland Paris will be only the second resort to feature the new effects, at the last true Big Thunder Mountain Disney has built.
• More Photos — Look inside Big Thunder Mountain brought back to life – even the geysers!