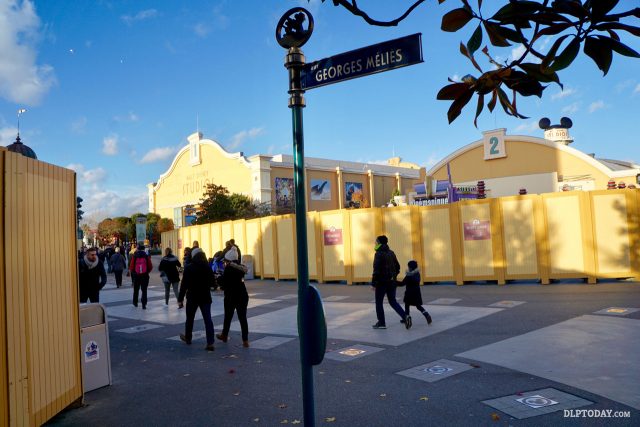 Season of the Force is already taking hold of Walt Disney Studios Park, as preparations for next year's three-month Star Wars celebration sprawl across Production Courtyard.
Yellow construction walls have surrounded the area to the left of The Twilight Zone Tower of Terror, with the removal of some large coniferous trees to prepare the area for use during the events beginning in January.
Leaving just a small walkway, walls then enclose almost the entire area in front of CinéMagique, where the Place des Stars Stage previously stood.
Behind the Tower of Terror walls, The Hollywood Tower Hotel's gardens otherwise remain relatively intact so far, though a large amount of cabling is clearly going in ahead of the planned daytime shows and nighttime projection spectacular.
Meanwhile, this week the park saw some rare vertical construction for the behind-the-scenes show control elements of the events.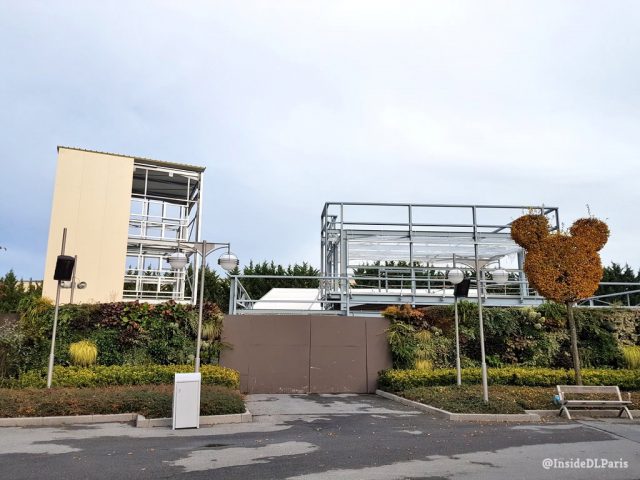 Photo: @InsideDLParis
Taking the space between CinéMagique and Disney Junior Live on Stage!, these two large steel structures have risen to finally fill one of the most incongruous gaps in the park. The taller platform on the left looks like it could house projection equipment, while that on the right seems more suitable as a show control booth.
The construction seems surprisingly permanent and, since Season of the Force is already confirmed to return in 2018, its reasonable to anticipate they won't be deconstructed in between.
Their final appearance remains to be seen, though already it appears unlikely they'll sit as harmoniously in the space as the gardener-themed Disney Dreams! control booth on Central Plaza, for example.
This space was previously earmarked for Soarin', a plan which seems to have entirely fallen by the wayside in the resort's future aspirations.
• Press Release — Star Wars "Season of the Force" confirmed for early 2017 Disneyland Paris debut
• Artwork — Awesome new Disneyland Paris Season of the Force key visual features Chewbacca and R2D2
• Video — "This is the place where Star Wars lives" – Watch the Disneyland Paris Season of the Force TV spot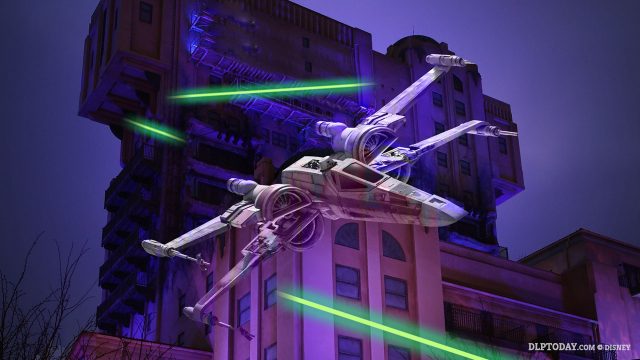 Star Wars: A Galactic Celebration will be a new nighttime projection show using The Hollywood Tower Hotel as its canvas, while Star Wars: A Galaxy Far, Far Away will be a daytime stage show featuring numerous characters from the films' universe.
Though exact performance details haven't been confirmed, it's expected some kind of temporary stage structure will also be built in this area to host the events.
Star Wars – Season of the Force runs from 14th January to 26th March 2017, launching just one month after the release of Rogue One: A Star Wars Story in cinemas.
• Book Now — Save up to 20% + Free Half Board Meal Plan for Season of the Force arrival dates — ends Wednesday 30th November 2016