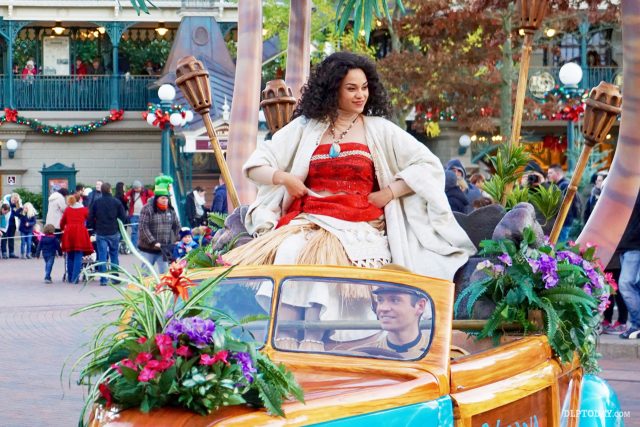 Disneyland Paris scored an exclusive "first" yesterday as Disney's latest heroine Moana made her first ever appearance within a Disney park anywhere in the world.
Happening just shorting after the anticipated Happy Birthday Mickey cavalcade, this second, surprise pre-parade welcomed the new character ahead of her daily meet and greets starting Sunday.
As with Mickey Mouse's birthday ride, there was nothing to inform regular guests that Moana would be appearing before the audio announcement itself; a rare complete surprise situation for visitors and fans alike.
Watch Moana's first appearance here:
Like Mickey, Moana also commandeered a previous Disney's Stars 'n' Cars parade motorcar — the former Lilo & Stitch unit.
From tomorrow, Sunday 20th November 2016, you can meet Moana in person as she begins a daily schedule of meet 'n' greet appearances in the post-show area of Art of Disney Animation in Walt Disney Studios Park.
• Previously — Disney's latest heroine Moana is coming to Disneyland Paris in one week
Peeking inside the building on Friday, the large colourful wall mural on the back wall of the space has been covered over by a framed backdrop of a beach with Moana's fellow characters Heihei the chicken and Pua the pig.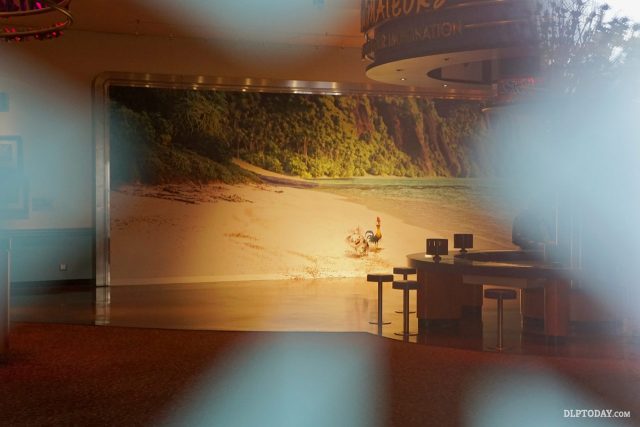 Disney's newest South Pacific star likely made this surprise early debut as part of this weekend's French premiere of the film itself, and the resort's own Disney's Enchanted Christmas press events.
Today, the real French voices of both Moana and Maui met the new heroine.
rencontre @cerisecalixte @kavanaghanthony les voix françaises de #vaiana et #maui a #DisneylandParis avec le personnage pic.twitter.com/9qijbCxU5L

— Aude Thomas (@AudeDisney) November 19, 2016
The character and movie are known as Vaiana in France and the majority of Disneyland Paris' other international markets.