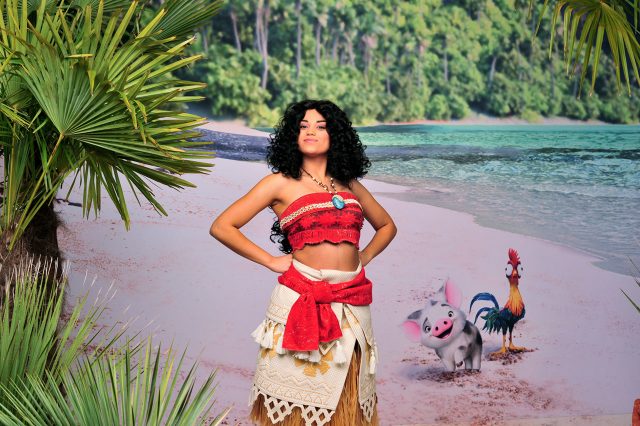 Moana officially began her new Disneyland Paris meet and greet location yesterday, following a day of previews for the press on Saturday.
Located inside Art of Disney Animation in Walt Disney Studios Park, the tie-in has seen the heroine stage a veritable takeover of not just the attraction's interactive Animation Station area but its adjoining boutique, too.
Thanks to Maarten for sending over these new photos!
The new backdrop against the rear wall has been framed in silver to neatly match the style of the interior. While it's not confirmed how long Moana herself will be staying, the design of the installation would also clearly allow the background to be switched for another film tie-in, if the location proves a success.
So far, Moana is proving exactly that. Despite the movie not being in cinemas yet, lines were strong on Sunday and filled the entire area just outside the attraction's exit doors.
In fact, it could even be that the meet and greet is a little too much for the space, causing some seats at the nearest interactive exhibit to be inaccessible.
The Disney Animation Gallery boutique, meanwhile, has been almost completely turned over to merchandise for the animated movie.
Previously designed to showcase a more upmarket range of books and collectibles with an animation theme, large plush toys and standard issue Moana dolls now line its shelves.
It's certainly a shame to see a boutique with one of the resort's more interesting product offerings become another standard Disney character stall. Yet, at the same time, it's very smart thinking from Disneyland Paris to utilise the space for such a well-timed tie-in, enticing guests who've just met the star to pick up an extra souvenir.
Since it's unusual for Disneyland Paris to go so full-on with a new movie tie-in like this, we have to presume there's been some incentive or funding from Walt Disney Studios' European movie distribution arms.
For the week ahead, Moana's meet and greet times are pencilled in as 12pm and 1pm, on 20th, 21st, 24th and 25th November 2016, suggesting the heroine may be taking a couple of days off per week — to deal with the likes of demigods and dumb chickens?
• Watch Moana's special welcome parade — Moana has made her first ever Disney Parks character appearance – in Paris!
Photos by Maarten