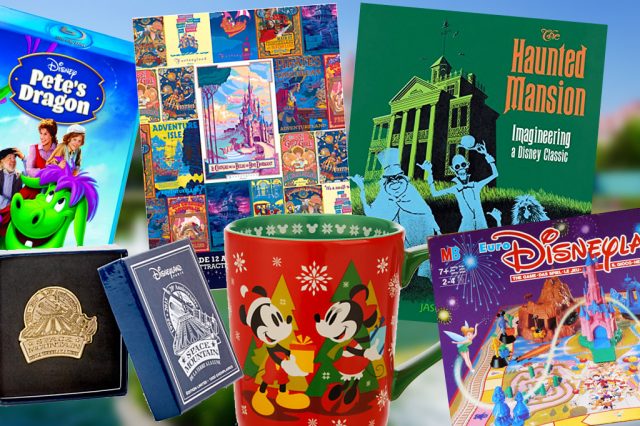 Looking to surprise a Disneyland Paris fan amongst your friends and family with a present that'll actually be on their wish list this Christmas?
Here's a quick pick of 12 handy gift ideas from the world of Disney that would surely be welcome under any fan's tree…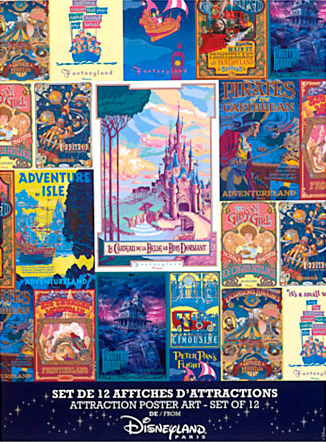 Without doubt our top present pick for a fan this year, the fabulous Disneyland Paris attraction posters set includes no less than 12 large, high quality artworks in one set, for a remarkably reasonable price compared to the alternative Disney Art on Demand option (though note that Disney Store charges £29.99, against a cheaper €29.99 at the resort).
If a fan had been shown this set only a few years ago they'd have thought they were hallucinating, Disneyland Paris unlike other resorts having never published its attraction posters as art souvenirs. Thankfully, a slow but welcome turn-around in merchandising has seen it happen. Even more welcome, the set doesn't shy away from the resort's fascinating past: the "Euro Disneyland" Railroad poster is included, as is the retired Space Mountain: De la Terre à la Lune.
The 40 x 30cm size is perfect for framing, the only problem: do you have enough wall space to showcase them all?
Note: if the set is "sold out" online, check back soon as they appear to be replenishing stock regularly.
Available from: Disney Store UK
—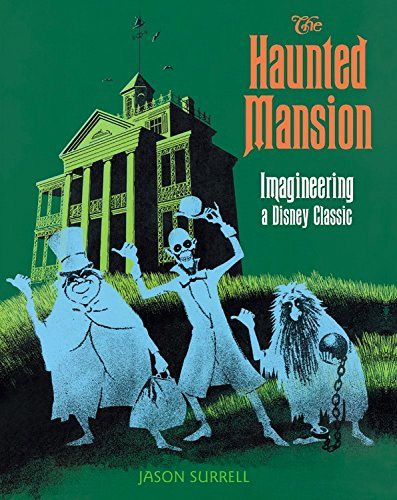 This year's updated version of Jason Surrell's excellent Haunted Mansion exposé drops all reference to the poorly received 2003 Eddie Murphy movie and adds a bunch of new content including covering Hong Kong Disneyland's Mystic Manor.
If the original edition isn't already on your bookshelf, this is a must-own (along with Surrell's equally good Pirates of the Caribbean and Disney Mountains volumes).
Available from: Amazon.co.uk
—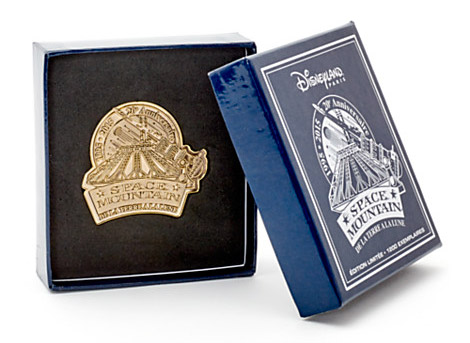 Produced earlier this year to commemorate the 20th Anniversary of the attraction that holds a special place in every Disneyland Paris fans' heart, this limited edition medallion is also available online at Disney Store UK while stocks last — the rather more expensive framed print sold out earlier this week.
Enclosed in a gift box with the now sorely missed "De la Terre à la Lune" logo, the medallion will transport many a fan back to the excitement of 1995.
Available from: Disney Store UK
—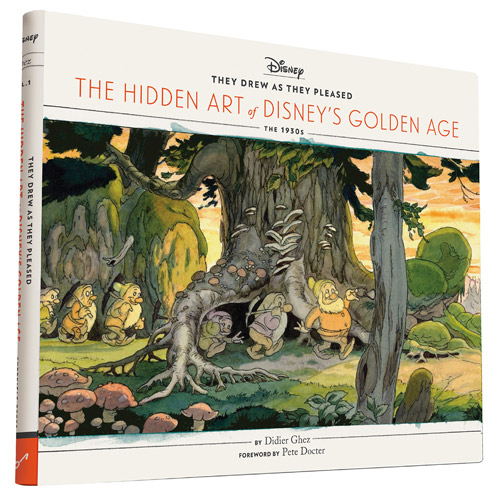 From author Didier Ghez, of "fan bible" Disneyland Paris: From Sketch to Reality, and with a foreword by Pete Docter, this weighty new hardback tome garnering rave reviews focuses solely on the 1930s Disney animated features, including many newly-discovered and unseen pieces of artwork to make for a very fresh look at some of Disney's oldest works.
More exciting, it seems set to be part of an entire series looking in detail at six decades of the Disney animation art form.
Available from: Amazon.co.uk
—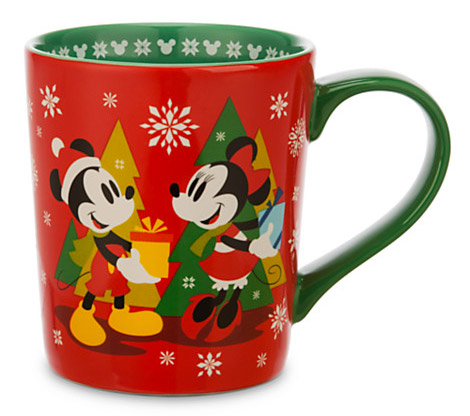 This colourful Christmas mug has a super-cute retro Mickey and Minnie design. Perfect for a fan to fill with hot chocolate, close their eyes and pretend they're huddling for warmth on Main Street, U.S.A. while waiting for a late Christmas performance of Disney Dreams!. No really, we will.
Available from: Disney Store UK
—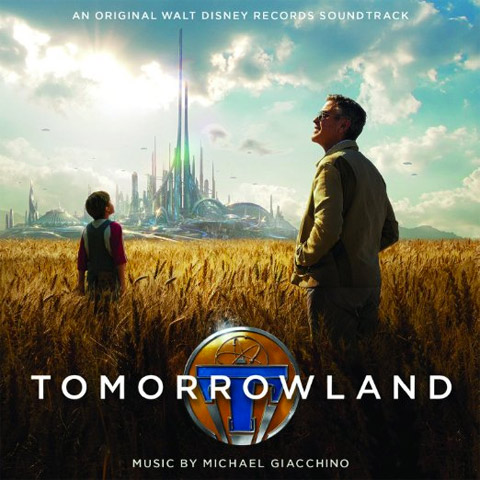 As an unfortunate testament to how poorly Brad Bird's sci-fi adventure has been treated by Disney since critics hastily called "flop", the stirring original soundtrack by fan favourite Michael Giacchino (The Incredibles, Ratatouille) isn't widely available to buy on CD outside the U.S. — and in the UK, not even as a digital download.
For the best price on the CD, you'll need to head to Amazon.com, but it's worth it — Giacchino's trademark sound and jumpy brass notes provide an optimistic, adventurous score which feels at one with the background music loops of the theme park lands (including Discoveryland) themselves.
For extra points, throw in the Before Tomorrowland prequel novel or — a quirkily romantic idea for your "chosen one" — hide a Tomorrowland pin badge itself inside a gift and they'll feel like they're on their way to Plus Ultra.
Available from: Amazon.com
—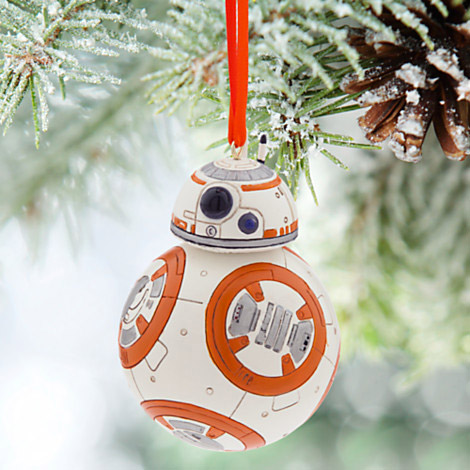 If you don't quite want a real Sphero BB-8 Droid rolling around your home, this festive bauble is about the cleverest and most fun Christmas tree ornament you can find, to celebrate what will no doubt be a very Star Wars-filled holiday season.
Available from: Disney Store UK
—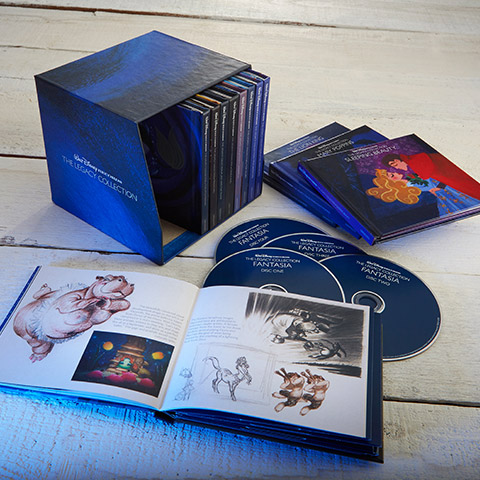 The Legacy Collection is a stunning new series of Walt Disney Records releases celebrating the music of twelve classic Disney animated features. Even if you already own the original soundtracks, these beautifully-packaged discs with wonderful new liner notes booklets are well worth purchasing for a vast amount of new and previously unreleased audio, presenting a far more complete edition of each soundtrack alongside fascinating bonus material.
The "Disneyland" volume only adds a few new tracks to previous releases from the California resort, but it's as good a place as any to start your collection and can be considered a definitive collection of music from the parks for any fan, with many Disneyland Paris cross-overs.
A complete box set of all twelve is available from Disney Music Emporium, but you might find it cheaper to hunt eBay or Amazon Marketplace for individual discs.
Available from: eBay, Amazon.co.uk, Disney Music Emporium
—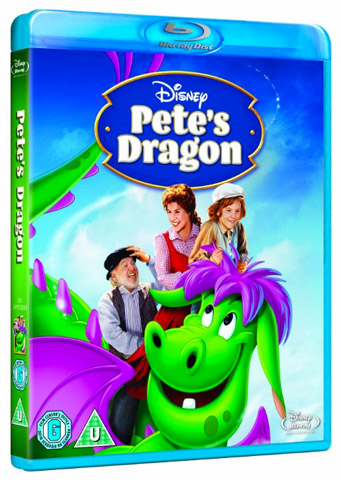 With a remake due in 2016, now's the perfect time for a fan to re-familiarise themselves with the original and one of Disney's best-loved live action films, notably inspiring parts of the treasured Main Street Electrical Parade.
Available from: Amazon.co.uk
—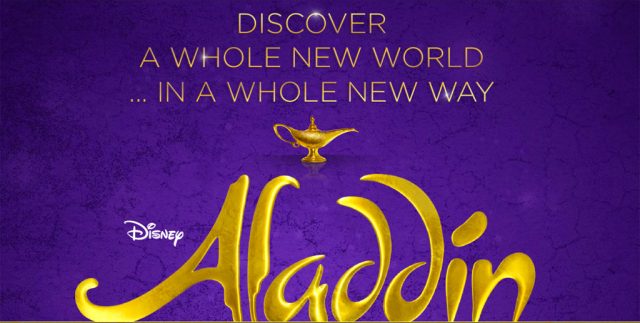 Don't worry, European fans: you no longer need to travel to New York to see Disney's newest musical. Aladdin will be opening at the Prince Edward Theatre, London from June 2016 and tickets are available to book now. It's certain to be more entertaining than a ride on Flying Carpets Over Agrabah.
Available from: Aladdin The Musical
—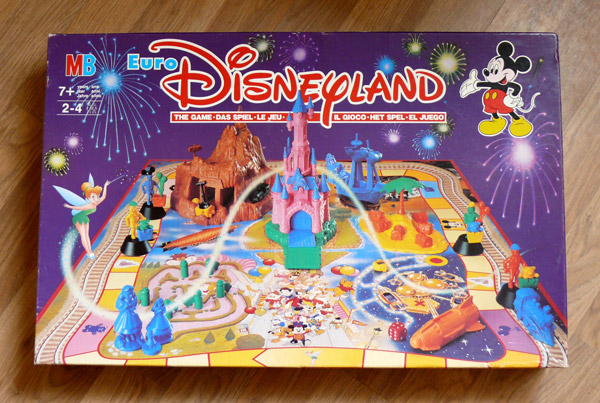 A treasure trove for fans of Disneyland Paris memorabilia from its earlier years, eBay could well provide you with any kind of unusual and rare retro gift. From "Euro Disney" mugs to keyrings, postcards, licence plates, pins, posters, books, stamps and even clothing. Just check it's not already in our collection — we're notorious for treating ourselves (or not knowing when to stop placing bids).
Available from: eBay
—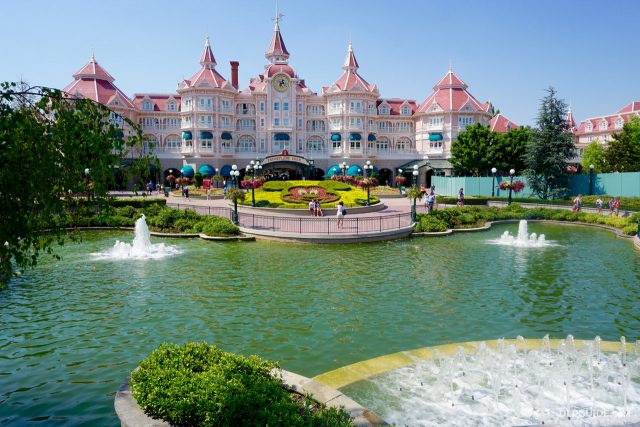 If all else fails, take them back to Disneyland Paris! Tickets to the parks, an Annual Passport, a hotel stay, train tickets or even some Euros towards spending — make it different, memorable and meaningful. As long as it involves Marne-la-Vallée, you can't go wrong.
Available from: Disneyland Paris, Expedia.co.uk, Hotels.com, Voyages-sncf, P&O Ferries, Attraction Tickets Direct, AttractionTix