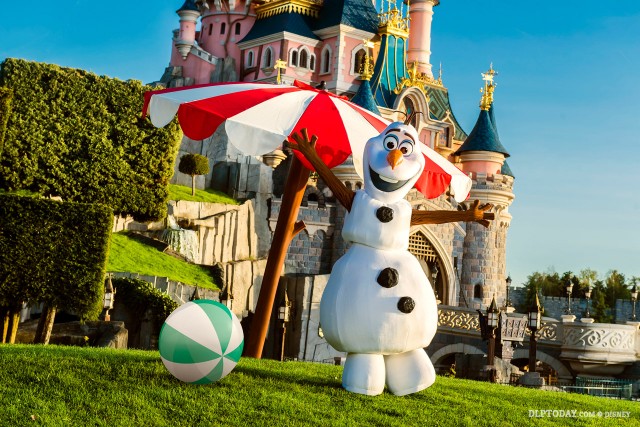 Do what frozen things do in summer. If your name's Anna, Elsa, Olaf or Kristoff, that means a long summer holiday at Disneyland Paris, starting now. Frozen Summer Fun officially launched this week at Disneyland Park, bringing a modest but very welcome and well-executed selection of Frozen-themed treats from 1st June to 13th September 2015.
This is your complete guide to all the new events, combining the first photos and videos, tweets from the preview weekend and a little commentary analysis…
First things first, this isn't a "season" in the usual Disneyland Paris sense. And that's a good thing. For "the first time in forever" (well, the brief gap between Christmas and Spring), you'll get to see Main Street, U.S.A. and the majority of the park looking just as the Imagineers designed it.
Centring the Frozen fun in the Cottonwood Creek Ranch corner of Frontierland is a refreshing decision and much closer to the type of festivals often seen at California's similar Big Thunder Ranch area. Decorating Main Street Station would have been complete overkill; as it stands, a few teasing posters in Fantasia Gardens are perfectly adequate.
Don't miss this Frozen Summer in #disneylandparis Olaf is excited to see you all! #olaf#frozen#frozensummerfunpic.twitter.com/3w0ZNzrwmk

— Bert Snyers (@bertsnyers) June 2, 2015
Once in Frontierland, you're confronted by a modest but surprisingly effective overlay of the Cottonwood Creek Ranch and former Woody's Roundup Village areas. The entrance marquee now reads "Frozen Fun", or "Fête Givrée" in French, surely opening up the possibility of the area continuing or returning at Christmas.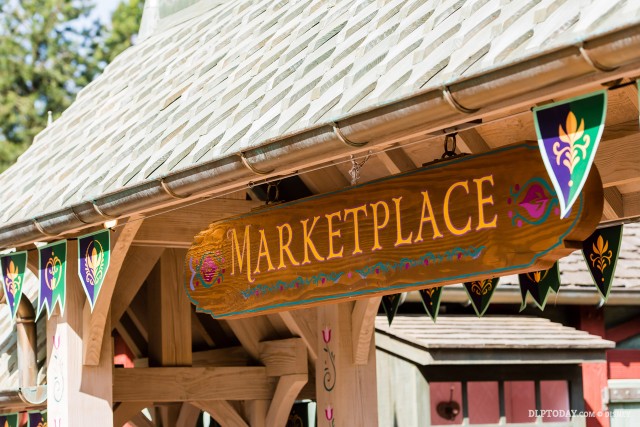 Marketplace
To the right, the Marketplace is based on the Kingdom of Arendelle, marked by a great looking entrance arch resplendent with flags, floral tracery on its woodwork and colourful flowers in tubs. The initial impression is top quality for a seasonal addition and your eye is neatly led inside to a fun sleigh photo-location with Sven and Olaf right ahead.

Here, you realise that the inner Marketplace is actually much smaller than the former village area. At least half has been cut off by a wooden fence, which Olaf and Sven peep above — presumably to save them from little climbers — giving the perhaps unintended effect of the characters photo-bombing your picture.
On the left, the Royal Courturier is in fact not a full-formed Frozen boutique as presumed before opening but a "princess for a day" location where budding Annas and Elsas can tug at their parents' arms for a make up and hair package costing €55 or a full package including dress for €120.
Au Royal Couturier les petites princesses pourront se faire belles pour une photo givrée ! #FrozenSummerFun pic.twitter.com/5eW8B7SGvc

— Oulala Gérard (@OulalaGerard) May 30, 2015
At that point, you'll no doubt turn and leave the Marketplace area — it will probably suffer from a single entrance and exit as crowds build, and certainly suffers from the lack of a real indoor Frozen boutique. Yes, merchandise from the movie can be found all over the park, but having a dedicated, fully stocked location would be a real feature and give us more dwell time to soak up this area.
Instead, the sole merchandise location is Wandering Oaken's Trading Post, the former Woodcarver's Workshop kiosk transformed with some fun signage and again a surprisingly good number of Nordic details, if you push up to the counter and poke your head inside.
Wandering Oaken's Trading Post actually has some nice details to discover! pic.twitter.com/5JApYcmoO8

— InsideDLParis (@InsideDLParis) June 1, 2015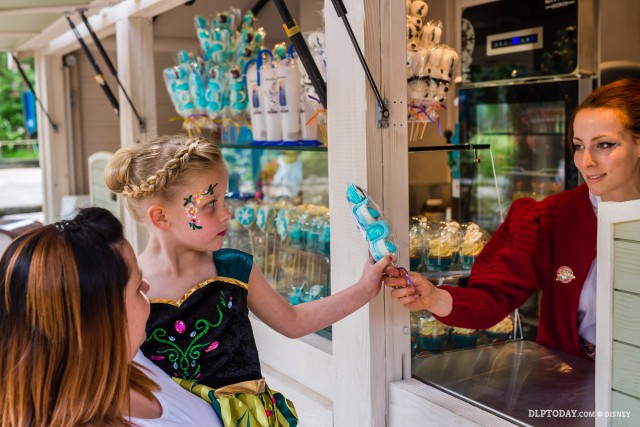 Trialled in Fantasyland for several months, the "Frozen Fun" snacks are now exclusive to this area and sure to be a real hit. It's still unusual to see such "fun" and imaginative fast food at Disneyland Paris: an Elsa cupcake, an Olaf candy apple, ice cream with blue sprinkles or hot chocolate with speculoos cinnamon syrup beat a vanilla Cornetto any day.
The only disappointment is that, unlike Wandering Oaken's, this chalet has no name, no story, no character. It wouldn't have been hard to invent something suitably "Arendelle-ish" for the location, yet it stops the Marketplace from feeling quite so much fun.
Here's what's on the menu at… a kiosk that has no discernible name. #FrozenSummerFun pic.twitter.com/a9O0rOyq5y

— CafeFantasia (@CafeFantasia) May 30, 2015

Frozen Sing-along
Make no mistake, the Marketplace and everything else in the season are really only add-ons to the main event: Frozen Sing-along. And my, how this concept has flourished.
What looked like a rushed and desperate concept for a Frozen tie-in during its trials at Videopolis Theatre last year has been fantastically turned into something approaching a genuine stage show… at Disneyland Paris! In fact, the resort allergic to such stage shows in recent years has delivered the concept with far better staging than the rather flat affairs at both Florida and California: Frozen Sing-along feels right at home in The Chapparal Theater, where its snowy stage can nestle into the lush fir trees either side.
A real effort was also made to transform the stage into a more theatrical venue: the sides and back of the theatre are now almost fully enclosed, permitting more impressive lighting effects and better visibility of the three huge screens which present scenes from the film complete with sing-along words.
Yes, the concept is still ostensibly an audience sing-along, but there's enough — just enough — staging and storytelling wrapped around it to create what feels like a worthwhile stage event, even if you'll be keeping your mouth firmly shut.
Surprisingly, the opening number "For the First Time in Forever" featuring Princess Anna goes ahead without any singing-along, before we learn there's a winter festival to celebrate in Arendelle. "Do You Wanna Build a Snowman?" leads into the introduction of Olaf and Kristoff, while the timely "In Summer" features a good stage routine from the dancers and giant beach balls to throw around the audience.
The catchy "Love is an Open Door" then builds the audience for a "Let It Go" finale, where the giant screen lifts and music swells to reveal Elsa in spectacular, crowd-pleasing fashion. Smoke effects burst from the landscape and Disney snow falls across the audience. A short reprise of the song is then duly welcome, to extend Elsa's otherwise dreadfully short stage time before it's all over, clocking in at around 17 minutes.
Indeed, while "Let It Go" is the only finale they could have chosen, and Elsa appearing as a finale to that number is a real moment, you have to wonder guests would have preferred to see her on stage for at least the whole song.
Six performances a day are happening this week, expanded to twelve at weekends and in July and August — half in French, half in English, though sing-along words for both languages are shown at all shows. Queues will likely be stretching out of Cottonwood Creek Ranch on even the quietest days, so arrive at least 20 to 30 minutes before showtime.
Video — 4 minutes of highlights from the show
For fans, despite the "better than expected" consensus, the still low production values will likely place the show somewhere at the bottom of the park's best stage shows, but that doesn't mean we're not glad to see it here. Let it go and be a wild success, proving that such entertainment is an essential element of the Disney park experience.
Frozen: A Royal Welcome

Slightly odd first week timings place this simple royal cavalcade as more of an evening event than a "welcome" to the park. It's Elsa and Anna in a horse-drawn carriage, that's all, but it's a much-needed chance three times a day to see the Queen and Princess in the flesh outside of the stage show, because you won't be getting any closer.
Don't forget, there's also the float in Disney Magic on Parade! where you can spot the pair.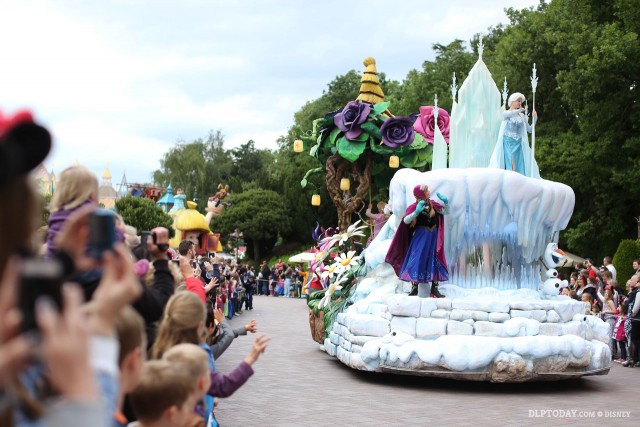 After the purported "five hour queues" during Disney's Enchanted Christmas, when the pair met guests at the Princess Pavilion, the park has probably quite wisely decided to forego any meet 'n' greet whatsoever. That will likely prove a point of contention for some guests (who would also likely be the ones to then complain about the queue), so it's a shame they perhaps didn't decide to let the popular Olaf meet guests instead.
Yes, sorry — that fun parasol photo-location you've seen provided for the press over the weekend is now long gone and will only tease visitors about meeting the Frozen stars they can't meet. Keeping it somewhere off Central Plaza, say in the unused sandy area between Frontierland and Adventureland, would have also been a good to way to spread a little of the Frozen fun more visibly into the park's hub.
Frozen in Disney Dreams!
Another slight disappointment comes with the new Frozen scene in Disney Dreams!, a long-overdue replacement for the Brave scene. In fact, the scene is simply the "Let It Go" number copied and pasted from the Disney Dreams! of Christmas show, seen for two years already now at Disneyland Paris.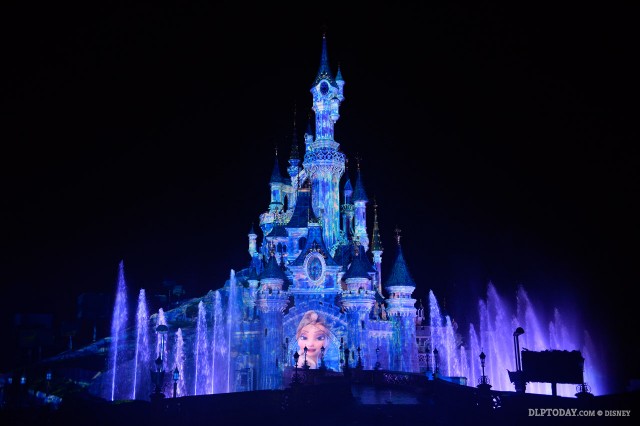 Projection mapping tests and the presence of the LED lighting cages on the castle's spires hinted at more of a reworking, so while this scene is a fantastic addition to an already incredible show, it is left feeling like it should and could have happened a long time ago.
Oh, about those LED lights: they're actually used for a new Frozen-themed castle lighting moment 15 minutes before Disney Dreams! itself, similar to the Christmas castle lighting ceremonies (and probably the reason for those tests above).
It's a beautiful moment, but does it actually need those LEDs with the fountains? Doesn't seeing the castle already all lit up like this spoil the surprise of seeing it come to life, gradually, in the show afterwards? And is it really worth having those awful, ugly metal contraptions all over the spires throughout the whole day just for these few minutes? Either the LEDs should be programmed in a worthwhile way into the Frozen scene in the show itself, or removed.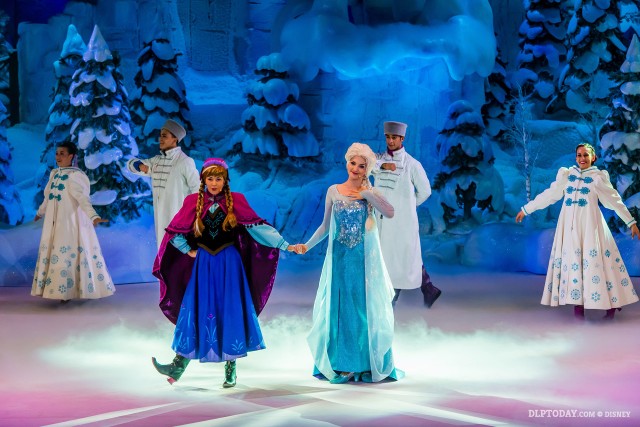 Frozen Summer Fun — Conclusion
Overall, the solid realisation of Frozen Sing-along and the delight at seeing real stage entertainment in the park carries the season with ease. Disneyland Paris could have left it there, but by taking a lead from Walt Disney World and wrapping the modest stage show up into a marketable "Summer Fun" bundle it has created something which feels much more complete and worth visiting for — without question if you're a Frozen fan.
This is a lesson in how to capture an audience at short notice, how to create a new experience on a small budget and how to sell it as a reason to visit; and part of the lesson is not plastering Main Street in irrelevant decorations. It's reminiscent of the range of festivities seen for Aladdin and other hot new Disney releases in the 1990s and puts Disneyland Paris yet another step closer to its American cousins.
Crucially, every element of this very restrained "season" recognises why guests visit Disney parks — and at last, the trademark musical stage show is part of that experience again.
Frozen Summer Fun runs from 1st June to 13th September 2013
• Previously — Frozen Summer Fun is coming to Disneyland Paris: everything you need to know