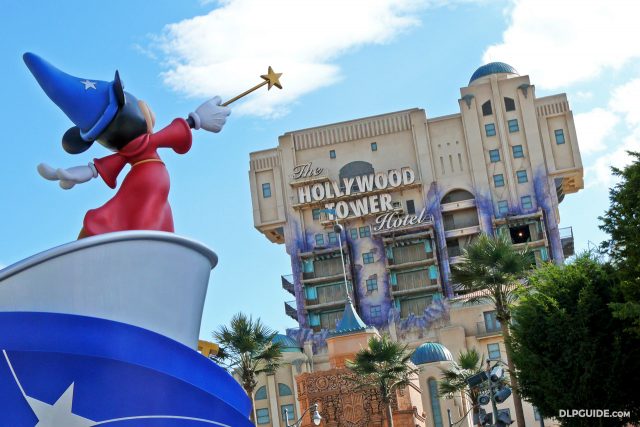 No sooner has the pixie dust settled on the announcement of a major programme of attraction refurbishments, Disneyland Paris has already changed the schedule. Dubbed the Experience Enhancement Plan on the UK website, the new updated list of closures sees several works slipping to later dates and some disappearing altogether.
La Cabane des Robinson has moved from this August to January 2016, ending September 2016, while Star Tours has changed from a definite 1st March 2016 to a rougher "late February 2016" — a date worth marking as surely the last time on Earth we'll get to take the original 1987 trip to the moon of Endor, and practically confirming the updated 3D sequel will open in 2017.
An important addition is Thunder Mesa Riverboat Landing. Yes, it's sadly hardly unusual to see this Frontierland attraction closed for long periods, but its closure here parallel to Big Thunder Mountain is said to include a complete draining of the Rivers of the Far West, a sight seen perhaps only once (perhaps never?) before in the park's history.
Meanwhile, it seems the exciting and long-rumoured thought of a revamped or replaced Animagique show can be forgotten for now, at least, as this Walt Disney Studios Park attraction disappears from the schedule.
Original schedule:

New schedule: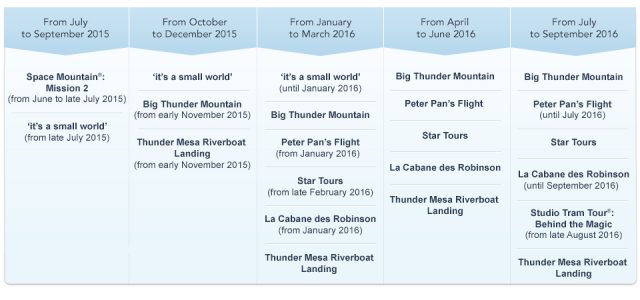 Intriguingly, the new image has "v6" in its filename while its predecessor was "v5". We can only wonder what versions 1-4 looked like…
Definite dates for these closures will likely only be confirmed at the usual schedule of two to three months in advance, so keep checking back for further updates if you need to know specifics.
• Find all the upcoming Experience Enhancement Plan dates plus regular monthly lists on our Closures & Refurbishments page