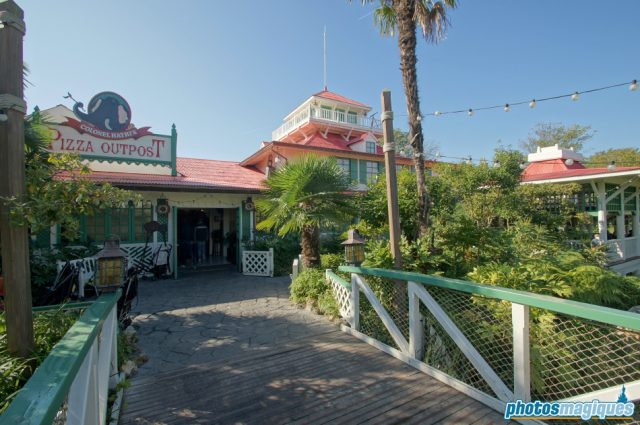 Here are our five favourite restaurants for fast food at Disneyland Paris, highlighting the counter service restaurants with the best menus, themes and value for money across the parks and resort.
Remember when Disneyland Paris was synonymous only with unhealthy fast food, hand-in-hand with McDonald's, a side of fries with everything?
And then came the salads. Years of distancing itself from salt, sugar and the golden arches later, not to mention a concerted push towards Meal Plans and better-quality buffet restaurants has left the resort's "Counter Service" fast food restaurants feeling overlooked — not least by management. Many menus still show a desperate lack of imagination, variety, and crucially, value for money.
But don't lose your appetite: there are still a special few Counter Service places where an unusual menu option shines through, or the atmosphere is good as a Table Service, or you actually feel it was money well spent. A quick bit of Twitter research tells us everyone has their favourite spot.
Let's spread the word about these fan-favourites with a list of the five best Disneyland Paris counter service restaurants plus their good and bad points, and perhaps, one day, we'll be able to count to ten…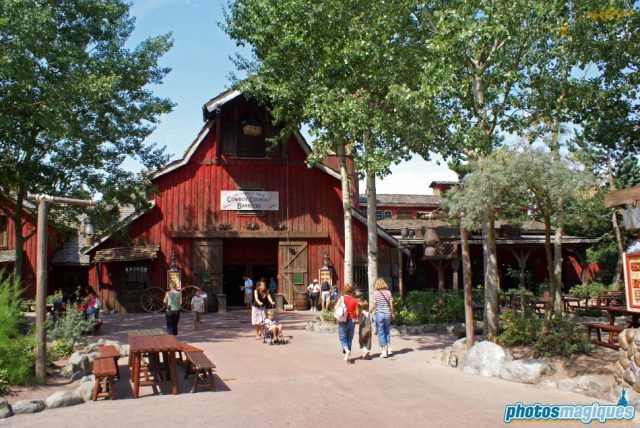 Set in an enormous barn on the Cottonwood Creek Ranch edge of Frontierland, Cowboy Cookout Barbecue both benefits and suffers from its impressive size. While toe-tapping live western music can be a great bonus on many afternoons, the relatively open interior and close tables is best for those who want a bustling, convivial atmosphere over their lunch rather than a quiet sit down.
That said, the almost endless, wide serving counters are a pleasant break from the park's many cramped ordering areas and outdoor seating amongst the trees is a delight in summer. Tex-Mex smoked meats make the hearty menu seem a little more like "real" food, but also useless for vegetarians.
Good points: Fast service, live music, lively atmosphere
Bad points: Can feel like the entire park is eating there, poor vegetarian choices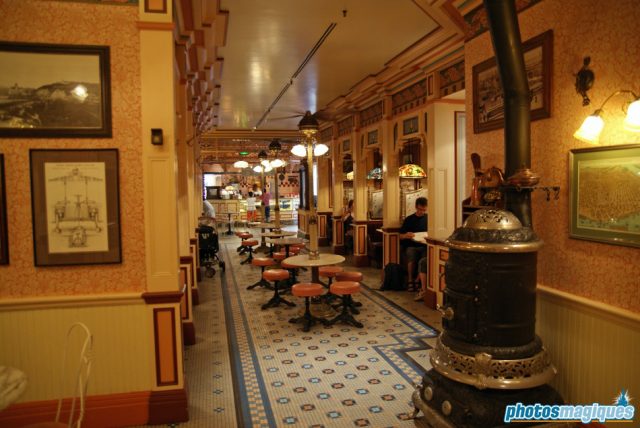 The moment you discover the bustling atmosphere of Cable Car Bake Shop, feeling somewhat hidden mid-way up the street, and take a seat in its comfy and quaint booths, you're well on your way to falling in love with Main Street, U.S.A.
What could easily be noted only as "an alternative Market House Deli", serving basically the same sandwich menu items, is somehow so much more charming. Pictures and models on the walls present a tribute to turn-of-the-century horse-drawn trolleys and the sweet smell of the adjoining Cookie Kitchen permeates your senses, while those all-important booths are the perfect place for a lively group discussion about your next attraction, or a quiet snuggle on a cold Christmas day.
Good points: Great seating, atmosphere transports you to another time
Bad points: Limited food choices, may have to circle for booth seats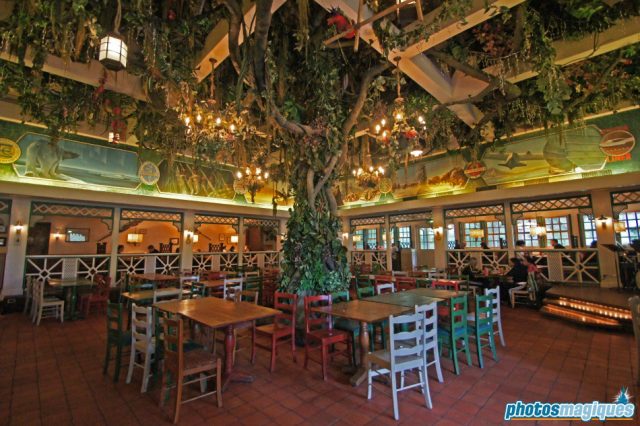 What once was, briefly, the elegant and lushly themed Explorers Club restaurant now serves Italian pizza and pasta with a menu identical to Pizzeria Bella Notte in Fantasyland. But if you can choose, go for Colonel Hathi's Pizza Outpost every time. Nestled in the exciting jungle of Adventureland with its own Jungle Book music loop, the benefits of a former Table Service venue are plain to see: intimate booth seating, large outdoor terraces and a fantastic centrepiece with the branches of a tree stretching up into the rafters — even if the Enchanted Tiki Room-inspired experience of animatronic birds above isn't what it could be.
Likewise, the simplistic menu can seem to waste such a stunning venue. A choice of just two pizzas are tasty enough, but the standard pasta with a dollop of — again, one of two — sauces in a cardboard box feels dreary and the lasagne is thoroughly uninspiring. It wouldn't take much to at least offer a different pizza topping, would it?
Good points: Unbeatable setting, feel-good atmosphere, tasty pizzas
Bad points: Lacking menu variety, poor quality pasta choices
It's a tough call between the Lion King-based eaterie and its Frontierland neighbour (the two share backstage areas despite being in separate lands), with both offering perhaps the most "different" Disneyland Paris counter service options. At Restaurant Hakuna Matata, the vaguely African theme serves spiced chicken and kebabs, with the delicious "Hakuna fries" being a particular fan favourite. Meanwhile if Mexican food is more your thing, Fuente del Oro Restaurante has tasty "Mexican rice" and a great variety of taquitos, tacos and fajitas that are more fun and feel more filling than a burger bun any day.
Formerly Aux Epices Enchantées, before the 1995 animated blockbuster, the Adventureland restaurant has more capacity and a far less frenetic serving area, while Fuente del Oro always feels the brunt of mid-day crowds for Big Thunder Mountain opposite (not helped by a terribly cramped counter and too little covered seating) — but might be worth it for those fajitas.
Good points: Unique menus, good value, well-located
Bad points: Fuente gets horribly busy, Hakuna too often closed on quieter days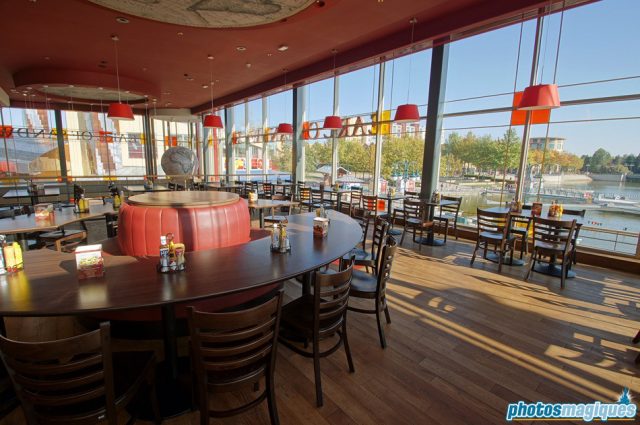 That's right, one of — if not the — best counter service restaurant at Disneyland Paris has nothing to do with Disney. The external Earl of Sandwich chain opened this well thought-out venue at one end of Disney Village in 2011, bringing its signature hot sandwiches to Paris with prices better than or at least equal Disney's own, lesser-quality (and far less imaginative) cold sandwiches. Recent menu changes have seen the restaurant try a wider variety of salads, wraps and pizza slices to get more all-day trade, but it's the sandwiches we keep coming back for — not least because there's so many to choose from, you rarely get bored.
Ordering is also a delight, with a fast-moving queue and helpful numbered menu items leading you to receive an innovative buzzer to pick up your freshly-prepared food. The British theme is light and indeed barely noticeable, made up for by a surprisingly stunning view over Lake Disney from the first floor which feels befitting of a far more expensive restaurant. On all counts — choice, service and value for money — we're still waiting for Disney to take note with its own counter service restaurants, four years on.
Good points: Endless menu options, best value in the resort, great first floor view
Bad points: A long walk from the parks, prices are creeping up
Honourable mentions…
Toad Hall Restaurant has a gorgeous cartoon British manor house interior and delicious fish and chips, but otherwise lacks indoor seating capacity and food variety, with an alternative chicken burger menu option which feels like a cop-out (why not something like filled baked potatoes, or a classic savoury pie?).
Although ostensibly a Table Service venue, don't ignore The Lucky Nugget Saloon, which after some years as a character buffet restaurant has settled into an enjoyable place between basic counter service and something more.
You'll pay a little more, but you get a sumptuous western saloon interior set around a traditional stage, often presenting live music. It's about as close as Disneyland Paris have got to a "Nando's" or pub style of basic casual dining.
Best avoided…
The whole of Walt Disney Studios Park could sadly be listed here with its disappointing counter service options, but instead let's say Au Chalet de la Marionnette – a vast and very traditional fast food restaurant so big it actually spans two lands, with a frenetic Fantasyland section and a darker, but still noisy, Adventureland area both inspired by Pinocchio's adventures.
That Bavarian Hot Dog might look tempting but, along with the burgers and chicken nuggets, it all just adds up to a so-so experience that will likely only make you want to get out as soon as possible.
Do you agree? Share your Disneyland Paris Counter Service dining tips below!
Pictures: Photos Magiques