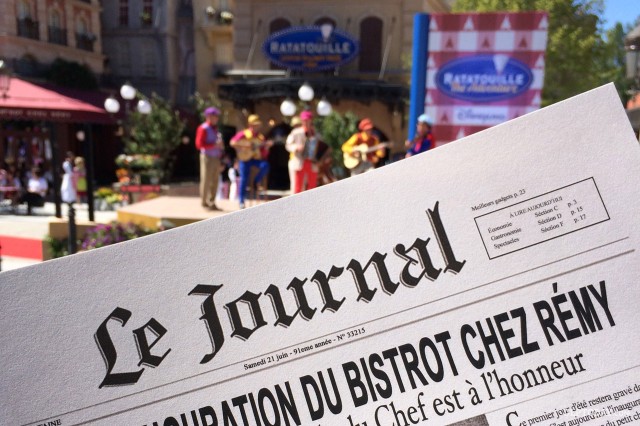 Yesterday's big news day for Disneyland Paris and its operating company Euro Disney S.C.A. saw the Parisian Disney resort make financial headlines again, as news organisations around the world seized the chance to see "Mickey Mouse in trouble" and struggled, like us, to get their heads around the finer financial details of the deal.
Some articles, of course, peddled the same tired old "cultural Chernobyl" quotes, stories that the French were originally put off by "a ban on alcohol sales" (The Telegraph) and continued to mistake "Euro Disney" as the brand name of the destination rather than the company — a name it now hasn't held in over 20 years. Oh, and don't forget the classic gaffe: that photo of a different resort's castle.
Variety at least got that right with a photo of Bob Iger at the Ratatouille grand opening (while pinning Tom Staggs, chairman of Walt Disney Parks and Resorts, as his potential successor as Disney CEO) and included the statement from new Euro Disney CEO Tom Wolber: "The ongoing economic challenges in Europe and our debt burden have significantly decreased operating revenues and liquidity." At last, Euro Disney doesn't speak innocently of the "economic landscape" but of their own longstanding problems.
It's the breadth of news coverage that's surprising, and that Disneyland Paris appeared so high up the agenda for many of these. Google News lists over 270 articles, most eschewing the word "recapitalisation" for "bailout" or "rescue plan" including BBC News, New York Times, The Wall Street Journal, Reuters and the -ahem- Grimsby Telegraph, who asked "Is Disneyland Paris losing its magic?".
Though the intention of yesterday's proposal is to give Disneyland Paris more freedom to improve itself, we have to hope such coverage hasn't set the public's impression of the destination back further.
• Yesterday — Euro Disney announces €1bn recapitalisation proposal to clear debt and invest
• Previously — Debt Mountain: The Walt Disney Company agrees €1.3 billion Euro Disney refinancing
The Guardian's later article includes some key words from Euro Disney's financial chief Mark Stead that even have great interest for us fans. Stead is quoted as saying "the company's €1.75bn debt burden had become so overwhelming it could not afford to keep the park looking sharp and fresh, let alone invest in blockbuster rides to compete against the theme parks of Florida."
On the future, Stead offered hope — especially to the strong rumours of a major refresh programme for classic Disneyland Park attractions:
"We need to get away from tired-looking assets and make them look new," Stead said. "We need to be ready for the 25th anniversary in 2017."

He said the park would bring in more Disney characters and trademarks, although new blockbuster rides were unlikely. […]

Stead said: "We will be revamping attractions, bringing in new ride technology [and] new ride experiences. The look and feel will completely change. We hope to take technology from US parks and bring it here. We wanted to [do that in the past] and we needed to do that, but we haven't had the financial flexibility to do so."
That's just about the first official line we've had pointing to the rumoured enhancement of those attractions, which should include Space Mountain: Mission 2, Phantom Manor and Pirates of the Caribbean, not to mention a 25th Anniversary celebration.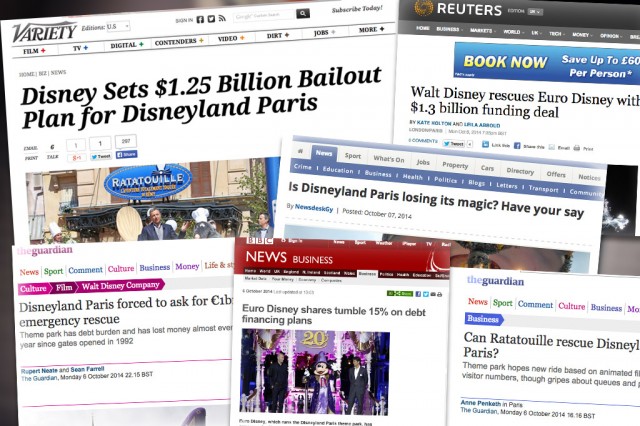 Less encouraging for the company are the thoughts of outspoken former Vice President of Park Operations, Pierre-Yves Gerbeau, who is quoted as saying Euro Disney management "had 'fallen asleep at the wheel' and failed to keep up with technical innovations and consumers' diverging interests."
"They've been running that place since we left pretty much on autopilot. You walk around and it hasn't been maintained properly, it looks outdated and tatty. It needs a proper shakeup both in leadership and strategy," he said.

"The customers are more sophisticated, more focused on how to spend their money and their time and [management] haven't kept up with that. Every other service business has reinvented itself to attract more customers. That theme park hasn't."
Rupert Neate and Sean Farrell writing for the Guardian make one absurd statement, however, that Ratatouille: L'Aventure Totalement Toquée de Rémy has been poorly received. Did they miss the strong reviews from the normally apathetic French press, visits from the Paris mayor and lengthy daily queues?
Its latest €150m attraction, Ratatouille: The Adventure, which is based on the 2007 film about a rat who dreams of becoming a top chef, opened in July to less than rave reviews.
The statement is even more bizarre given the Guardian are running a piece alongside titled 'Can Ratatouille rescue Disneyland Paris?', for which author Anne Penketh apparently lingered around the park gates angling for quotes.
What did she find? "The Dubiez family said they particularly enjoyed Ratatouille: The Adventure, based on the animated film."
Indeed, most of this sentiment in the press seems behind the times. Ratatouille and its sumptuous mini-land is more like a resuscitation than a rescue attempt; Euro Disney has pretty much been on dry land and planning for the future since The Walt Disney Company refinanced its debt in 2012. But that doesn't make a great headline.