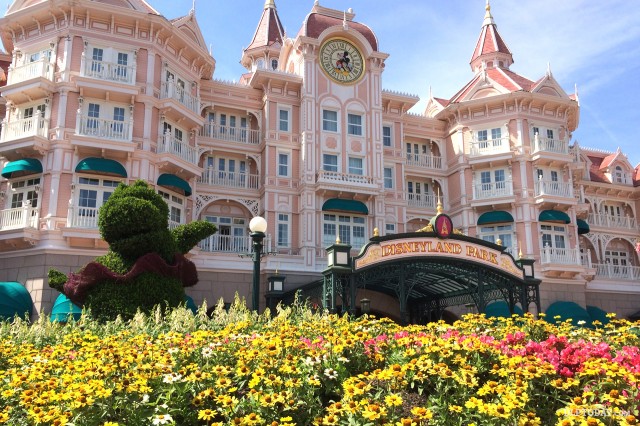 Buying your Disney park tickets from the new official Disneyland Paris website? Get ready for new names and seasonal prices for 1 Day tickets: applying only to 1 Day tickets purchased online in advance, you can now choose from Mini, Magic or Super Magic ticket types depending on the date you're visiting.
Effectively covering Low, High and Peak seasons respectively, the new 1 Day tickets promise to save you money if you're planning to visit on a less busy day of the year, with a clearer and simpler pricing structure than previous promotional tickets.
The ticket bands have been in use for Disneyland Paris ticket bookings within France since 1st July this year, but have only just made a full appearance elsewhere with the refresh of the UK website yesterday, which includes brand new booking pages. Previously, the UK website only offered the full-price "Super Magic" 1 Day ticket for sale.
• Buy your Disneyland Paris park tickets online now
Covering both 1 Park and 2 Park tickets for a single day, the new system has its own calendar (below) to confirm the validity of each ticket.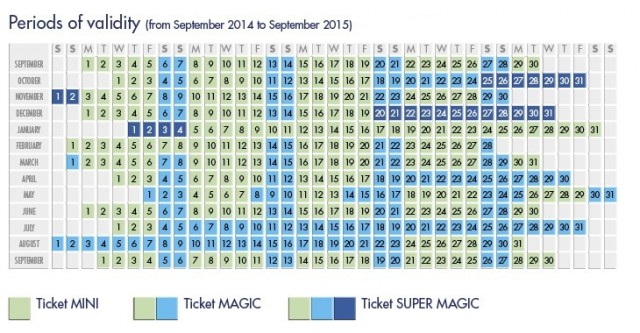 Roughly, Super Magic tickets are valid on any date and required for the busiest Halloween week and the Christmas school holidays, while Magic tickets are required for most weekends and some other holiday periods such as Easter and summer school holidays. Mini tickets are therefore valid only on other dates, mostly weekdays.
As for the prices, low season visitors could actually save considerably with this new pricing structure. In fact, two adult 2 Park Mini tickets at £100 (£50 each) works out cheaper than a standard 2 Day / 2 Park ticket at £116 (though not cheaper for 3 Days or more).
Prices — UK example
1 Day / 1 Park
Mini — Adult: £38 — Child: £33
Magic — Adult: £46 — Child: £41
Super Magic — Adult: £54 — Child: £49
1 Day / 2 Parks
Mini — Adult: £50 — Child: £45
Magic — Adult: £59 — Child: £54
Super Magic — Adult: £67 — Child: £62
You could save even more if you visited for, say, two days on "Mini" dates and took each park a day at a time with two £38 1 Day / 1 Park Mini tickets.
Tickets sold at the entrances to the Disney Parks are now effectively undiscounted "Super Magic" tickets, valid on any date, with the price tag to match. That's €65 for a 1 Day / 1 Park ticket, for example, or €80 for a 1 Day / 2 Park ticket. However, British visitors may feel short-changed that both these prices, given current Euro exchange rates at the time of the writing, work out costing less than the new Sterling prices quoted above.
The change to seasonal pricing has not been visibly communicated by Disneyland Paris to British visitors, and even the new website provides barely any helpful information to explain the seasonal structure. Tip: you need to click the tiny, inconspicuous "i" icon next to "see calendar for restriction dates" to actually see said calendar.
Back in the 1990s, Disneyland Paris split its ticketing into Peak and Off-Peak dates, as part of a drive to boost initial low attendance outside of school holidays. The idea was discontinued sometime before the opening of Walt Disney Studios Park.
• Prepare your next Disneyland Paris trip with DLP Guide's Planning pages