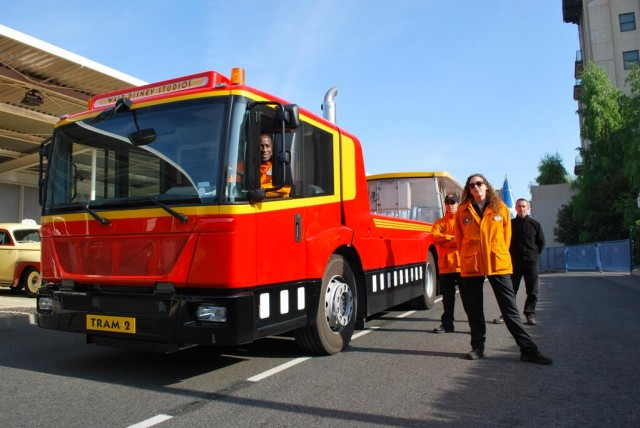 It would be fair to say the last thing which needed changing to improve Studio Tram Tour: Behind the Magic from a guest's point of view was the trams themselves. But here we are, with Disneyland Paris sharing photos of the new driving trucks which recently replaced the former twelve year old-plus vehicles.
Boasting more spacious cab areas, more fuel capacity and new sensors making them easier to manoeuvre, the four new trucks are now pulling the same original six-carriage trams through the attraction's (almost literally) "backstage" route.
Along the way, guests can still discover action-packed sets including Catastrophe Canyon, Reign of Fire and, er, that's about it. The (not particularly missed) Costuming workshop loop was removed during the construction of Toy Story Playland and is now occupied by La Place de Rémy, while the tour has had no genuine additions whatsoever since opening in 2002, despite several park masterplans in that time calling for improvement and expansion.

The Studio Backlot Tour at Disney's Hollywood Studios in Florida is similarly disappointing.
In fact, it might have been sensible to assume Disney would retire the attraction, ending the pretence that Walt Disney Studios Park is in any way a real working studio. The purchase of four new trucks would now seem to disprove that, at least for the foreseeable future.
Starting with the utterly pointless Dinotopia set and ending with Jeremy Irons' ageing video commentary, come back next week for an article titled "100 Things Any Fan Would Change About Studio Tram Tour Before Replacing the Trucks"…
• Watch a complete on-ride video of Studio Tram Tour: Behind the Magic here