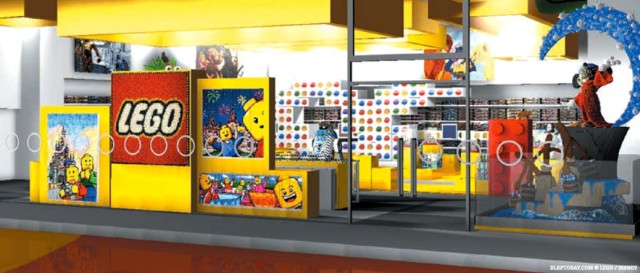 "Everything Is Awesome", if you've seen The LEGO Movie; perhaps not so if you're involved with the LEGO Store in Disney Village, which is still yet to open to its doors to customers.
While they search for that elusive last brick, the new concept art above has surfaced in the Euro Disney S.C.A. Annual Review, showing the full shopfront as seen from outside. Due to be the flagship of LEGO's European retail chain, as well as being just that bit bigger than a standard high street example, the store has plenty of special "Disney" touches to set it apart.
The new store, which replaces the tired Hollywood Pictures, was originally announced for "Autumn 2013" and due to open on 27th September 2013, but suffered a major setback late in construction when much of the suspended ceiling collapsed. This was since refitted and final decorative elements begun to be put in place — including those elusive LEGO bricks in models specially commissioned for Disneyland Paris.
Peeking under the construction walls in late December, InsideDLParis managed to get a look at the installations, which include Sorcerer Mickey and figures of Woody and Buzz Lightyear.
A second confirmed opening date of 14th January then failed to materialise, with Disneyland Paris sending out an official statement announcing the opening had been postponed "due to a delay in construction work resulting from new building regulations" and that we would be kept informed of further developments.
Just last week, the walls came down to reveal the full glass shopfront, blocked out by a temporary frosted covering.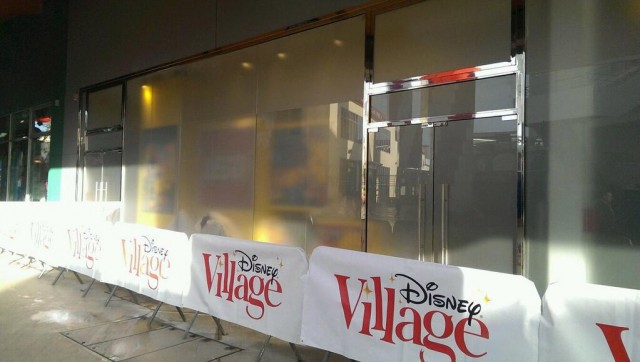 Presuming the store still needs to be stocked and have its staff trained and prepared, an opening may not be exactly imminent but shouldn't be too far away now, either.