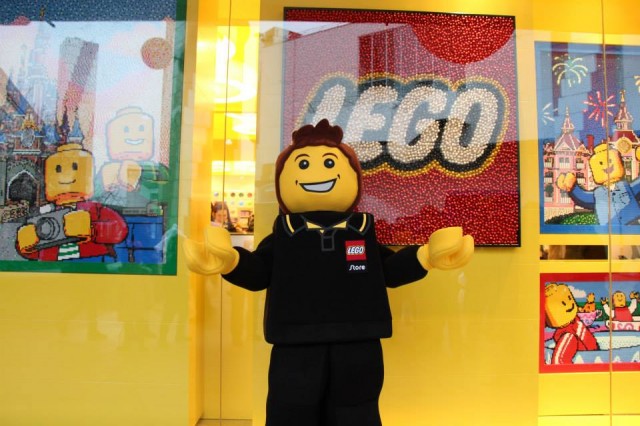 After a long wait, it was with just two days' notice that fans learned the LEGO Store would finally be opening today, 28th February 2014, at 9am — and open it really did.
Joined by the Disneyland Paris Ambassadors, the Vice President of LEGO Europe and a special walkaround "LEGO mascot" named Tom, the new boutique's team of brick-building enthusiasts cut the ribbon and invited the first shoppers inside the store.
Using the same modern design scheme of other European shopping mall LEGO Stores, this flagship location can boast being the largest on the continent. That said, it's not massively bigger — at almost 600m² only roughly the size of Hollywood Pictures that was there before — but with walls piled high with LEGO sets and a minimalist aesthetic it does look like a bigger, much more exciting retail space. And certainly a vast improvement on the tired Hollywood Pictures.
Disneyland Paris Ambassadors, Antonella and Jonathan met "Tom" the store's mascot and Ward Van Duffel, Vice President and General Manager of LEGO Europe at the store's opening this morning and shared a series of photos from inside the new shop.
LEGO's all-glass shopfront is immediately the most modern in Disney Village, offering a full view inside the colourful store to passing customers. Brick murals of Sleeping Beauty Castle, Disneyland Hotel and Mad Hatter's Tea Cups are featured centrally on the bright yellow podium along with a textured, LEGO brick logo.
Where most other LEGO Stores have just a single yellow brick ceiling feature in the middle of the store, this flagship has several, of different sizes, creating more unique areas within the store.
All the LEGO Store favourites are present and correct: the free building table, the build-your-own Minifigure display, and the clever augmented reality scanner that lets you hold a LEGO set up and see the finished creation on screen in 3D.
Here, the popular trademark "Pick-a-Brick wall", which lets you fill cartons with your choice of loose bricks, isn't on the back wall of the store as standard, but a larger free-standing wall, with even more LEGO sets behind.
Despite not being as grand as the longstanding LEGO Imagination Center in Orlando or self-contained LEGO Store Anaheim, this new Disneyland Paris example does feature the same special models and customisations.
A huge, stunning brick mural of Prince Phillip fighting dragon Maleficent sits just inside the door, with murals of The Lion King, Beauty and the Beast and Star Wars line the walls, which are also criss-crossed by a long green monster.
Other full-scale models featured are Sorcerer Mickey, Woody and Buzz Lightyear, and R2D2.
LEGO Store Disney Village opens 9am to midnight, daily.