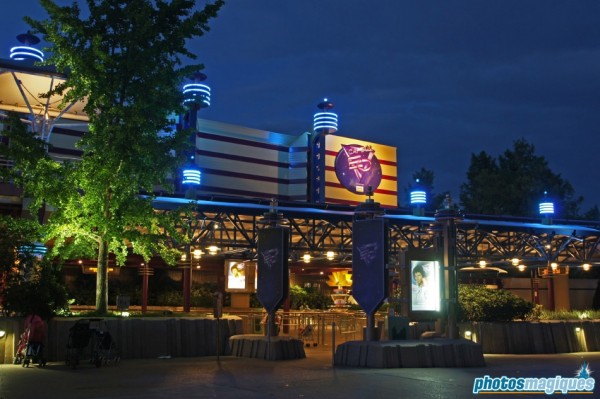 This officially stands as unconfirmed information, but several sources, including one speaking directly to DLRP Today, have reported this evening that Captain EO will close once and for all at Disneyland Paris on 2nd April 2012. The final day of operation for the reborn Discoveryland 3-D cinema attraction will reportedly be Sunday, 1st April 2012 — ironically also the first day of the 20th Anniversary celebrations. News of the closure was apparently revealed to Cast Members at the attraction today, with no announcement of an imminent replacement.
Captain EO, a 1986 3-D film with special effects starring Michael Jackson, re-opened in its original locations at Epcot, Disneyland, Disneyland Park in Paris and Tokyo Disneyland throughout 2010 as a "tribute" to the musical star himself. It also provided a welcome stop-gap to replace the ageing Honey, I Shrunk the Audience, but its reopening was greeted more enthusiastically in some parts of the globe than others. Returning to Disneyland Paris on 12th June 2010, it enjoyed a welcome reception from a minority of fans but perhaps failed to ignite the interest of regular guests here as strongly as the American parks, where it had become much more a thing of pop culture legend.
A somewhat out-of-the-way location and a similarly dated neighbour in the original Star Tours, which remains in operation at Disneyland Paris, can't have helped its success.
We noted last September that the attraction, already operating limited daily opening hours, was even beginning to remain closed completely on some quieter off-season days, as attendance clearly failed to meet requirements. Another potential factor in a closure could be the problems faced by its sponsor, Kodak, with Eastman Kodak Company having filed for bankruptcy in January, though the company remains an official partner and is ever-present at various other locations.
If the attraction's Cast Members were hoping for a boost in attendance, they'll now surely get it on the weekend of 1st April, when fans and Annual Passholders will descend on the resort for the premiere of Disney Dreams! and a grand, final farewell to Captain EO…