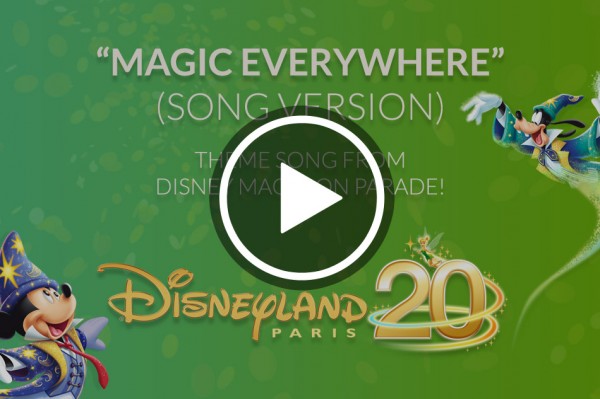 What better way to end the week than with a brand new, feel-good Disney parade anthem? Almost a month ago, we strained our ears to hear "Magic Everywhere" played at Euro Disney SCA's Annual General Meeting, to nonplussed looks from besuited shareholders. Today, we can share not one but two full, high quality versions of the new Disney Magic on Parade! theme song, that will premiere in the park along with the 20th Anniversary events on 1st April 2012.
One is a four-minute "Parade Version" which, you guessed it, will be used during the parade itself, though whether that'll be as a looped track or interspersed with other music still isn't clear.
The other, meanwhile, is a shorter 2 minute 40 second "Song Version" that gives hope for a CD single release or perhaps a whole 20th Anniversary album, so we'll actually be able to buy this music. The last major music release from Disneyland Paris was a Mickey's Magical Party album in 2009.
Both versions of "Magic Everywhere" are embedded below… enjoy!
Song Version
Parade Version
Subscribe to our YouTube Channel for more Disneyland Paris 20th Anniversary videos.