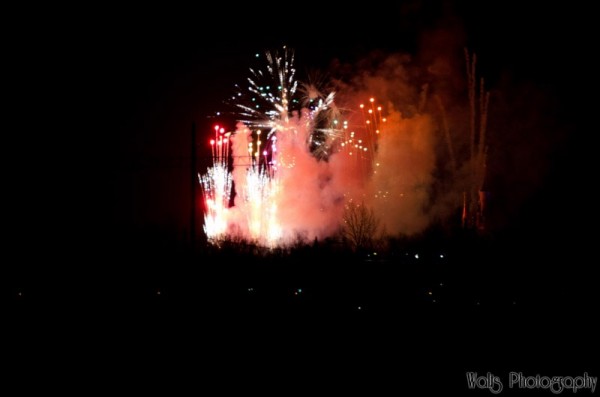 Sleeping Beauty would have had anything but "sweet dreams" last night, as the final after-hours tests for Disney Dreams! firework effects lit up the night sky around the castle. Three dates have apparently been set aside for these pyrotechnic trials, according to the Radio Disney Club website: 8th, 12th and 15th March. Sure enough, guests and Cast Members began reporting that access around Le Château de la Belle au Bois Dormant was closed off around 6pm yesterday, and after Disneyland Park closed at 8pm the first reports and reactions began appearing.
Above, a photo by Frontierland Cast Member fandlrp on Disney Central Plaza shows an array of colourful fireworks shooting up behind the castle. Sharing impressions from the privileged viewpoint of Disneyland Hotel, Jeremy describes the music as sublime and says the show keeps its promises and anyone worried about the pyrotechnics (their size and number) should be reassured. Meanwhile NeMo saw the tests from Main Street itself and reveals that the pyrotechnics play a part in almost every scene, with many effects apparently brand new to Disneyland Paris.
It's also rumoured that test launches will be incorporated into the planned displays for St David's Welsh Festival this Saturday, 10th and St Patrick's Day on 17th March. Individual elements continue to be tested and perfected almost every night, but full "dress rehearsals" of the entire show are apparently scheduled for the 21st and 23rd March, ahead of the Cast Member premiere on 29th March, private press premiere on 31st March and official public premiere on 1st April.
Various tests have been ongoing for Disney Dreams! long before the recent arrival of director Steve Davison in Paris. In January, @Tobiasfl shared the two live Instagram photos above on Twitter, the first showing a particularly dazzling quartet (or possibly quintet) of coloured shells in blue, green, pink, red and yellow. Though these clearly exploded high in the sky, the majority of pyrotechnic effects in the show are expected to ignite from ground level.
Unlike a pure firework show, where the sky is filled constantly and the explosions make up the entire scene, this 20th Anniversary spectacular will use pyrotechnics as just one of many elements. Like the water or fire, they'll play a "role" in the scene, acting out a part in the show, representing particular moments in the story rather than telling the whole tale. Speaking of those other elements, Steve Davison posted another teaser on his Facebook fan page the night before last:
"We had all the fountains on tonight in front of the Castle. They are stunning. I am so excited for Disneyland Paris. They will be the first to have a permanent fountain array in their moat. It is so colorful and magical it really is a beautiful enhancement to the Castle."
Steve is even kind enough to respond directly to fans who write on the page. To a question about exclusive merchandise for the show, he replied "I hope so, there are some really fun things they could play off!" and promised to ask the director of merchandise at a planned meeting next week. The most surprising status update, though, came after DLRP Today summarised Steve's updates on Tuesday and challenged you to boost the page above 1,000 fans (it now stands at 1,209):
Thanks DLRP Today! You took my fan page over 1000! Merci Beaucoup!!!! And your 20th show DREAMS is coming along magically. The Castle projections are stunning! Can't wait for you to see it!
Wow, actual Steve Davison posting a message to us! So that's what a dream come true feels like. Great work, everyone!