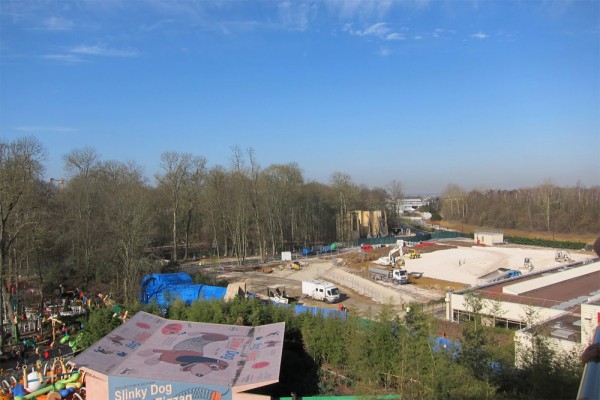 We've known about the plans for a Ratatouille dark ride since as long ago as 2008, but what about the writer and director of the Pixar film himself, Brad Bird? The answer is yes: and he's very excited.
Most recently credited for a turn to live action with Mission Impossible: Ghost Protocol, Brad still finds the time to reply to messages from his 25,000 followers on Twitter. One of today's replies saw him pick up a question from @CreativeAlan, who shared the photo above and asked: "Are you excited about the Ratatouille dark ride currently under construction in Paris?"
Bird's reply? Simply: "Very. It's going to be really cool."
So there we have it. And that photo above, which comes from the excellent ParisCastMember blog, is the latest look at construction progress as seen from Toy Soldiers Parachute Drop.
Trees have been cleared, the old Pearl Harbor hangar removed and the roof over the former Studio Tram Tour route alongside the costuming building torn down. A large rectangle where the bulk of the future showbuilding will sit in 2014 has been levelled and covered with what appears to be loose stone, to be compacted, forming the start of the building's foundations. The large concrete-walled "soundstage" of Crush's Coaster looked similar at the same point in its early construction.
In the distance, we can also see the redirected route of the tram tour, which has now reopened, lined by darker green construction walls. The earlier route, nearer the camera, will apparently be used for construction vehicles to access the site without disrupting normal park operations.