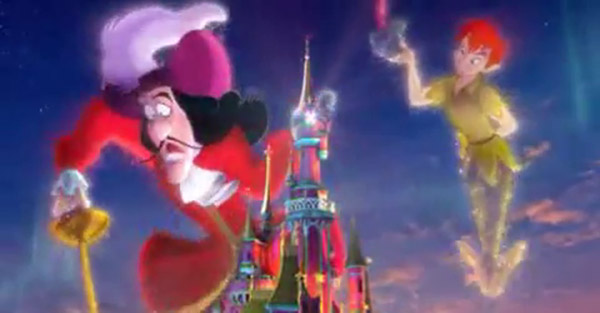 We know that Disney Dreams! means fountains, fire, projections, lasers and much more, but what story will all these elements be telling? This morning's Euro Disney S.C.A. Annual General Meeting naturally put Disneyland Paris' 20th Anniversary and its new nighttime show in the spotlight, revealing some key plot points along the way. Fans tweeting live from the event shared details of the five key "acts" making up the show as they were announced, all appearing to relate back to the storyline of Peter Pan and his shadow. While the show will combine many of the best elements of other Disney nighttime spectaculars (and then some), it could be this narrative, threading the entire thing together, that sets it apart.
An opening act titled The Magic of the Second Star will surely be the grand moment when the "second star to the right" of Peter Pan fame ignites at the top of Sleeping Beauty Castle, causing pixie dust to pour out across the castle's façade and open up the Disney Dreams.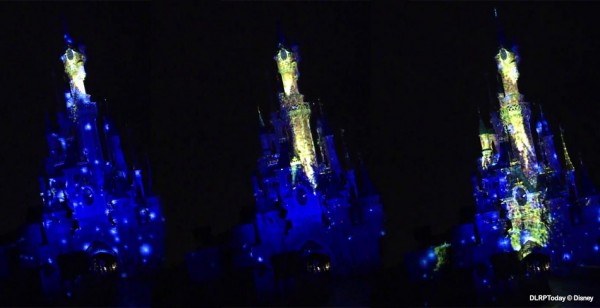 Pixie dust pours out from the yet-to-shine Second Star
We actually got a glimpse of this in the earlier promo video, where projection tests (pictured above) showed pixie dust apparently pouring out from the tallest tower and engulfing the castle. In the final show, that top window will be glowing with the bright light of the "second star" itself: the effect was installed behind its stained glass star just a few weeks ago. What exactly this "effect" consists of is currently unknown — spotlights, ultra-bright LEDs? — but it has become a key theme of all the 20th Anniversary imagery. Showing a desire to make sure the castle is part of the show, rather than just a flat projection surface, the idea is clever: since the castle has always had a star on its uppermost window, why not make that the "second star to the right" for this show? When it does come to life, it'll be like it has been hiding there all along, for the past 20 years, just waiting to be ignited…
Scene 2, The Shadow at Play, hints at the importance of Peter Pan's shadow to the plot. Could he be engaged in a George (CinéMagique) or Donald Duck (Philharmagic)-style trail across Disney classics to retrieve his missing darker side? Perhaps pursued by Captain Hook along the way? Scene 3, Free to Dream, and scene 4, Shadow Battle, hint at what could be lighter and darker elements of the show. The "battle" in particular would be a good call for those fire effects. However, films including Ratatouille, The Hunchback of Notre Dame and The Jungle Book have all been confirmed to be part of the show, showing a wide spread of stories and characters beyond the usual princesses and villains.
Finally, the finale: Dreams Can Take Us Anywhere. And yet, even with these titles and everything we know so far, we still don't know quite where they'll take us. Let the anticipation continue…