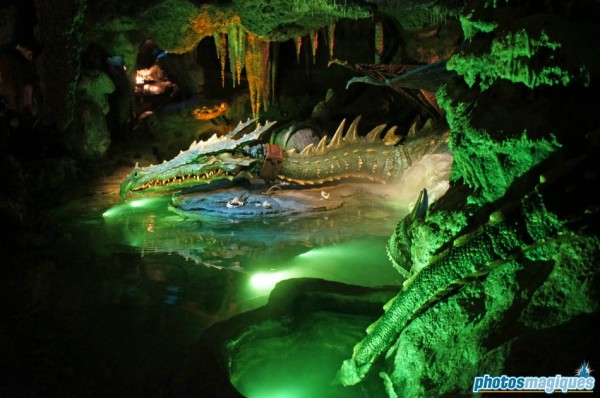 If 2011 was the year Le Château de la Belle au Bois Dormant regained its glory, 2012 might be the year La Tanière du Dragon regains its growl. The almost 20-year old dragon beneath Sleeping Beauty Castle, still a show-stopping exclusive of Disneyland Paris, recently awoke from a lengthy two month refurbishment in its snarliest mood since 1992. Not only has the lighting in the castle's dungeon been renewed to cast a scene as dramatic as ever, the movements of the huge Audio-Animatronic itself have been noticeably "tightened up". Now the dragon lifts its neck and growls with a renewed conviction; a tighter, snappier, more powerful series of movements that give a new realism to the dozing beast, which many say they haven't seen looking this good since opening day. Our Photos Magiques friends braved the lair last week to update to capture some stunning new pictures and video.
Meanwhile, over on magicforum, DGRavenswood shares a lesser-known but apparently official version of the dragon's backstory. This isn't Maleficent, as so many deduce, but a dragon found in an egg by Merlin one morning and restrained here below his magic shop for safekeeping.
Video by Photos Magiques follows…
• Check out the full gallery at Photos Magiques!