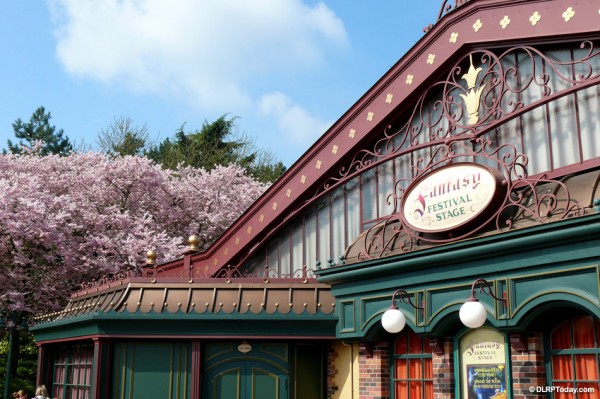 And then, as if by magic, there we three. So far we know that the 20th Anniversary next year will bring Jack Sparrow to Pirates of the Caribbean and a new, world-exclusive nighttime show likely featuring fountains and fireworks at Sleeping Beauty Castle. But how about a brand new addition for the mouse that started it all? Yes, from next year Mickey Mouse himself is set to get his own permanent meet 'n' greet location within Fantasy Festival Stage!
The theatre has sat at the back of Fantasyland, connected to the Railroad Station, with only very limited use for more than a decade now. Whilst it began life in 1992 as a key venue hosting the classic C'est Magique musical revue, since 2006 only occasional seasonal performances of the show Winnie the Pooh and Friends, Too have occupied the small stage. Taking over this under-utilised space, which is never going to be good for grand stage shows, whilst giving the mouse his own dedicated spot actually sounds like a logical and wise proposition. Why the magic puns? Because if you're a follower of Disney Parks worldwide, you'll know all about the new "Backstage Magic with Mickey Mouse" meet 'n' greet that recently opened on Main Street at Florida's Magic Kingdom (photos via Disney Parks Blog).
This new attraction, which even comes with its own Fastpass service, leads visitors through a fabulously-themed queue space littered with props and in-jokes — even a crate marked "Marne-la-Vallée – Paris" — with the storyline that you're meeting Mickey Mouse, now a magician, backstage…
While the idea is somewhat tenuously planted into Main Street (and was unpopular with some, at least before its debut revealed the great detail), you couldn't have a more perfect set-up for the location in Paris. Not just a real theatre, not just in the very fitting British quarter of the land, but in Fantasyland, where the characters truly belong. There's little clue yet whether the European version will have such an extravagant set-up, or its own Fastpass tickets, but the two projects are certainly related and we should look forward to this new, more "magical" backstage encounter with the Mouse from next year.
In fact, it may well be our fourth new addition for the 20th and our second new permanent meet 'n' greet, as we mustn't forget the Princess Pavilion that slowly continues its delayed construction across the land, in the former post-show area of "it's a small world". More news on that one soon…