This brand new centrepiece of the New Generation Festival quite possibly has the most costume changes of any show ever performed at Disneyland Paris.
Unfortunately under-elaborated by the resort's vague press releases, given a bland name and believed for a long time to just be a "rehashing" of last year's quite unloved It's Party Time… with Mickey and Friends, the more we've seen of Disney Showtime Spectacular concepts and rehearsals lately, the more interesting it actually began to sound.
The first trial performances already began today, ready for the press launch event of this weekend, so let's jump right in with a selection of photos…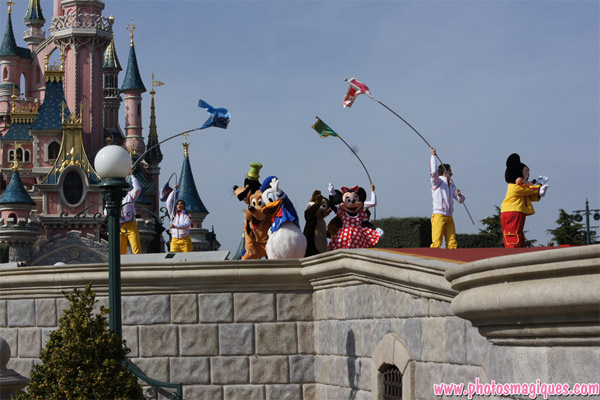 It's a familiar opening as Mickey, Minnie, Donald, Goofy, Pluto and Chip 'n' Dale arrive on stage to what must be a new recording of "Best of Friends" from The Fox and the Hound. Note immediately the smaller number of dancers (here waving flags) this year — nothing to criticise, in fact, as the focus is instead placed entirely on the characters, with apparently no live hosts desperately trying to work the audience.
Above, Mickey is seen in his "generic" opening look of a yellow top and red trousers. Jump ahead, and as if by magic — when Woody, Jessie and Buzz Lightyear appear — he transforms into his toy soldier-styled green coat with binoculars. All the other characters and dancers join in with different props or costume additions for each number, here dancing to "You've Got a Friend in Me".
When Lilo & Stitch — and a brand new character for Disneyland Paris, from the pair's TV series, Angel — arrive to catch a wave, the dancers wear Lei flowers and the Disney characters wear Hawaiian shirts for "Hawaiian Roller Coaster Ride" and "Aloha, E Komo Mai" from the TV series.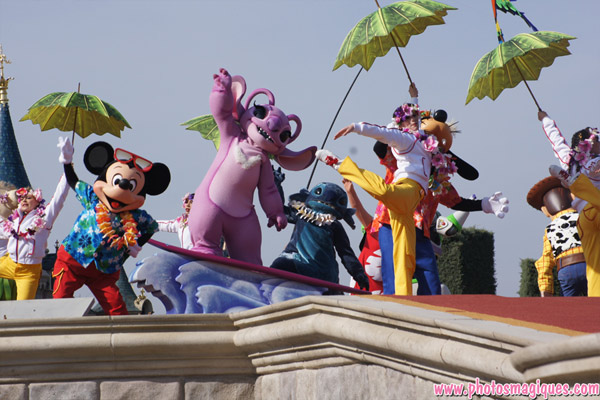 Palm trees are suggested by the clever use of green leaf umbrellas, held above a surf board centrepiece which looks remarkably similar to that in the very popular old Lilo & Stitch Catch the Wave Party in Walt Disney Studios Park.
To the sound of Oscar-winner Michael Giacchino's "The Glory Days" score, Mr and Mrs Incredible arrive and the characters don matching Incredibles superhero outfits — including face masks for Chip and Dale.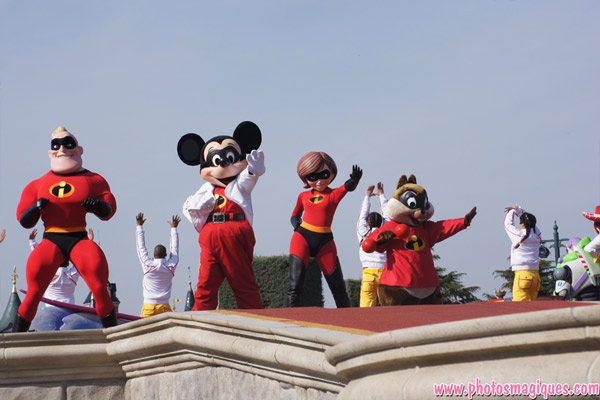 From one Brad Bird movie to another, Rémy and Emile also make their first appearance here in Disneyland Park for a scene set to the music of "Le Festin" and Offenbach's Can-Can whilst the dancers, now in chef uniform, carry oversized kitchen utensils and vegetables, presumably throwing them into the giant pot to cook up a special ratatouille dish…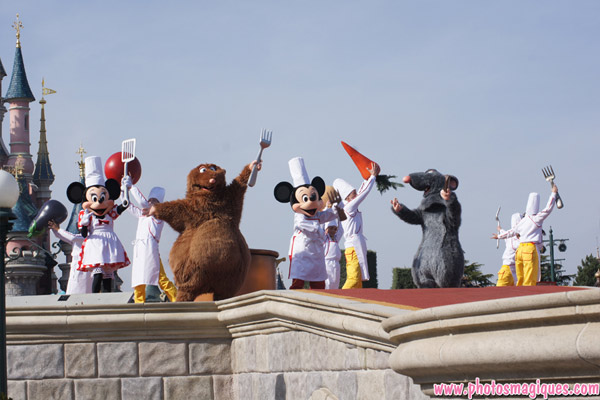 The show brings Mike Wazowski back to Disneyland Paris after a break of almost 7 years in public appearances, and adds a brand new face from Monsters Inc — if you can just make it out beneath that disguise — Boo! The little human girl looks familiar from her appearances overseas in events such as Pixar Play Parade and Block Party Bash.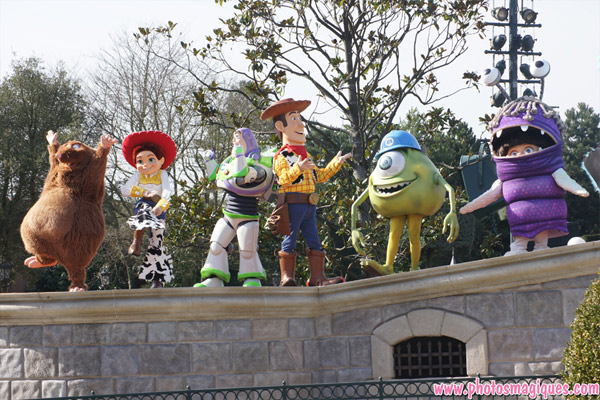 After Princess Tiana and Prince Naveen join the show with "Gonna Take You There" and "When We're Human", the set of New Generation characters is complete. Now, for one big finale — old and new together — a drum kit appears for Mickey to play along to "Best of Friends" and "You've Got a Friend in Me".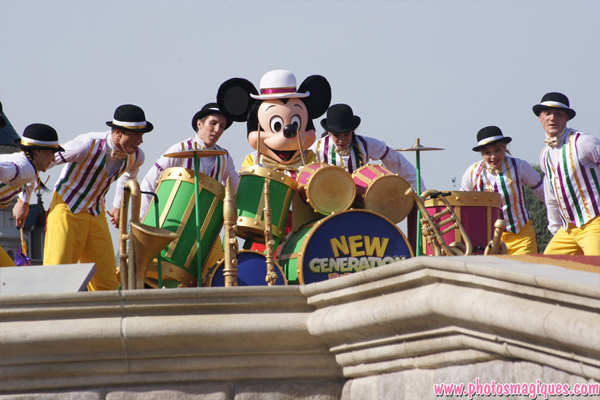 Mickey and the dancers wear their final costume, a smart waistcoat, bow tie and hat combo. It's all about the accessories this year! Notice the ribbons of colour on the dancers' waistcoats match the designs of those lampposts decorations we'll hopefully see along Main Street soon…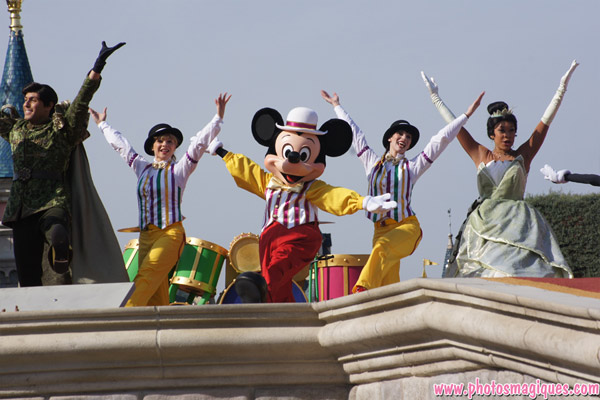 Making the best use of all the existing tricks hidden within the 2009-built Central Plaza Stage, the show ends with a blast of pyrotechnics, as the colourful cast of around 30 (6 dancers, 26 characters) freeze for the finale…
Now that looks like a little more than just bouncing with Tigger or scratching Baloo's back, doesn't it?
Six different sets of costumes, a varied and popular cast and no pandering to toddlers with childish preschool games… This is what we call Entertainment. It's already being compared to the lavish hub shows presented (and lusted over for years by fans of other resorts) at Tokyo Disneyland.
See the full album of 34 photos at Photos Magiques…
Disney Showtime Spectacular will now see two weeks of previews up until its launch and "official" first performances on 2nd April 2010. During this time, performances may be cancelled without warning — showtimes do not currently appear on the park programme.
Photos by Photos Magiques.