Show director Christophe Leclercq stands in front of previously unseen concept art for the 2010 redressing of Minnie's Party Train (née Disney Characters' Express) in the video on the official event page, revealing a redecorated Casey Jr. train. Before we dive into the screenshots, watch it back:
Previously, we'd been led to believe that the train would remain largely unchanged from its 2009/10 form, as the only piece of imagery published so far showed it retaining Minnie's polka dots.
However, the concept art revealed here shows the wagon supports and roofs redressed with bright, toy-like multicolours — red, yellow, green and blue — and given New Generation Festival logos, with the engine itself a bright white, its ribbon bearing "All Stars Express" lettering.
Take a look at these large-format stills (click for even larger versions):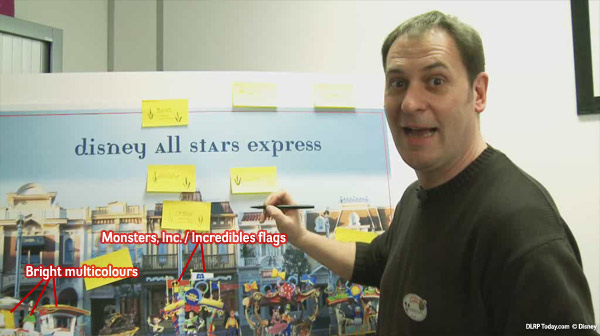 Above, the multicolours and some new flags atop the carriages, carrying the logos of Monsters, Inc., The Incredibles and other 'New Generation' films.
The most interesting moment of the video, though, is when Christophe mentions the characters who we'll find on board the train. Speaking in French, he quite clearly first mentions — yes, WALL-E! The robot from Pixar's 2008 film of the same name.
So, take another look at the Disney All Stars Express concept art…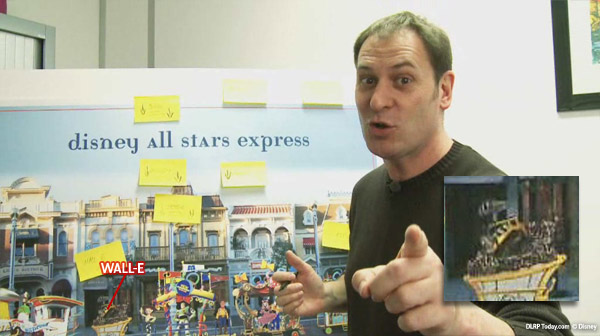 There he is, sitting atop the coal in the engine's tender!
The following design image even flashes up on screen for a brief moment, with the words "pose reference only" suggesting that Disneyland Paris have been forwarded three-dimensional character models by Pixar in order to build the full-size figure: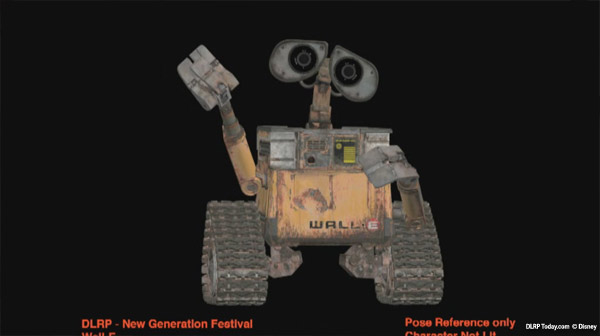 But it gets complicated, at least for us English-speakers. On the UK website, the subtitles provided for Christophe's French script strangely replace the very clear "WALL-E" with "Sulley", take a look: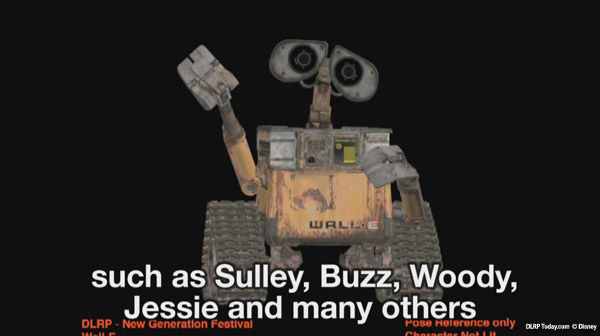 We've mentioned in the past that the gang of 'New Generation characters' to be featured heavily this year has been set for some time, and certainly doesn't include WALL-E anywhere. Could this be a late cover-up of a cancelled plan?
Hopefully not — the familiar character train needs something beyond a few new colours to keep it fresh for yet another guise. This Pixar robot atop the tender would be just the ticket. Ha ha! Just the ticket! ……
Images © Disney.