And so, another attraction finds its way into Euro Souvenirland…
The news came via trusty magicforum host Kristof, that Hurricanes Discotheque at the end of Disney Village will close permanently on 31st March 2010. The night club has apparently been scheduled to end its days for several years already, with nothing eventually coming of any of the earlier dates. Will the Cyclone Special cocktail be gone for good this time? Certainly sounds like it.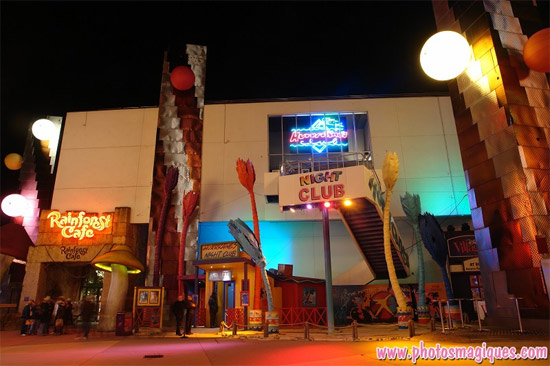 As improvements and additions have spread through the Village in recent years, Hurricanes has slowly become a final champion for that original Festival Disney spirit, sitting up there above Rainforest Cafe like Carl Fredrickson surrounded by skyscrapers. It's a remnant of the early '90s idea that the entertainment district should be a "hip", "happening", buzzing nighttime spot, the streets filled with party-goers until the early hours. An idea that never really happened.
The official 1992 Euro Disney Guidebook enthuses:
Hurricanes — Festival Disney's disco nightclub is just above the Key West Seafood restaurant. Having climbed the spiral staircase, you'll be swept up into the whirlwind of nightlife. Hurricanes boasts four different bars, including one in the indoor terrace, plus twenty video screens, cosy corners for talking and a dance floor that's open until 3 am. Don't be surprised if you catch yourself standing there sipping on a Caribbean or Cyclone Special cocktail, dreaming of Key Largo.
Hurricanes was originally part of a small Key West district in Festival Disney, comprising Key West Seafood below (closed 1998), the Surf Shop opposite (now World of Toys) and the then-rainforest-animal-free lagoon behind. In what must be one of the kitchiest ideas in history, the dance floor was originally covered in sand. Which must have been fun in heels.
Why close a fun venue like this? The official reason: "repositioning" of Disney Village. What kind of repositioning hasn't been clarified by Disney, but it's not hard to work out. Just as the nightclubs and comedy clubs of Pleasure Island at Walt Disney World in Florida have been swallowed up by the wider Downtown Disney, to be replaced with new shops and restaurants, it seems a venue like Hurricanes simply doesn't fit in their current focus on either side of the Atlantic.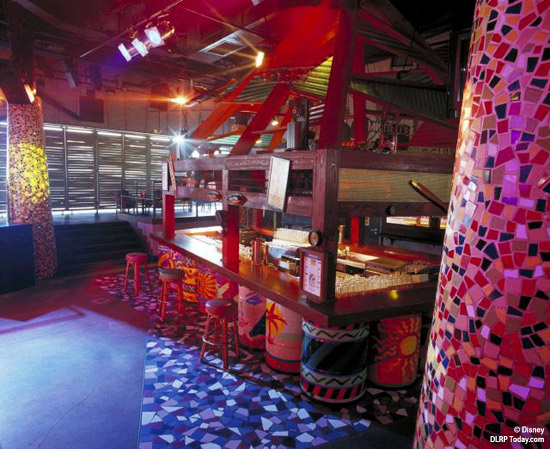 Indeed, with its foam parties and "ladies nights" where women get in free, it's not a surprise that Disneyland Paris have been thinking about dropping the venue for a while. And did you notice it's a little dated? Would the cost of improving the nightclub, updating the staircase entrance (which has become rather tacky with subsequent additions, long after Frank Gehry left), really be worthwhile? Probably not, which brings the second element of the "repositioning"…
Stating the obvious, a nightclub like Hurricanes is useless during the day. Here we have a substantial, prime space right in the middle of Disney Village just lying empty for most of the day up until 8pm, when a café or restaurant could have tills ringing (for much greater amounts) right through from morning. Though we still mourn Buffalo Trading Co, just look how much better utilised that space is as a Starbucks café.
Whilst those plans for the Convention Centre and Disney Village extension are still many years from coming to anything, it's bad business sense to leave this space as a faded nightclub.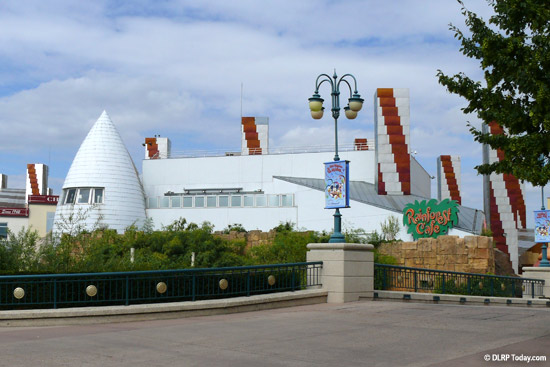 What could be pushing Hurricanes out? No replacement has been announced…
However, the first floor location naturally points to a bar, café or restaurant, something which unlike a shop doesn't rely on heavy footfall. Recent rumours that Groupe Flo, the group which operates almost all of the Disney Village restaurants, is interested in another venue could well ring true. The resort has experimented with promoting an Italian menu at Hotel New York's Manhattan Restaurant in recent years, so could this space go from the Caribbean to Italy to permanently offer this much-requested cuisine in the Village itself?
Then there's that possibility we picked up less than a year ago — the Jules Verne-themed pub/restaurant. Check it out — the hot air balloons in the roofspace, the blue sky walls and vintage lanterns. It'd seem right at home in the elevated position of Hurricanes, with its circular observation room. If they opened up some of the nightclub's boxy walls with large windows, you'd have a superb view out to the "real" PanoraMagique balloon and the lake.
Intriguingly, the original article (which was a brief interview with the owner of the original pub in Nantes) mentioned that they'd been offered a floorspace of 500m2. Do some flimsy measuring in Google Earth, and that's exactly what Hurricanes has to offer.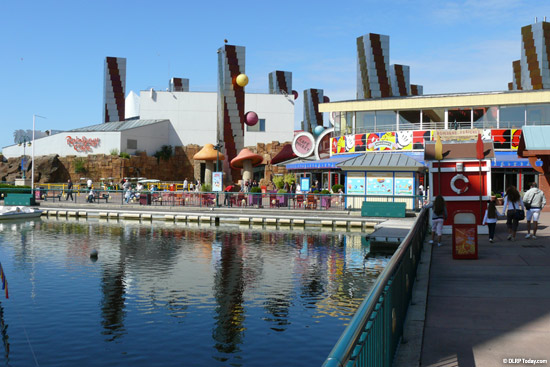 It's not just the spirit and idea of Hurricanes which seems out of sync with the rest of the Village: The blank white exterior is one of the few remaining Frank Gehry boxes, which worked with the 1992 "party district" ideas but were ultimately diluted with later add-ons, certainly never looking all that pleasant on any but the sunniest of days. We mentioned with the Earl of Sandwich concepts that that new restaurant offered the opportunity to hide this exterior behind it, but even so this big white box will still be clearly visible. A change of tenant would surely fix this final piece.
As Disney Village has come blinking into the daytime, gaining its eco-clad Starbucks, planters and trees, time has finally caught up with Hurricanes. Finish up your Caribbean cocktail, put those Key Largo dreams to sleep. The storm is almost over.
Images: Photos Magiques; DLRP Today.