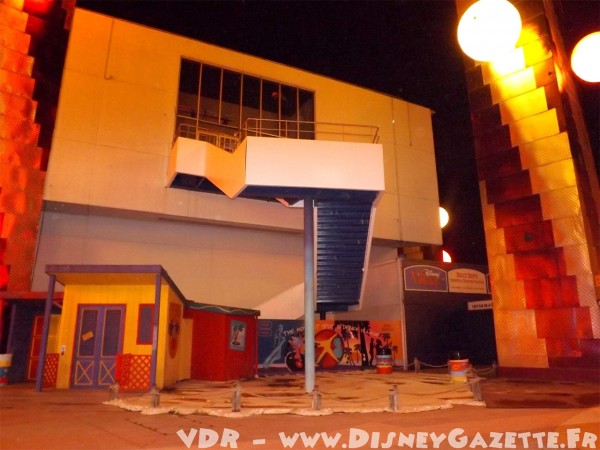 We all have those odd jobs we never quite get round to and you'll need to be a longtime reader of DLRPToday.com now to remember the demise of Hurricanes Discotheque back in March 2010. So it's with some relief that, three years on, we report the unmistakably '90s nightclub spot in Disney Village is at last being white-washed into the history books.
Signage and exterior decorations outside the first-floor unit have laid dormant since the club was unceremoniously and hastily shuttered just shy of its 18th birthday, surely confusing for casual guests and certainly an eyesore on Disney Village's main avenue.
The latest photo above by DisneyGazette.fr shows the exterior stripped of its colourful fake palm trees and the stairs repainted in plain white — removing the previous Hurricanes Discotheque branding and slogans. Here's hoping the tacky beach shack and all other remnants will be removed soon, too.
Below, the venue as it was before, pictured in April 2012.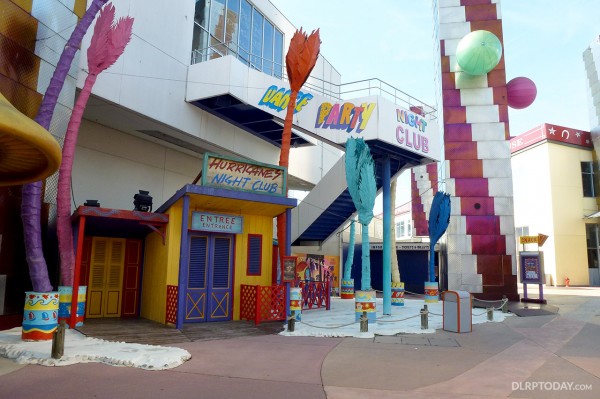 Current consensus seems to be that the location will become a Cast Member restaurant or break space, a slightly disappointing use for a prime space within Disney Village which would itself still benefit from an improved dining offer. Previous rumours, soon after the nightclub's closure, were for an ESPN Zone, a new Sports Bar or an Italian restaurant.
At the very least, the cleared ground floor area could be a good space for a small café or kiosk and seating area — perhaps Frank Gehry's minimalist 1992 vision is due a return?