The closing date has been brought forward to 1st March 2010. Yes, this coming Monday.
Despite several previous planned closures of the nightclub, located above Rainforest Cafe, never coming to pass, it looks like they're really serious this time. The kitsch relic of original Festival Disney will close for good just shy of its 18th birthday.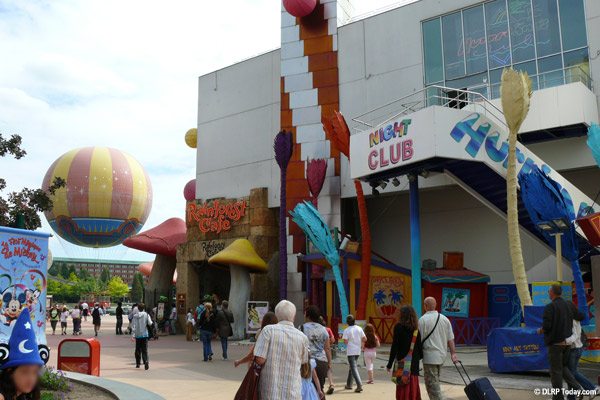 We provided a look back and some explanations for the closure in our previous article — along with a few rumours for the future. A Jules Verne theme pub? That long-awaited Italian restaurant?
Well here's another, just for fun. Posted in the comments of that earlier article (always a good source, you'll surely agree), the suggestion that Cast Members have heard the space is in fact being primed ready for another "long-awaited" Disney Village venue… an ESPN Zone, complete with big-screen TVs and comfy loungers, just in time for the FIFA World Cup! Meanwhile, that Italian restaurant would instead take the place of the current Sports Bar.
The ESPN Zone is a chain of dining/shopping/sports/arcade indoor entertainment venues owned and operated by Disney Regional Entertainment, using the brand of the ESPN sports broadcasting network owned by Disney. With a location at Downtown Disney in California as well as across the United States, they've long been rumoured to arrive in Paris in a brand new unit, to the left of the Walt Disney Studios Park entrance, near the Disney Village parking structure, opposite the rumoured World of Disney Store.
The Hurricanes space is nowhere near big enough for a true ESPN Zone, its first floor location hardly ideal, and it'd be strange to shutter the Sports Bar with its useful covered outdoor space, but you never know… Disney just launched ESPN into the UK in full force last year and the network has already become a very recognisable brand for British sports fans. Meanwhile, the additional ESPN Classic and ESPN America channels have been spreading across France and other European countries for several years.
Just another possibility to add to the growing list. Anyone going to offer a fourth?!
Thanks to @PhotosMagiques.