First, an easy one — a new promotional image. Get used to these characters, they're leading the band this year: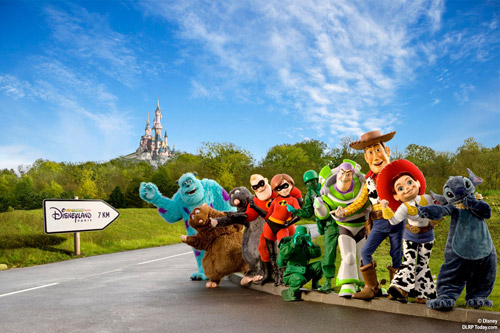 It's quite a brave move for Disneyland Paris to effectively put Mickey in the shadows for a year (at least in terms of advertising), since they're often so over-reliant on the mouse, but it has to be applauded. The only additions to the line-up here are Mr and Mrs Incredible, who aren't being used for any other 'NGF' promotions but will hopefully be much more visible in the park than recently.
Negatives? No 'Up' characters — which means no Dug, who'd be a sure-fire hit. Stitch could really have been given a year off… And let's not get into the issues of the Castle being that tall from 7 Km away. Or teaching kids to hitch-hike. Moving on…!
The Spring/Summer 2010 brochures featuring the year have been landing on doormats across the UK last week, and most have been very pleasantly surprised to discover a nice foil cover on both the front and back, the first time Disneyland Paris have stretched to such extravagance: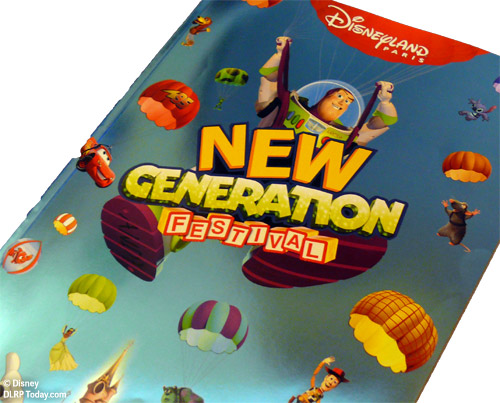 It might not show you anything about the resort and parks are actually like (read our thoughts here), but it really does look top notch design-wise. With the internet providing all the information and pictures you could need; if all these brochures now serve to be are shiny things to attract the attention of the public… they've got a hit.
Another print appearance of the New Generation Festival (or rather L'Année de la Nouvelle Génération) has come with the latest issue of Annual Passholder magazine Envie de +…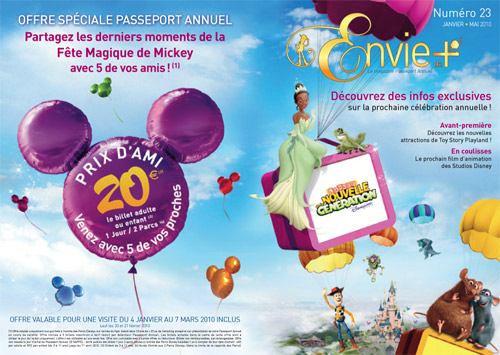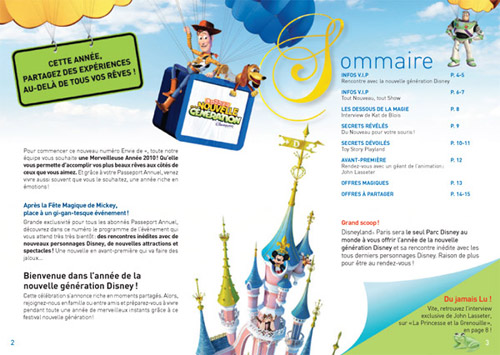 The magazine again features some of the main characters of the year: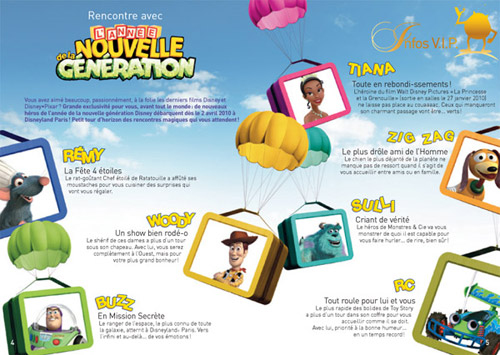 And looks over the main events (nothing particularly new revealed here):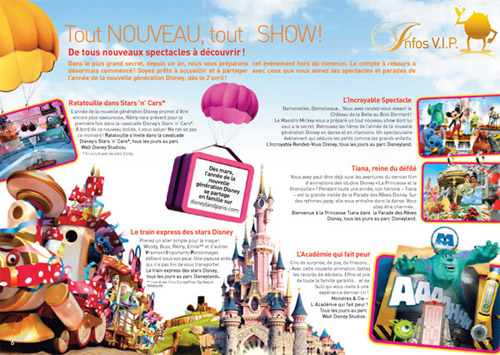 Before having a quick chat with DLP Entertainment's familiar artistic director Kat de Blois: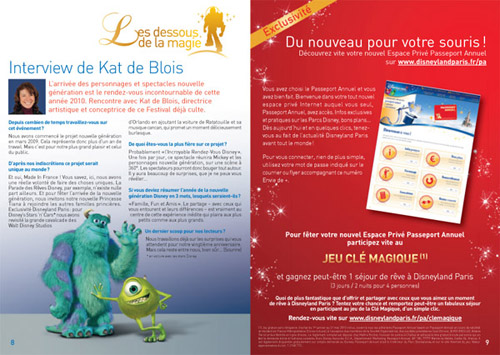 The interview reads:
How much time have you spent working on this event?

We started the New Generation project in March 2009. So that represents more than a year of work. But for us — and hopefully our guests — it's a great pleasure.

According to what we've heard, this project will be a world-exclusive?

Ah yes, Made In France! You know here, we have a real freedom to do some really unique things. Disney's Once Upon a Dream Parade, for example, doesn't exist anywhere else but here. And to celebrate the arrival of this new generation, we're inviting our new Princess Tiana to join in with the other familiar royalty.

Exclusively for Disneyland Paris, we have revisited the grand cavalcade of Disney's Stars 'n' Cars, originally from Florida, and added the Ratatouille car and its cancan music, which promises a deliciously comic moment.

What are you most proud of on this project?

Probably Disney Showtime Spectacular. Once a day, this show will reunite Mickey and the new generation characters on a 360-degree stage. The audience can therefore move round the way around it. There will be plenty of surprises, which I can't reveal to you yet…

If you had to summarise the New Generation Festival in three words, what would they be?

"Family, Fun and Friends." Sharing — with everyone around you and all their differences — is truly at the centre of this brand new experience, which will please the youngest just as much as the oldest.

A final scoop for our readers?

We are already working on your must-anticipated surprises for our 20th Anniversary. But that stays between us, of course… (Smiles)
Steady on! You've still got 2011 to figure out yet…
Aaaand finally — those new Monsters and Dixieland details we led with.
Though the texts here and seen previously have all been the usual, wonderfully vague Disney PR puff, there are more detailed press releases still being prepared and held back until just before the festival launches. One such press release posted by Disney and More gives some long-awaited details about two of the new character events being pushed for 2010.
First: Princess Tiana. Though it's widely publicised that she'll be joining the crowd on the Dreams of Romance float (with her Prince Naveen), many are asking if she'll be featured anywhere else, available for meet and greet, autographs… Your answer:
The highlight of each day in Disneyland Park is a grand welcome to Princess Tiana, the newest star to join the Disney Princess family from Walt Disney Pictures' latest animated movie, The Princess and the Frog. Each day, Princess Tiana and her Prince Naveen will meet 'n' greet guests and pose for photographs at Town Square Gazebo, with lively music by the Dixieland Band inspired by the music from the film.
Perfect! It's not quite Tiana's Showboat Jubilee but a bit of live music is never a bad thing — especially when it's apparently scheduled in for "every day". The band will presumably be made up of familiar faces from the resort's orchestras, usually playing medleys of Disney songs and often quite rarely seen outside of high season.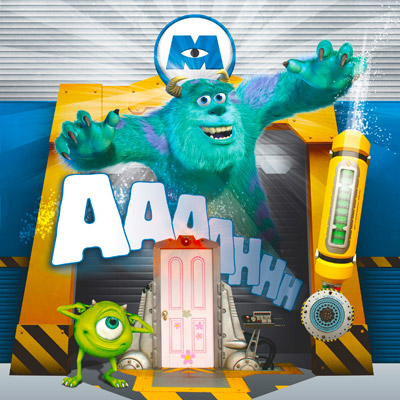 Second: Monsters Inc. Scream Academy, that now being the official name of this photolocation/meet and greet/character event… well, what actually is it? As we've discussed several times before, the Monsters Inc photo location in Walt Disney Studios Park has been there since 2006. What's suddenly so new that requires it have equal billing with Toy Story Playland?
Everyone gets permission to be as loud as they want, and screams of delight are filling the air several times daily at "Monsters Inc. Scream Academy" at Walt Disney Studios Park. "Top scarer" Sulley from Monsters, Inc. looks for new recruits with his friend named Patty. Guests of all ages get in the action as they test the monster boogie, monster roar and monster scare – with as many laughs as screams. All are invited to participate in this family-friendly, high energy character interaction. Try your hand at being a Monster!
If not a "show", this at least seems to be shaping up as some kind of new character interaction or event, likely comparable to the Sword in the Stone Ceremony in Fantasyland.
Will Patty be a monster or a human? And will they be joined by any other Monsters — since several others from the film do feature at other Disney parks, notably in DCA's Pixar Play Parade — or in fact little girl Boo, who has been rumoured on our own comments?
Will the static Mike Wazowski figure stay there throughout the event or be removed? And how will guests actually see anything, since the corner is surely far too small for a proper event, visible only from one side and surrounded by planters? Ahh, an answer just opens up many more questions.
Basing an event around screaming doesn't seem like the best idea, but you never know — it might be good fun. With High School Musical not due for a return, CinéFolies (the Hollywood street acts) still criminally cancelled and Disney's Stars 'n' Cars not quite up to scratch on either its parade or show aspects (again, hard to see unless you arrive very early), the Studios will be needing all the live entertainment help it can get this year.
Images © Disney.