In truth, that's exactly what DLRP Today suggested.
After the Disney Characters' Express in 2007 and 2008 and Minnie's Party Train all through the 2009 season, could this continually re-dressed old parade float really make the line-up of new additions being advertised for next year's New Generation Festival?
And since the resort is receiving a whole new themed land with three new attractions, is there need to pad out the "nouveautés" by renaming and re-advertising the same event again?
The answer: Yes.
Here's the brand new publicity visual released today: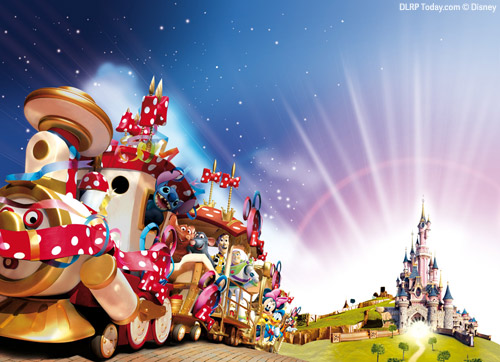 Disney All Stars Express (2010)
As you can see, it re-uses the template of the original Disney Characters' Express image above, but shows the train in its 2009 Minnie's Party Train guise — recoloured slightly to appear pinker.
On board, the real-life characters are replaced by another collection of generic stock images, showing the "new generation" who'll lead the event. Well — Stitch, Toy Story and Ratatouille. Despite the year aiming to celebrate the "Ne w Generation", these stars are already becoming a little repetitive — and there's no sign of the newest characters, from Bolt and UP, anywhere.
The new name? As given away in the headline, it's: Disney All Stars Express. Which certainly allows any classic characters to keep their place come April 2010.
If all this repetition's getting a little dull, take a look at this final new visual: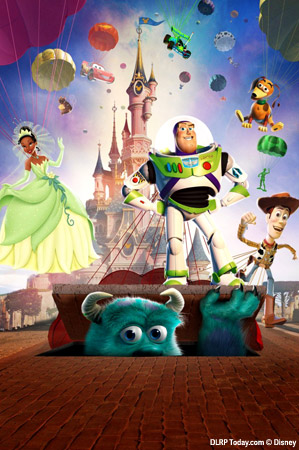 Showing a plethora of characters parachuting into the park (with Sully for some reason peering up from a trapdoor instead), it's a pleasant surprise after the earlier images. Nemo's chances once he reaches the ground surely don't look good, but the image overall… does.
Rather than just re-using an existing image, chopping it to pieces and hastily copying and pasting some Disney stock characters in, it appears to also have some actual design work in there, with the parachutes given proper perspective and depth as they fade away into the painterly sky.
Yet still, there's an apathy for the park it's meant to be selling: why else would you paste fake Mickey Mouse stickers over the beautiful windows of Sleeping Beauty Castle? Sigh…
Images © Disney.