Partly a commemoration of the mouse himself hitting 80 years old, partly another excuse to decorate the park and introduce some brand new entertainment, Mickey's Magical Party will be a brand new year-long event taking over both parks and introducing new decorations, new shows, a new parade-event and a whole new attraction.
The theme is bright — balloons, characters and colour — and fully intended to feel as fresh and new as possible after the two, more nostalgic, years celebrating the 15th Anniversary.
The Logo
So let's begin, with the logo: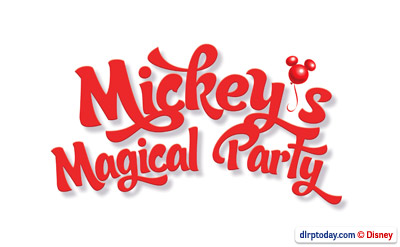 The balloon theme will never be far away this year, at least in the resort's advertising, with the colour of red seeming to be a obvious replacement for the copious amounts of blue we've seen during the 15th.
A second logo has also been produced, featuring Mickey, Donald, Goofy and Pluto bursting out from a circular Castle background: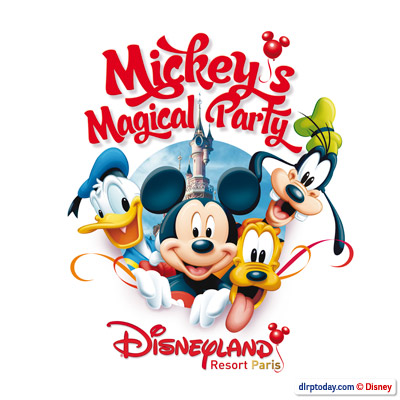 The logos themselves are quite deceptive, however — the "Candy Script" font chosen is inspired by South America — brush-like and quite classical — unlike the proposed events themselves…
The Events
Surprisingly, it's Walt Disney Studios Park that will once again steal the show, enjoying the launch of both a new attraction and a new parade/event (which you'll know by now) — whilst, over the esplanade, Disneyland Park has to make up its own party games:
• Disney's Stars 'n' Cars
The renamed and reworked Disney Stars and Motor Cars Parade from Florida finally opens in Paris as part of the event. As we've reported previously, it likely won't run as a parade but as a series of drive-in meet 'n' greets and photo shoots. (More news…)

• Playhouse Disney – Live on Stage!
Currently being fitted out right next to Stitch Live! in the Walt Disney Television Studios building and classed as a full new attraction, this will be a live puppet show for the younger audience, featuring Handy Manny, Little Einsteins, Mickey Mouse Clubhouse and My Friends Tigger & Pooh. (More news…)

• It's Party Time… with Mickey and Friends
Here we come to the key event of the party, a daytime show on a rebuilt Central Plaza Stage that aims to get the entire audience dancing along with characters from The Jungle Book and Aladdin in particular. (More news…)

• Minnie's Party Train
You might recognise this one, just a little. It's the Disney Characters' Express in a new polka-dot guise, still travelling between Main Street and Central Plaza with its trainload of Disney characters. (More news…)

• It's Dance Time… in Discoveryland
Jules Verne won't know what hit him — Stitch is due to roll into Discoveryland atop a moving podium of DJ decks, "pumping out tunes" and encouraging everyone to dance along using special coloured dance mats. (More news…)
Look out for much more in-depth news and features about all these events — and the party itself — on DLRP Today every day from now until the official launch.
The Launch Date
Speaking of which — when does Mickey's Magical Party really launch? The UK brochure states Friday, 3rd April 2009, whilst other official publications state the Saturday — 4th April. Those are the official launch dates, then there's the actual launch, the press preview, when these events really begin rolling into the parks — which seems to be set on Saturday, 28th March 2009.
Watch this space…