Here you leave today and enter worlds of history, discovery and ageless fantasy.
Opened in 1992, the original Magic Kingdom-style park at Disneyland Paris might just be second only to the 1955 original in Anaheim, California. Following Walt Disney and his fledgling Imagineers' initial concept of a landmark castle on a central hub with "spokes" leading to five themed lands, the park presents some of the best realised and most richly detailed of those worlds in any of Disney's six kingdoms.
Entering underneath the imposing Victorian railroad statement of Disneyland Hotel, you're immediately transported to a different time; a place where all the worries of the outside world disappear and a myriad of adventures await. With only a few footsteps, you can travel the world, live through beloved Disney films and ride daring thrill rides — with the only concern being whether you'll fit it all in before you have to re-enter today.
Over 45 attractions in 5 themed lands
Turn of the 20th Century Main Street, U.S.A. presents a stunning introduction not just to the wonders ahead but to everything a Disney theme park stands for and should be. This vision of small-town America, at a time when electricity, transport and communication are about to change everything, features shops, restaurants, ride-on Main Street Vehicles and Horse-Drawn Streetcars in one of the best themed environments ever created.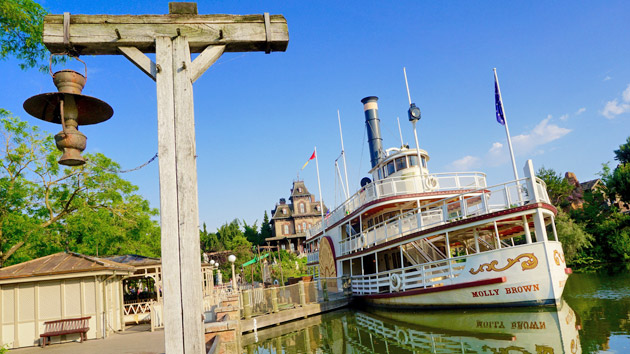 In Frontierland, the wild old American west which mixes romantic European visions of Western movies with real Frontier folklore in a vast, breathtaking landscape of ochre rock formations. Unlike any other version worldwide, Big Thunder Mountain here stands in the middle of the Rivers of the Far West, the explosive runaway mine train circling its cacti-littered canyons.
The story goes that the gold rush in these parts has created the burgeoning town of Thunder Mesa, with a Riverboat Landing for adventurous cruises and The Lucky Nugget Saloon for food and merriment where once Fort Comstock was the only outpost. Not all stories have ended in success — Phantom Manor is a different, darker and more cinematic take on Disney's classic Haunted Mansion with a beautiful orchestral score and a backstory that'll grip you with the first sight of that ghostly wedding dress.
Repositioned to the back of the park, the luscious greenery and hidden caverns and waterways of Adventureland are so immersive that at no point do its Arabian, African, Indian and Caribbean corners feel only 32 km from the city of Paris. Rather than just one continent, this land successfully blends several without a single join.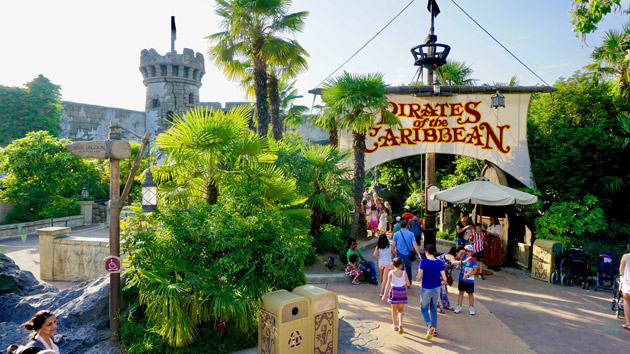 Starting out from the relative urbanity of 1001 Nights-inspired market stalls and magic lamps in Adventureland Bazaar, you can travel to an abandoned archaeological dig to join Indiana Jones et le Temple du Péril on a roller coaster that's thrilling enough if sadly not close to the more fully-realised dark ride that was once going to sit beside it.
Making up for this, a quick hop across a bridge leads you to Adventure Isle, a perfectly-formed, Disneyland Paris-exclusive island of lost caverns, rope bridges and hidden secrets. Forming a focal point for the land, La Cabane des Robinson is the Swiss Family Robinson's treehouse retreat, successfully turning all comers back to the outdoor adventures of their childhoods.
Linking cleverly into the swashbuckling elements of Peter Pan's Flight next door, a full-size Pirate Galleon sits in the lagoon outside Pirates of the Caribbean. Perhaps the quintessential family Disney ride experience, the version here again goes back to the drawing board to improve and correct upon even the iconic original, with new elements now introducing Jack Sparrow and his blockbuster movie adventures for the first time.
Without doubt the most beautiful Disney castle in the world, Le Château de la Belle au Bois Dormant marks the entrance to Fantasyland with its glinting gold turrets and stained glass windows. Beyond this unique Sleeping Beauty wonder, designed to extravagance in order to compete with France's real spellbinding castles, rides and attractions bring to life some of Disney's most heralded classics.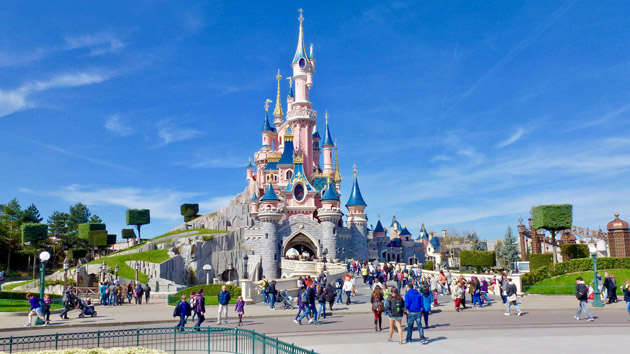 From Blanche-Neige et les Sept Nains to Les Voyages de Pinocchio, Dumbo the Flying Elephant to Mad Hatter's Tea Cups, you'll soon see "it's a small world" after all as each corner of the land brings a different European tale back to its homeland. Culminating in a modernised version of that classic, catchy boat ride itself, the vibrant gardens and gentle streams also include more exclusive touches: Alice's Curious Labyrinth, a colourful and very European hedge maze being perhaps the best example.
Clever nods to Walt Disney's original Fantasyland are abundantly hidden in plain sight: Casey Jr. - Le Petit Train du Cirque circles above the storybook canal boats of Le Pays des Contes de Fées, mimicking and successfully updating a half-century old concept that still achieves its aim of making visitors young and old feel like they're on the same (storybook) page.
Distinct from its very American, clean white Tomorrowland cousins, the retrofuturistic Discoveryland was designed not to face the same inevitable passing of time dating its "new" technologies. Despite that, this century-spanning, bronze and copper-clad expo of inventions and science fiction stories, inspired by European visionaries such as Jules Verne and Leonardo da Vinci, has still faced the biggest changes of any land in the park.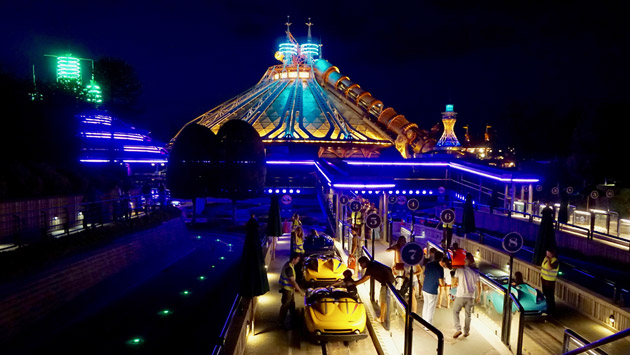 Space Mountain greatly expanded the land's conceit in 1995 as the park's single biggest development since opening, but with budget cuts denting its original ambition (and size), there's a feeling Discoveryland has never quite realised its potential. Harming this vision further, the admittedly fun yet cartoony Buzz Lightyear Laser Blast now sits right at its entrance and the centrepiece roller coaster itself is now undercover as Star Wars Hyperspace Mountain.
More successful is the fantastically updated Star Tours: L'Aventure Continue, sitting in its own corner of the land and now offering Starspeeder simulator flights through no less than 70 different combinations of Star Wars scenarios, with C-3PO as your pilot. While this "galaxy far, far away" may currently rule the land, don't miss the squid attack inside Les Mystères du Nautilus and the enormous Hyperion Airship outside Videopolis for an idea of the greater depth and imaginative cohesion Discoveryland once sought and may one day yet present again.
Full list of Disneyland Park attractions...
A Euro Disneyland history lesson
Resurgent from the new leadership of Michael Eisner and Frank Wells, formerly of Paramount and Warner Bros. respectively, The Walt Disney Company turned its attentions to Europe in the mid 1980s for its third theme park resort after Anaheim, Orlando and Tokyo. Settling on the flat, former beetroot fields of Marne-la-Vallée east of Paris, France in 1985, the formal agreement with the French government in 1987 set in motion plans for a resort destination anchored by a Disney theme park to open just five years later.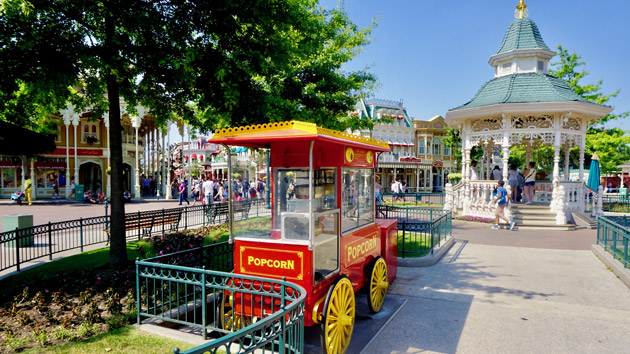 Led by Tony Baxter as executive producer, Walt Disney Imagineering set about adapting and reinventing its now classic attractions for a new continent and a world approaching a new millennium. This would be a showpiece for the new, more confident Disney corporation; no expense spared and no detail left unimproved from earlier versions. Set up as its own company under the terms of the French government deal with lending from local banks and Disney as a shareholder, receiving royalty payments for use of its characters, it surely couldn't fail; but financially it did, badly.
Looking past the over-quoted newspaper diatribes of a media looking for Disney to fail, there were bigger and more obvious reasons for Euro Disney's immediate struggle to recoup its vast construction costs. The 5,200 rooms across seven resort hotels simply failed to be filled; a massive overestimation of the number of guests willing to stay overnight, on-property, at high cost — especially as a European recession hit. At the same time, the opening day Euro Disneyland, even with the superlative quality of its attractions, contained far too few of them to warrant the length of stays Disney expected.
A modest expansion programme was immediately put in place to add capacity to the park and duration to visitors' stays, but the damage had been done. Larger scale plans for a Beauty and the Beast animatronic show, a Little Mermaid dark ride and a huge Discovery Mountain with the Nautilus submarine lagoon inside its walls were lost. It was only when the resort faced bankruptcy and had to seek its first financial restructuring that a turnaround began.
A name change to Disneyland Paris in 1994, the opening of Space Mountain: De la Terre à la Lune in 1995 and successful new seasonal entertainment spurred from Disney's 1990s animation golden era brought the resort its first annual profit.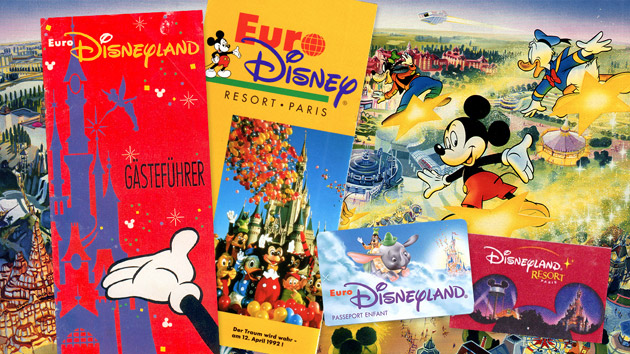 But then, Disneyland Park faced another challenge: the 1987 agreement that called for a second Disney park. Originally intended to be Disney-MGM Studios Europe with real working production facilities, the park's rather downscaled sister Walt Disney Studios Park opened in 2002, situated right next door at a 90-degree angle from the same resort hub. The lacklustre park and another tourism downturn immediately sunk the resort into another financial challenge.
Ever since, with all available budgets for major new attractions focused on improving the fortunes of its neighbour, Disneyland Park has had to make do with updates, revisions and replacements for its original attractions. Perhaps only the addition of a permanent year-round nighttime spectacular in 2012 — originally Disney Dreams!, soon to be Disney Illuminations — has transformed the park enough to feel like a genuine step forward into a new age.
While enhancements for the 25th Anniversary bring the entire park up to date and up to grade, we can only still dream of the day one more of its expansion gaps is taken by a big new attraction of its own. As Walt Disney famously said, "Disneyland will never be completed. It will continue to grow as long as there is imagination left in the world."
Unique in the Disney world, very different to Walt Disney World
Bigger than California's constricted kingdom, more intimate than Florida's sprawling swamplands and more authentic and original than Tokyo's first international park, Disneyland Park at Disneyland Paris was built as a perfect balance of old and new, familiar and unfamiliar for travellers of Disney's worldwide resorts.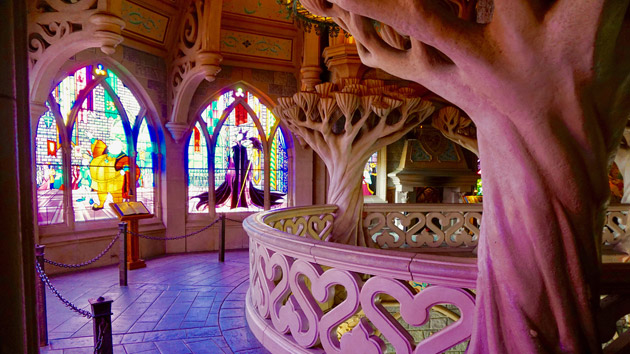 Concessions for the harsher climate are clear to see, yet cleverly integrated into the fabric of the park. Did you know it's possible to walk all the way from the entrance gates to Pirates of the Caribbean, at the very back of the park, in the rain without getting wet? Covered walkways and the two gorgeous, exclusive Main Street arcades run as vital arteries, while the park has a greater proportion of covered and indoor attractions overall. While other resorts stop still for a slight drizzle, Disneyland Park here continues operating 365 days a year feeling the full force of all four seasons — including snow in winter and yes, often some seriously hot summer days too.
This was the first Disney park in the world to sell alcoholic beverages with its meals, fulfilling a supposed European demand, while placing greater emphasis on dining and table service restaurants throughout. Language complexities are handled smartly, with better use of visual clues and reduced dialogue in attractions. Both French and English are nevertheless heard in largely equal measure, and spoken well by Cast Members (Disney employees).
If your primary experience of another Disney resort is Walt Disney World, or you're deciding between the two, don't write off Disneyland Paris. While Florida has four fully-formed theme parks, when comparing just the Magic Kingdom parks alone it's likely you'll see Paris wins on most counts. Not only is the quality of its entire design, detail and layout an improvement, but it offers enough exclusive and significantly different Disney attractions that visiting one should never rule out visiting the other.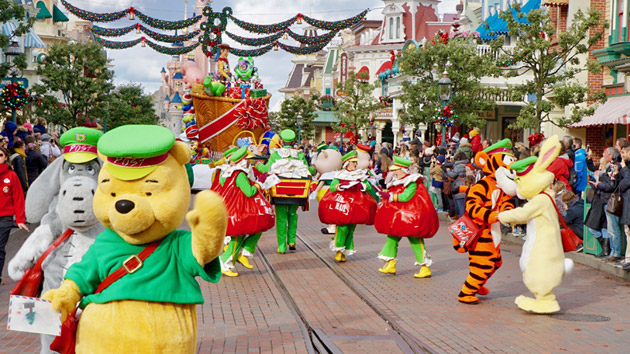 Seasons, events and always something new
Though the park hasn't expanded at its anticipated rate, it still offers a well-packed calendar of new attractions and seasonal events to keep things fresh.
From November to January each year, Disney's Enchanted Christmas is as wondrous as you'd expect, and then some. As well as the special festive character parade and seasonal shows, snow actually blows in over the rooftops of Main Street, U.S.A. throughout each day. Music loops, shops and restaurants all get a "holiday" touch, while the spectacular Christmas Tree towers 24 metres over its lands adorned with thousands of garlands, baubles and decorations.
Disney Character fans are spoilt each October with the fright-filled Disney's Halloween Festival. A very fun if occasionally overly garish pageant of Harvest sunflowers, pumpkins and ghosts, the season brings to life cackling Disney Villains and silly — rather than scary — spooks. It might not be to everyone's taste as it takes over the park, but it's probably the best time of the year for shows, entertainment and memorable character interaction.