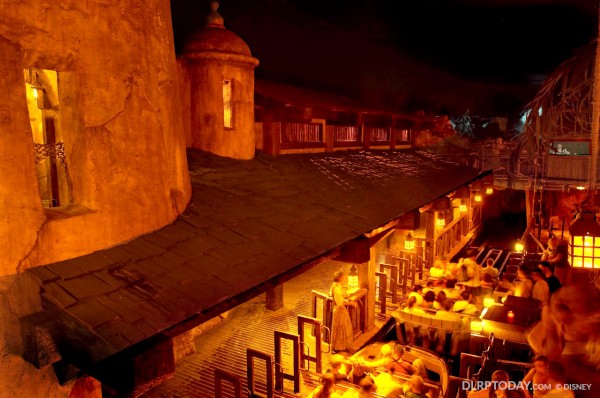 If Pirates of the Caribbean at Disneyland Paris was ever going to welcome Jack Sparrow, like all its three cousins around the world, the three-month closure this winter could have been the ample opportunity. But, just as when the rumour surfaced for the 15th Anniversary in 2007, again in 2008, again in 2009, again in 2011 and again for the 20th Anniversary in 2012, fans can lament (or rather celebrate) accordingly as the ride re-opened without any major changes or additions to its story.
Instead, as reported around 7th January when the Adventureland dark ride closed, the refurbishment amounted to little more than a technical upgrade, with seemingly minor changes visible to guests on board — backstage, the works may well have been more complex.
This included, first and foremost, a new process for loading and despatching the boats themselves. As reported by Mouetto, admin of Disney Central Plaza forum, Cast Members no longer give a hand signal to the elevated control box but have their own control panel at ground level to despatch the boats themselves. The Cast Member up above is now hidden behind a screen, with only the closed-circuit screens monitoring the inside of the ride for company.
Within the scenes themselves, improved lighting has been the most remarked-upon aspect since the ride reopened on 16th March so far, with scenes apparently appearing more colourful and better-lit. Animatronics, such as the duelling pirates, were reported to appear perhaps slightly more fluid and sound effects tightened, all as you would expect after any standard refurbishment. Nothing major, then — and in fact, there's disappointment that minor effects remain untouched or unreliable (such as the chain which is meant to "pull" you up the lift hill not moving).
While most of us probably agree that Disneyland Paris can do without the now increasingly passé Jack Sparrow tie-in (unless that 5th film renews interest), it would be wonderful to see genuine special effects upgrades and gentle "plussing" of classic attractions — include Phantom Manor in that, too. Just a single new special effect or a fun new trick to make us go "oh, that's new!"
Don't go rocking the boat but do, please, keep moving forward…
Watch a glimpse of the newly-refurbished ride in the video by Mouetto below… Read More…