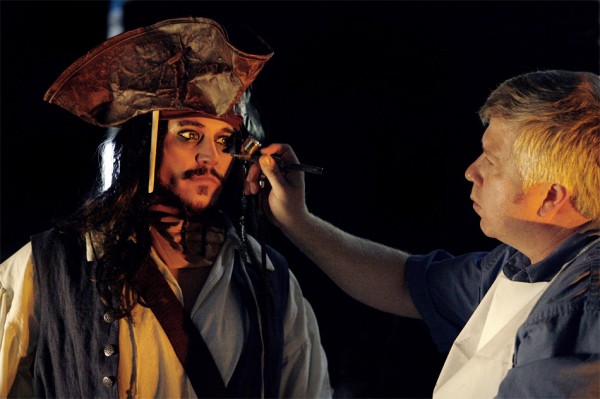 Drink up me hearties: Captain Jack Sparrow is coming to Pirates of the Caribbean at Disneyland Paris in 2012! The European version of the attraction will finally end a 5-year stint as the only edition not to reference to the blockbuster movies, adding the exact same Audio Animatronics and special effects which "plussed" the Anaheim and Orlando rides in 2006 and Tokyo's version in 2007. That includes three animatronic figures of Jack Sparrow himself, looking remarkably like the Johnny Depp character — one amongst the mayor/auctioneer scene, one hiding in a barrel and one drinking up in the final treasure caverns. In addition, the captain of the ship in the "attack" scene at the bottom of the first drop will likely be replaced by Barbossa, and the Imagineers will hopefully find somewhere to position the mist screen projection of Blackbeard, which was just announced to replace the original Davy Jones projection at Anaheim and Orlando yesterday. In the three broadly similar versions of the attraction already updated this comes at the start of the ride as a forewarning, but with the Paris edition having a different story layout its exact position is currently unclear.
The update has been confirmed internally for a while now, though so far hasn't been officially announced and isn't likely to be for a few months at least. But there we have it, our first known 20th Anniversary addition! Funnily enough four years ago we were talking about this exact update for the 15th Anniversary, but that's Disneyland Paris. It seems like every year since then the rumour has resurfaced again, as those behind the magic tried to push it through the budgeteers, whilst money was spent instead on theme year after theme year. Most recently it looked like a dead cert for this year, what with the much-anticipated fourth film due out this very month (and enjoying a huge world premiere event at Disneyland in California today). As Captain Jack would have said several times over by now, "If you were waiting for the opportune moment …that was it." But next year will do just fine, providing a solid Imagineering addition in what's otherwise looking like a very Entertainment-based anniversary.
So, enjoy "On Stranger Tides" in stereoscopic digital 3D and then set course for Paris this time next year, to see Sparrow come alive in three real dimensions. And he only took 6 years to cross the Atlantic!