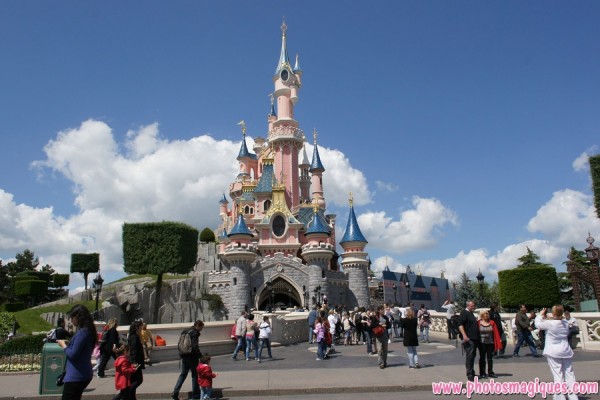 For all the worry over Sleeping Beauty Castle being covered by scaffolding for its complete restoration, it all seems to have been over in a moment. Visitors have watched over the past couple of weeks as first the decorative scrim was taken down then, after a short delay, all of the scaffolding covering the front of the castle came down. While the scaffolding at the back, in the Castle Courtyard, has risen to new heights, the section covering the north easterly wing of le château, on its right-hand side, is now almost all gone. So, what does all this disappearing refurbishment detritus reveal? Well, a Disney park landmark still in transition… almost returned to its full beauty.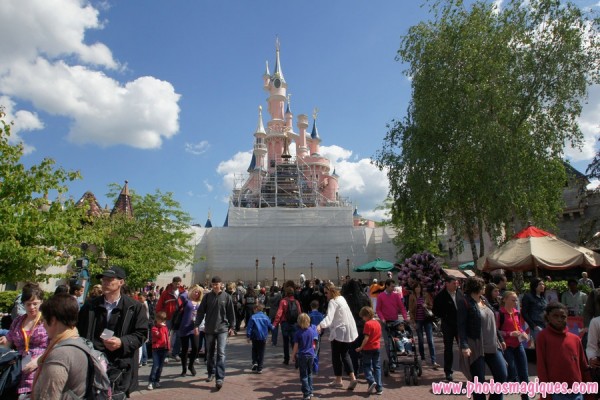 Whilst the five new shades of pink have now become very clear, the brickwork a crisp new palette of pastels and clean ivory white, there are many remnants of the previous 1998 repaint remaining. The rooftop above the main window still has its grimy yellow gradient effect, the two golden spires have yet to return with their renewed shimmer and work continues on giving the previously blue/green turret roofs a stronger blue colour. Previously, we'd seen the rooftops painted in a solid, dark blue. This has now been softened with two additional shades on top, to give the same scattered pattern as before, although it's still clear to see which rooftops have been given the new look against those which haven't.
Progress has continued this week with the removal of all the scaffolding on the castle's north easterly wing, revealing a truly gleaming façade behind. On Twitter, @InsideDLParis has been charting the work and captured the photo below which really shows what a fresh coat of paint does for details: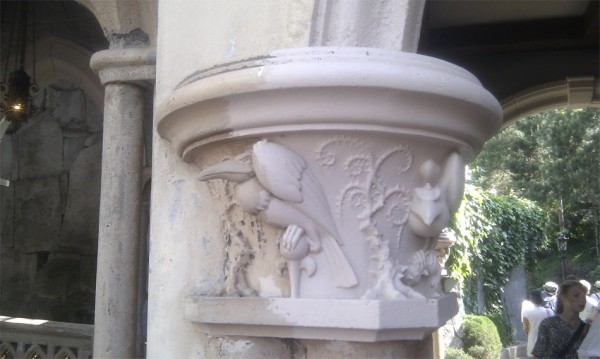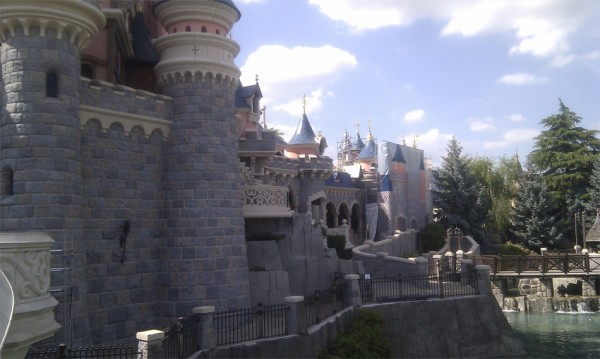 Following a much-needed clean and repaint, the waterfall on the other side of the castle was also been turned back on yesterday. There's still much to do before the restoration is finally completed this August, but this will mostly consist of smaller-scale works and final touches done using moveable cranes and lifts. Rooftops to be completed at night and paint colours to be finished up in the daytime. And then, at long last, this Sleeping Beauty won't be dormant any longer.