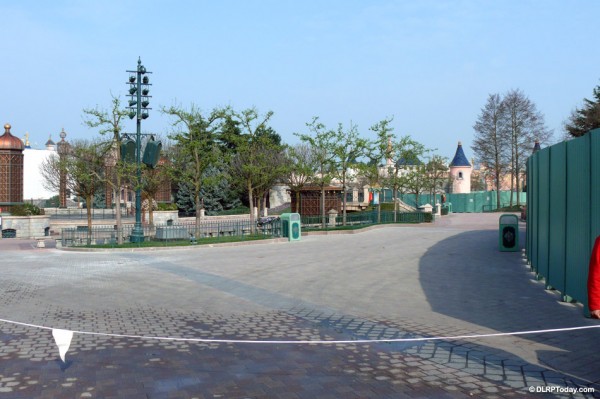 Alright, so, as we've said before in previous updates about the big Fantasyland floor replacement works ongoing for the past two months, a new bit of paving is not quite as exciting as a new dark ride or parade. But DLRP Today is not alone in its excitement for this vast stretch of new paving stones, oh no — as Peggie Fariss herself said to us, "sometimes there's nothing better than a freshly-laid floor" in a Disney park. Couldn't agree more! We were even taken for a quick "site tour" up to the Fantasyland Gate, where we got to exclusively step through the construction walls for a first look at the almost-finished paving project, switching dirty and crumbling poured concrete for real interlocking pavers.
Even better, we can now take a look at the finished product, too — as the whole parade route up towards "it's a small world" re-opened right on schedule this weekend!
Gilles Nicoulaud led our group up towards the construction walls which had been blocking off access to Fantasyland from this route for almost two months. Director of Facilities Asset Management, Gilles manages all the refurbishment projects right across the resort and began his career at Disney as a landscape architect at Golf Disneyland in 1991.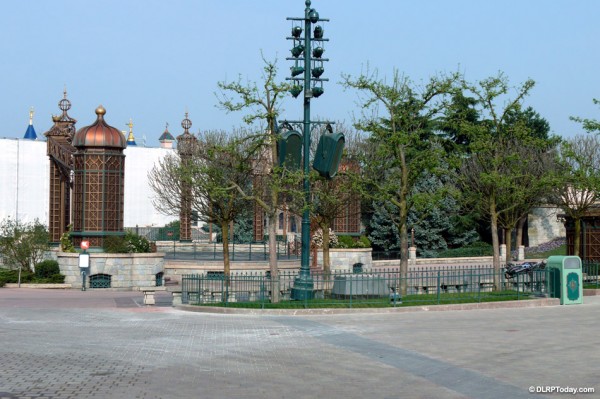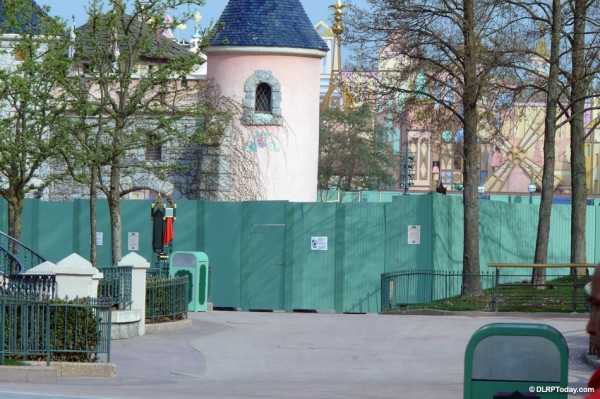 The paving stones stretch from the Discoveryland entrance to Le Théâtre du Château and the Bureau Passeport Annuel, before skipping a small patch and then resuming with a different design from the Fantasyland Gate right up to "it's a small world", bringing a fresh and clean new look to the parade route past Pizzeria Bella Notte which has historically looked somewhat lacking.
These aren't just the cheapest paving stones either — they apparently come from "the best manufacturer in Europe", located in Germany, and have been laid in a series of different patterns and colour tones to give a much richer feel to the whole area.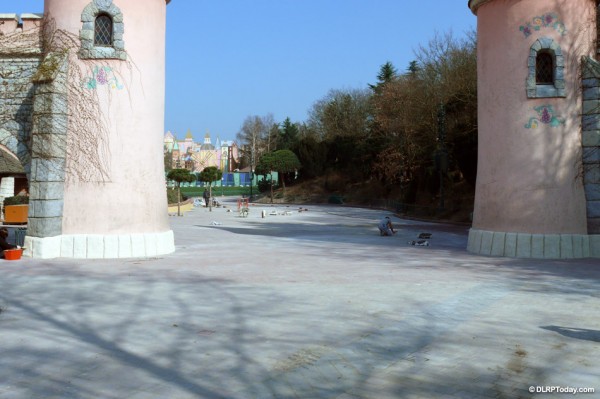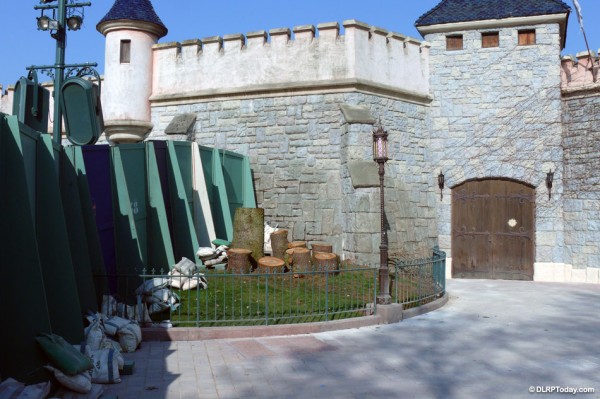 Surprisingly, the trees above weren't dug up to be replanted elsewhere, as Disney usually does with trees which have outgrown their location, but completely chopped down. Update thanks to Lizard78 in the comments: However, the pine trees alongside Pizzeria Bella Notte (below) were also replaced and replanted backstage, as Disneyland Paris tries to do with its tree replacements.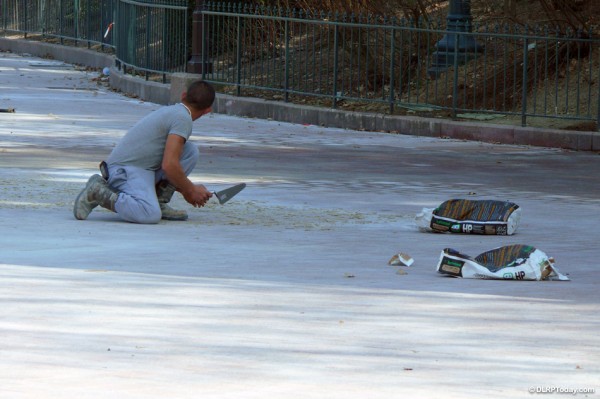 You can see that work was still ongoing when we stepped through the construction walls on 25th March (joking that perhaps these were just Entertainment actors there on overtime for "show"). The lower stones of the Fantasyland Gate walls were even being given a quick touch-up with fresh paint before their full refurbishment to hopefully follow this year as part of the castle's connected restoration.
And now, our first steps on the new floor as seen this Saturday, 2nd April, when it reopened to guests…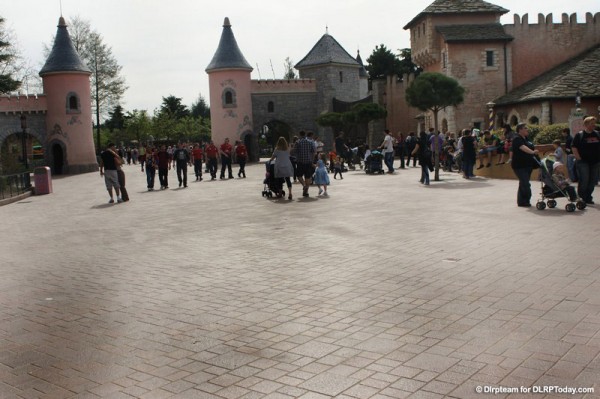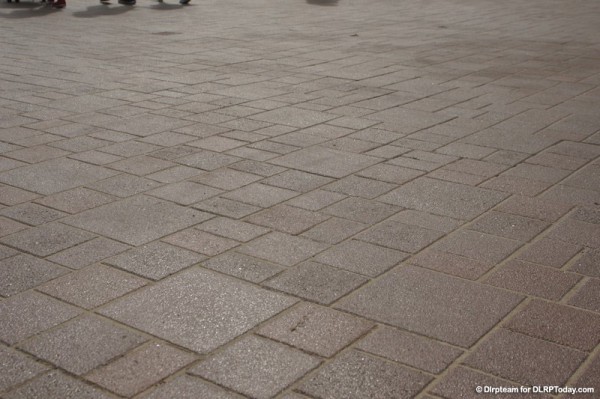 Before: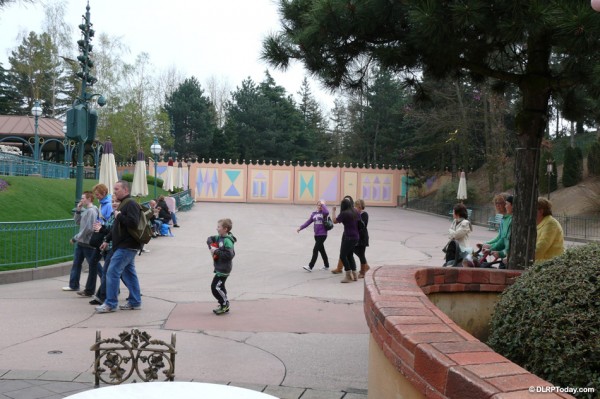 And after: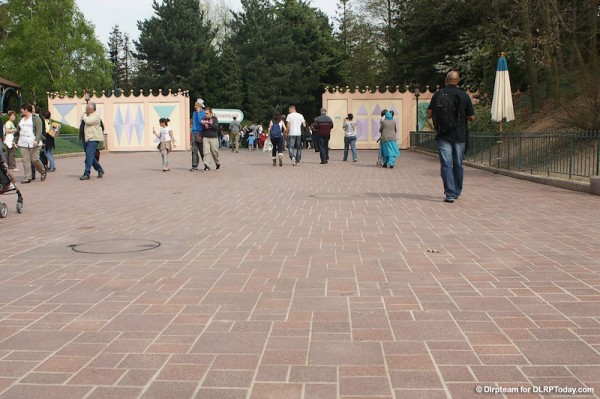 What an improvement that is. Not just plain stone paving but a careful pattern of different sizes and colour tones, giving the area a much more authentic, warmer feel, as it should have as the "Italian" quarter of Fantasyland. Peggie was right — sometimes a freshly-laid floor can make a big difference. Here, it's surprising how much of a different "feel" this repaved area has from the other area next to Castle Stage, which has a more blue/grey tone to lead into Discoveryland.
And did they tell us the next step for the repavers? Yes, Le Théâtre du Château itself!
Coming next: Captain Hook's Pirate Ship to be rebuilt with original Peter Pan colours, and a look at Discoveryland's refurbished lava pools
Previously: Sleeping Beauty Castle's new colours revealed, big photo update
ADDITIONAL PHOTOS Dlrpteam for DLRP Today