Regaining interest since the death of its lead earlier this year, the short film will return to its original home in Disneyland, California, for a "limited engagement" from February 2010.
Since this rumour first appeared, and especially since these plans were confirmed, fans of the other international resorts have obviously been questioning whether 'EO' could also, even temporarily, replace 'HISTA' in their home park.
Now, Disneyland Paris have given their answer. As confirmed by the press department in Le Journal and reported by Photos Magiques on Twitter, Captain EO will not be returning to Marne-la-Vallée.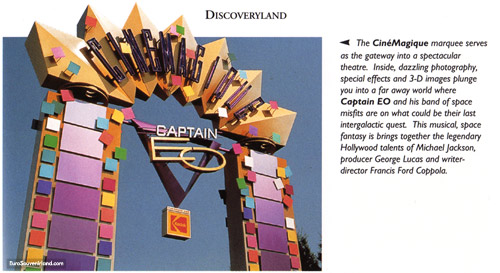 Original CinéMagique: Captain EO entrance.
The 3-D special effects attraction originally played in Paris from opening day on 12th April 1992 up to 17th August 1998, when it closed to become Honey, I Shrunk the Audience (HISTA). On this date, Disneyland Paris was the last park in the world you could see the film — it having closed elsewhere over a year earlier and at Epcot over 4 years earlier.
Starring Michael Jackson in a film directed by Francis Ford Coppola, executive produced by George Lucas and featuring music by James Horder, it was one of the flagships of Michael Eisner's arrival at the company when it premiered in the US parks in 1986. In Paris, the attraction was actually named CinéMagique, a variation on the "Magic Eye Theater" of California, making the resort perhaps the only one to have had two completely different yet identically-named attractions in its history.
With Honey, I Shrunk the Audience hardly doing a roaring trade over the back of Discoveryland, opening such limited hours as 11am to 6pm during the Summer high season, it remains to be seen what all-new replacement will eventually come about for the tired 3-D film. Rumours on MiceAge.com have suggested the limited-time showing of 'EO' in California could be followed by the arrival of Monsters, Inc. Laugh Floor, a living character show (think Stitch Live!) from Florida's Magic Kingdom. Could this be rolled out to ourselves and Tokyo? That'd still leave the problem of Epcot's theatre.
In any case, Paris will likely have to wait for the other resorts to make their move in replacing HISTA first. It doesn't appear to be much of a priority and, with the Californians now buying time with a nostalgia trip, this firm "non, merci" to EO's return means Wayne Szalinski will likely be winning Inventor of the Year a good few more times yet — even if there's hardly any Audience left to shrink.
Images © Disney.