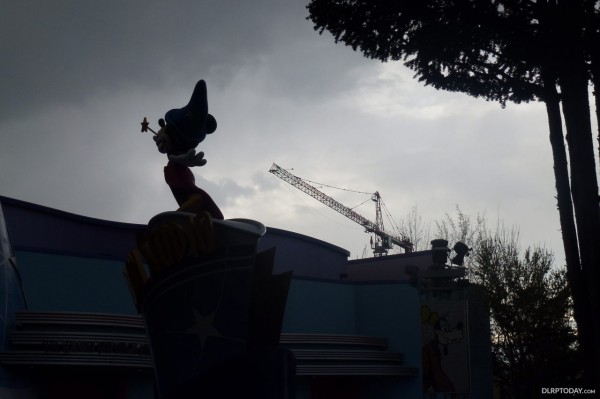 This week, the future Ratatouille dark ride made another highly visible step forward as a second tower crane began to rise above the Toon Studio construction site. The first, of course, made its mark on 11th April — a valiant effort by the second gate to steal the thunder of its partner a day before the 20th Anniversary events on 12th April 2012. Whether this date was chosen by chance or by reason, it was a fitting way to end one chapter with the beginnings of the next.
So what does a Disneyland Paris fan do, upon arriving at the resort after a long train journey on a blustery, rainy evening like that? Rush straight over to Walt Disney Studios Park, just 15 minutes before the gates closed, and photograph our exciting new landmark from every angle, of course. And then, a month later, actually find the time to post the pictures online.
But here we go, crane fans: over 40 photos and six minutes of video featuring "La Grue Ratatouille" — from Val d'Europe, Toon Studio, Backlot, Frontierland and beyond. This first crane alone was imposing enough on the skyline: this ride may be all about rats, but it won't be small by any standard.
Continues… Read More…