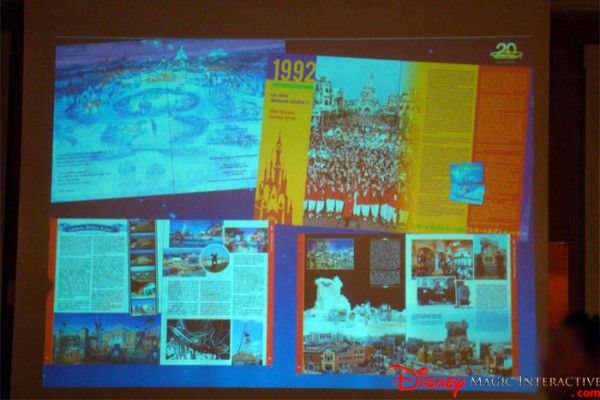 New Disney theme park book alert. From California to Florida, Paris and beyond, the alert siren rings out. That most anticipated and coveted line of souvenirs from the parks is about to have a new tome to add to its shelves. And for once, this one's all about Disneyland Paris. Totalling 192 pages and 500 photos, "Disneyland Paris: 20 Years of Dreams" (or "20 Ans de Rêves") has been written and produced especially for the 20th Anniversary. It will guide readers from the planning and grand opening of the resort in 1992 through 20 years of development, changes and events at the resort.
Available as a single edition, the book will include both French and English texts, with forewards by Tom Staggs and Philippe Gas, and afterword by Tom Fitzgerald. Priced at €49.99, the book will be exclusively available only at the resort itself, in eight separate, as-yet unconfirmed boutiques. A first print run of 5,000 copies will go on sale in mid-late April. We've been informed that, although Disney are pushing hard to have it available by 12th April 2012, there could be a small delay.
The 192-page size is certainly substantial enough: the same as the wonderful Walt Disney Imagineering: A Behind the Dreams Look at Making More Magic Real.
Though Disneyland Paris has produced numerous glossy souvenir photo books detailing current attractions, it has never published its own, complete history of the resort. Only the revered Disneyland Paris: From Sketch to Reality, published by Nouveau Millénaire Editions, has provided a true insight into the design and creation of the original park. Considered as "the bible" for Disneyland Paris fans, it is now only available as an expensive, limited collectors' edition.
If you already own From Sketch to Reality, this new book aims to be perfectly complementary to its contents, full of new content and in no way a reptition. Not only will it feature the full 20 years of Disneyland Paris history, including photos and concept art from Walt Disney Studios Park, but also a closer focus on the progression of the resort from opening day to today. While From Sketch tells you how the parks were designed, 20 Years of Dreams will very much be the "what happened next…"
As soon as the book hits the shelves, we'll race you to The Storybook Store…